Filtered By: Topstories
News
Conviction of Tiamzons a victory for justice — Palace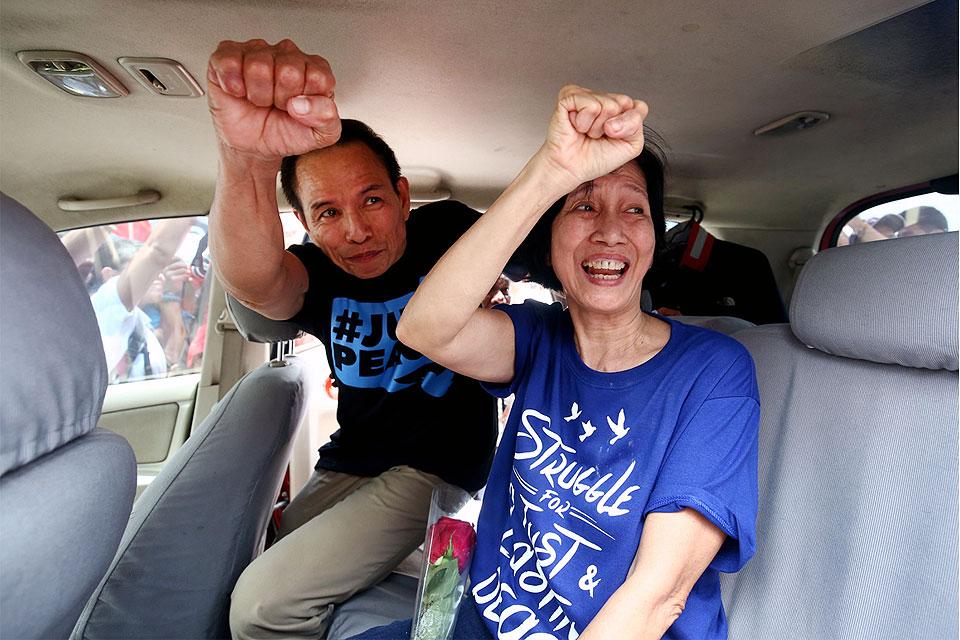 Malacañang on Friday hailed the decision of a Quezon City court convicting National Democratic Front consultants Benito and Wilma Tiamzon for the abduction of four soldiers in 1988.
Presidential spokesperson Harry Roque said the decision showed the "long arm of the law has finally caught up with the Tiamzon couple."
"We therefore consider this latest court decision as a triumph of the justice system. It clearly shows that the wheels of justice continue to grind," he said.
Interior Secretary Eduardo Año called the conviction "excellent news."
"Justice is now delivered to countless victims of executions, killings, kidnappings and destruction of properties perpetrated by the CPP/NPA/NDF (Communist Party of the Philippines/New People's Army/National Democratic Front) under the leadership of Benito Tiamzon," Año said.
Año, a retired general, said he spent half of his military career hunting the Tiamzons, who are top officials of the CPP.
The Armed Forces of the Philippines also welcomed the conviction of the Tiamzon couple.
In a statement, AFP spokesman Major General Edgard Arevalo said the Tiamzons' conviction "is a victory for the many victims of atrocities of the NPA particularly orders to conduct murder, arson, extortion, ambushes, bombing and the like that they orchestrated."
Judge Alfonso Ruiz II of the Quezon City Regional Trial Court Branch 216 found the couple, who are believed to be top officials of the Communist Party of the Philippines, guilty of kidnapping and serious illegal detention and sentenced them to up to 40 years in prison.
The Tiamzons were also ordered to pay complainant, then-Lieutenant Abraham Claro Casis P75,000 as moral damages; P75,000 as civil indemnity; and P75,000 as exemplary damages.
The cases stemmed from a 1988 case where four soldiers were held captive by the communist group for about two months. Charges were filed in court in 1990, but the Tiamzons were arrested and arraigned only in 2014.
While the Tiamzons vowed to appeal their conviction, the decision was a "positive development towards the elimination of all forms of criminality in the country through a fair and just trial, and under a thriving democracy and independent judiciary," said Chief Presidential Legal Counsel Salvador Panelo.
"Let this be a reminder to everyone that the Philippines is a republican and democratic country that is governed by the rule of law," he said.
"The enemies of society and of the government who seek to undermine the integrity of the social order and of the nation's lawful institutions shall answer for their misdeeds." — Virgil Lopez and Anna Felicia Bajo/RSJ/NB, GMA News