Filtered By: Topstories
News
Ex-DFA chief Del Rosario urges gov't to reconsider joint patrols with US in South China Sea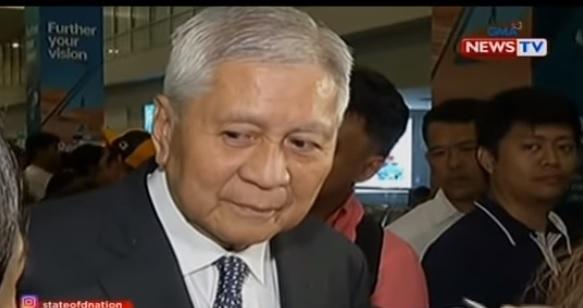 Former Foreign Affairs chief Albert del Rosario has called on the Duterte administration to reconsider holding joint patrols with the United States as China's militia vessels continue its presence in the West Philippine Sea.
"Our challenge in terms of dealing with China's continuing unilateral aggression at Julian Felipe Reef in the West Philippine Sea remains in need of a solution," Del Rosario said Thursday.
Before stepping down as Secretary of Foreign Affairs during the time of President Benigno Aquino III in 2016, Del Rosario said he met twice in Washington DC with then-Deputy Secretary of State Anthony Blinken to specifically seek joint patrols in the West Philippine Sea to be undertaken by the Philippines and the US.
"An agreement on joint patrols with the US was approved but this was shelved by the administration of President Duterte, fearing that China would be displeased," he said.
"However, China's duplicity and invasion of our waters remain unabated despite the efforts of President Duterte to appease China."
With Blinken now as US Secretary of State under the Biden administration, Del Rosario said "it may now be imperative for us to revisit joint patrols in the West Philippine Sea with our sole treaty ally, to confront the bullying tactics of China in the West Philippine Sea."
Manila has filed a diplomatic protest against Chinese swarming in its waters and called on China to immediately withdraw its militia vessels at Julian Felipe Reef, a boomerang-shaped feature located 175 nautical miles of Bataraza, Palawan and clearly within the Philippines' exclusive economic zone.
Despite repeated calls and protests from the Philippines, Chinese ships continue to linger in the area and are now in other areas of the Kalayaan Island Group in the municipality of Kalayaan, Palawan off the country's northwestern waters.
"We must show the world and especially China that we are a country that will fight for our rights and able to enforce our laws in our own EEZ," said Del Rosario, who led the Philippines' arbitral tribunal victory against China in 2016.
Foreign Affairs Secretary Teodoro Locsin Jr. is currently in China for a meeting with Chinese officials amid renewed tensions between Manila and Beijing.
Initially, around 220 vessels were spotted in the reef in early March. Although the numbers have gone down in recent days, dozens have remained.
China said the vessels were merely seeking shelter from bad weather – a claim dismissed by the US, saying they have been moored there "for several months in ever increasing number, regardless of weather."
China and five other governments - Brunei, Malaysia, the Philippines, Vietnam and Taiwan - have been locked in long-simmering territorial rifts in the South China Sea that analysts feared as Asia's next potential flashpoint for a major armed conflict.
Beijing insists on historic rights over nearly the entire waters, which is dotted by clusters of islands, cays, shoals and reefs with rich fishing areas and natural oil and gas despite an international tribunal ruling in The Hague, Netherlands that invalidated its claim in 2016.
The Permanent Court of Arbitration delivered a sweeping victory to the Philippines on the case it filed against China in 2013 and declared China's claim over nearly the entire South China Sea illegal. It also ruled that Beijing violated the rights of Filipinos, who were blocked by Chinese Coast Guard from fishing in the disputed Scarborough Shoal off northwestern Philippines. China has refused recognize the ruling.
Over the years, Chinese has built artificial islands in the South China Sea – a move protested by Manila and has alarmed countries, such as the US, Japan and Australia, saying it will impede freedom of navigation and overflights. — RSJ, GMA News