Filtered By: Topstories
News
Philippines urged to construct monitoring stations in unoccupied areas in its EEZ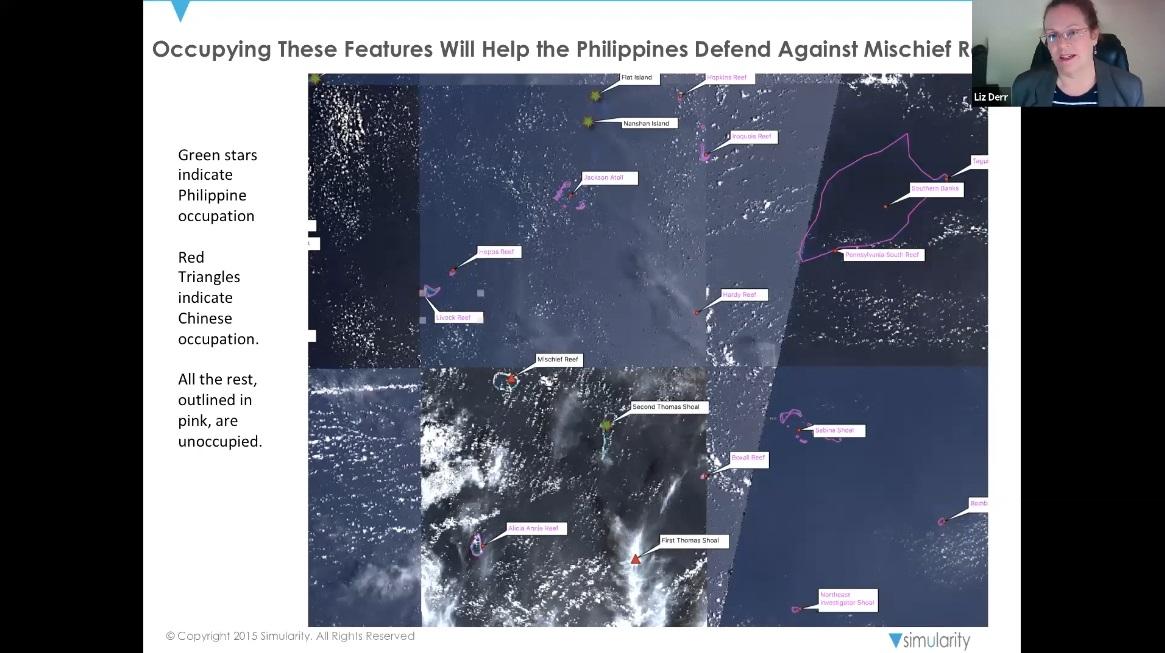 The Philippines would need to build monitoring outposts in unoccupied features within its exclusive economic zone to deter foreign incursions in the West Philippine Sea, an American tech firm said Wednesday.
Liz Derr, founder and CEO of Simularity, which specializes in geospatial analysis and provides satellite data imagery, said the Philippines can choose key unoccupied areas within its EEZ where it could put up stations while increasing patrols within its waters.
"If you are serious about protecting your sovereignty and your people, you need to actively monitor, patrol and occupy features in your EEZ," Derr told an online forum hosted by Stratbase-ADR Institute.
EEZ is an area where the United Nations Convention on the Law of the Sea (UNCLOS) says coastal countries exercise exclusive rights to explore and exploit resources.
The Philippines, Derr said, has 27 uninhabited features within its EEZ vulnerable to foreign occupation and occupying them would stop foreign intrusions.
These features are: Hopps Reef, Sabina Shoal, Southern Banks, Hardy Reef, Boxall Reef, Iroquois Reef, Hopkins Reef, Third Thomas Shoal, Jackson Atoll, Livock Reef, Alicia Annie Reef, Empire Reef, Jones Reef, Higgens Reef, Holiday Reef and Hallet Reef.
Other uninhabited areas are: Pennsylvania South Reef, Southern Banks, McKennan Reef, Edmund Reef, Loveless Reef, Director Reef, Half Moon Shoal, Bombay Shoal, Northeast Investigator Shoal, Royal Captain Shoal, and Seahorse Shoal.
Putting up structures in these areas, such as outposts or lighthouses, can be done inexpensively without provoking war, Derr said, adding the Philippines has been very weak in protecting its territory compared to other claimants.
"If the Philippines occupies the unoccupied Spratlys features in its EEZ, with some research into prioritizing which to occupy and what the best level of occupation is, their EEZ will be protected," she said.
"If this weakness continues, we will surely see more features being occupied by foreign countries."
Having a Philippine presence in key areas in its EEZ, she added, will not only deter illegal occupation of its territories, but would also prevent any move to build more destructive artificial islands.
It will also help protect Filipino fishermen and defend their right to fish within the country's waters.
An attempt to intrude in these occupied features, she said, would be considered an act of war and would oblige its allies to come to its aid if it is attacked.
"The Philippines should focus its efforts on making sure no more is taken," Derr said amid China's massive occupation and construction in areas in the Spratlys and within the Philippines' own EEZ.
China and five other governments — Brunei, Malaysia, the Philippines, Vietnam and Taiwan — are embroiled in years-long disputes over the resource-rich South China Sea, particularly in its southern part, called the Spratlys.
Parts of the South China Sea that fall under the Philippines' EEZ have been renamed West Philippine Sea by the Philippine government.
Analysts feared that competing claims to the waters could become Asia's next potential flashpoint for a major armed conflict.
Beijing insists it has historic rights over the waters where huge minerals and natural oil and gas deposits have been discovered in several areas.
But the Permanent Court of Arbitration in The Hague, Netherlands in July 2016 ruled that Beijing's sweeping claims violated Manila's economic and sovereign rights under the 1982 UNCLOS. China, a signatory to the UN treaty, refused to recognize the ruling.
More than 200 Chinese vessels were spotted recently in areas within the West Philippine Sea and have lingered in the area despite repeated protests from the Philippine government and demand for their immediate withdrawal, heightening tensions between the two Asian neighbors. —KBK, GMA News