Filtered By: Topstories
News
NCR placed under Alert Level 3 from Jan. 3 to 15, 2022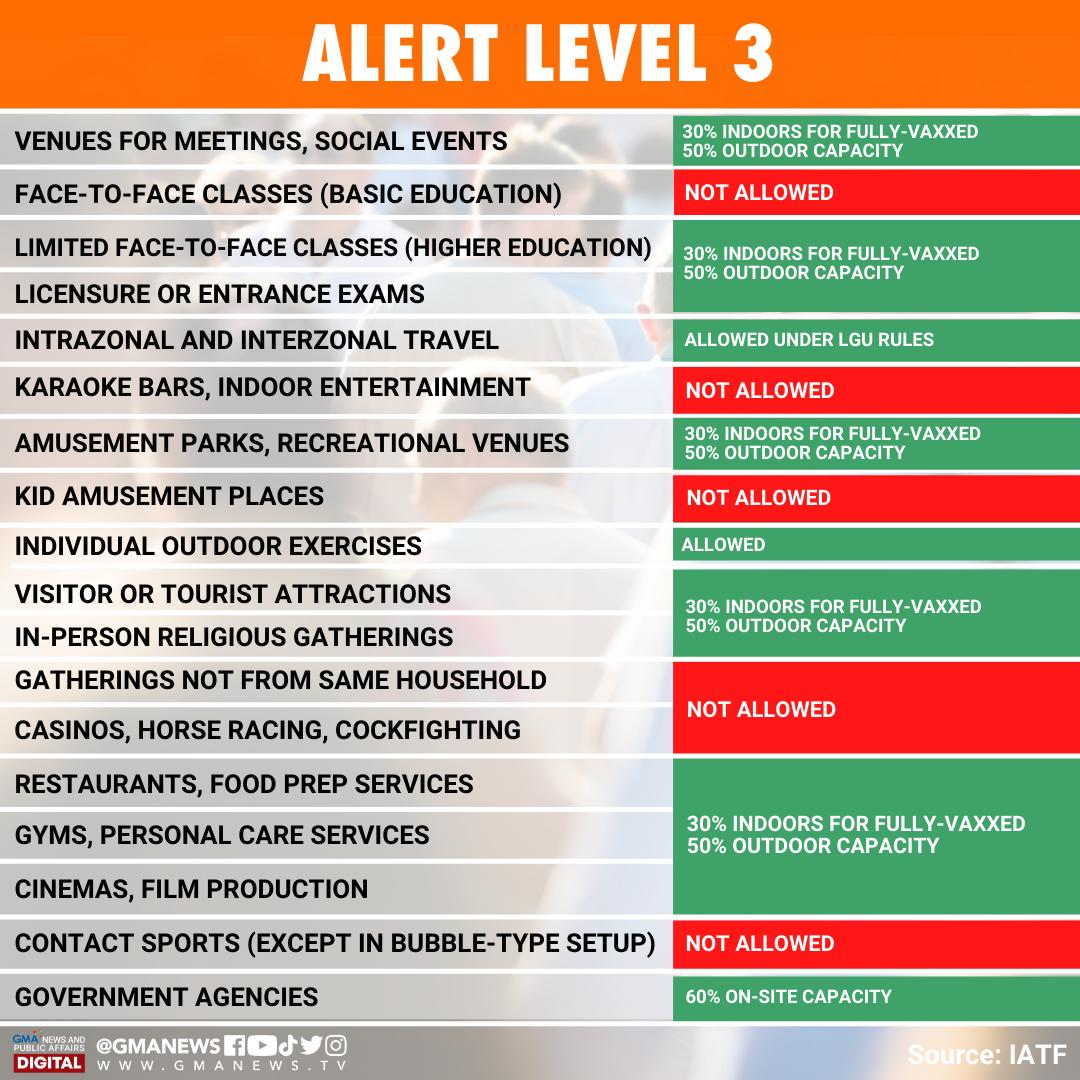 The government's COVID-19 task force has placed the National Capital Region (NCR) under Alert Level 3 from January 3 to 15, 2022 following the sharp increase in new coronavirus infections in the country.
At a press briefing in Davao City on Friday, acting presidential spokesperson Karlo Nograles said the Inter-Agency Task Force for the Management of Emerging Infectious Diseases (IATF) made the decision as they projected cases to further increase in the coming days.
He also cited the high possibility of the local transmission of the Omicron variant, increased movement over the holiday season, and poor compliance with minimum public health standards.
Under Alert Level 3, several establishments will be allowed to operate at 30% indoor venue capacity only for fully vaccinated individuals and 50% outdoor venue capacity, provided that all employees are fully vaccinated.
Face-to-face classes, contact sports, funfairs/perya, and casinos are among the activities and establishments that are prohibited under Alert Level 3.
Work at government offices is limited to 60% of their onsite capacity.
The region was supposed to remain under the more relaxed Alert Level 2 from January 1 to 15, 2022.
Nograles said the IATF tasked a technical working group headed by the Metropolitan Manila Development Authority and the National Vaccination Operations Center to craft guidelines for stricter measures for unvaccinated individuals against COVID-19.
The Palace official also called for strict adherence to isolation and quarantine periods.
After a whole month of reporting less than 1,000 daily infections per day, the Philippines on Thursday logged 1,623 new cases.
This further increased to 2,961 new infections on Friday.
Of the 2,961 reported cases, 2,927 (99%) occurred within the last 14 days (December 18 to 31, 2021), the Department of Health said.
The regions with the highest number of cases in the past two weeks were the NCR (1,981 or 68%), Calabarzon (431 or 15%), and Central Luzon (179 or 6%).
The country has also detected three local cases of the highly transmissible Omicron variant.
With the detection of local cases, the DOH warned of "exponential growth" in the number of COVID-19 cases in the coming weeks.
"The DOH would like to inform the public that in the coming days/weeks, there is high probability of exponential growth with continued decreased adherence to MPHS and the detection of local cases with Omicron variant," the health department said.
"The epidemiological investigation on the three local cases indicates there is high possibility of local transmission. Moreover, breakthrough infections caused by the Omicron variant have been documented among the vaccinated and boosted although mostly mild or asymptomatic," it added. — VBL, GMA News