Filtered By: Topstories
News
Here's how you can generate your own kodigo for the May 2022 elections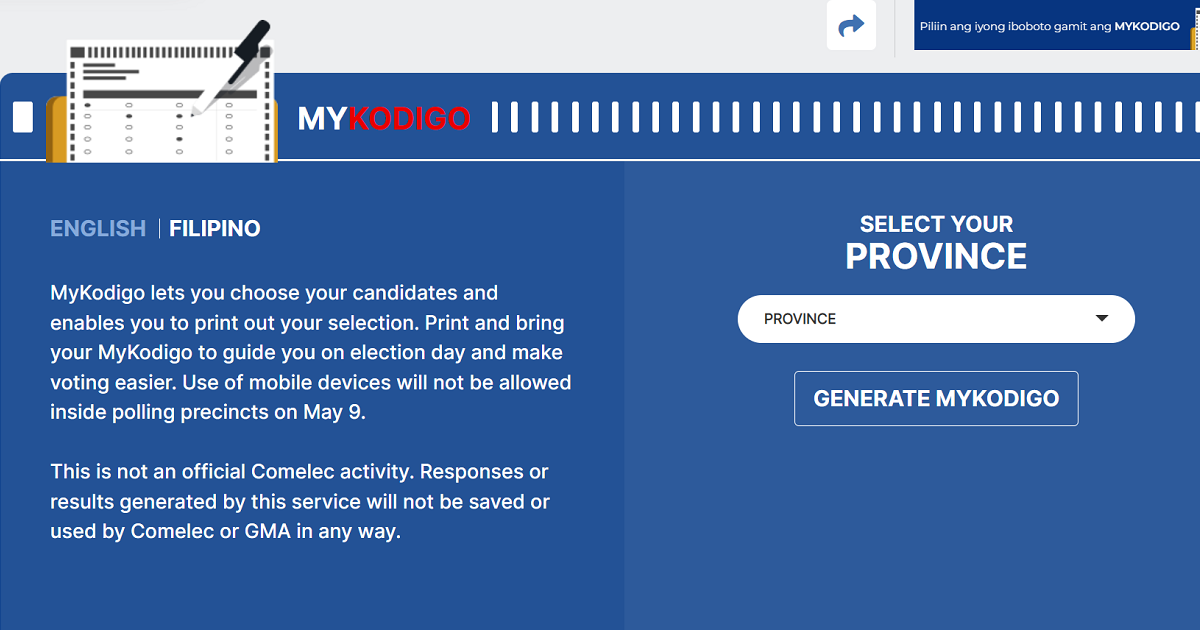 Are you ready for the 2022 national elections?
With all the names that voters have to remember on May 9, it may be helpful to bring your own kodigo to guide you with shading the right candidates as using mobile phones will not be allowed inside polling precincts.
Here's how you can have one that's complete with your candidates' names, position, and number on the ballot:
1. Visit the "My Kodigo" page through GMA News Online's Eleksyon 2022 website.
2. Select your province and city or municipality from the dropdown menu, then click "Generate MyKodigo."
3. You'll be redirected to the page where you'll choose your candidates for president (1), vice president (1), senators (12), House of Representatives (1), mayor (1), and vice mayor (1).
4. Voters are also required to shade their desired members for Sangguniang Panlungsod (6) and party-list.
5. Once you have completed and double-checked each section, click "Submit." A summary of your choices will then be shown for your review.
6. If everything is correct, you may proceed to getting a hard copy by clicking "Print MyKodigo." A pop-up window showing options on how you want it to be printed will be shown.
While generating a kodigo is easy as 123, make sure to do an ample amount of research before making a choice. You may turn to the Eleksyon 2022 Candidates page and Guides page for more information.
MyKodigo is not an official Comelec activity. Responses or results generated by this service will not be saved or used by Comelec or GMA in any way.
—Franchesca Viernes/MGP, GMA News