Filtered By: Topstories
News
Sara Duterte, outgoing DepEd chief Briones hold transition talks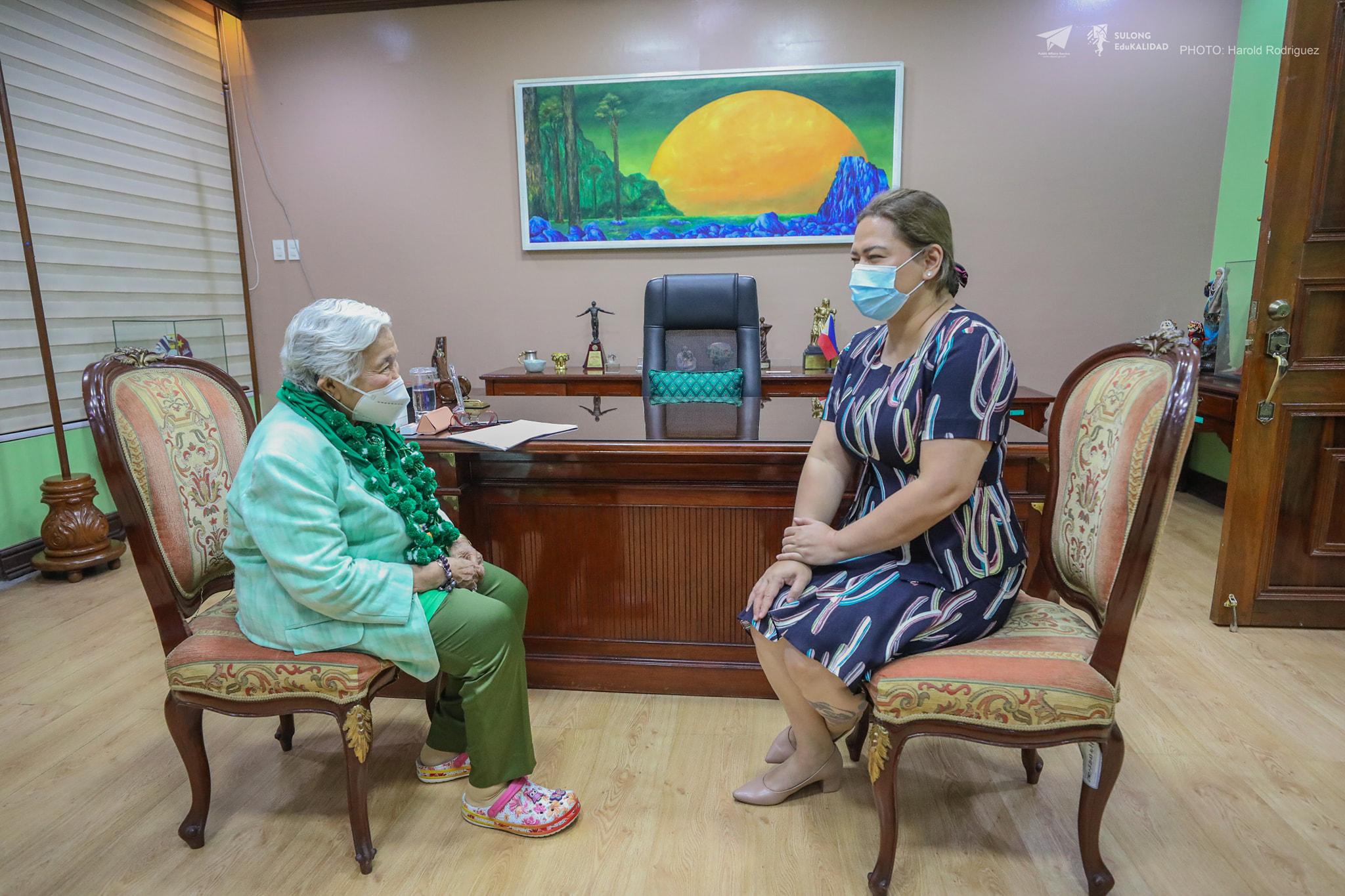 Vice President-elect Sara Duterte held transition talks on Saturday with outgoing Education Secretary Leonor Briones.
In a statement, the Department of Education said Duterte visited Briones at the agency's main office in Pasig City, where they had a one-on-one meeting before attending a transition briefing with top DepEd officials.
Briones provided an overview of the DepEd's work under the outgoing administration.
It included a summary of the scope of the department's responsibility; the contribution of the outgoing administration to basic education reforms; and the identification of matters that require immediate policy attention.
Meanwhile, Duterte acknowledged the contributions of the present DepEd team. She also thanked Briones for immediately expressing her support when the vice president-elect was named to lead the department in the incoming Marcos administration.
Both officials had a consensus on policy matters that require immediate attention such as the guidelines for the incoming school year 2022 to 2023 and budget for 2023. The DepEd stated that these concerns will be addressed immediately by consultations between the concerned members of both teams.
Duterte also noted the United Nations Transforming Education Summit that will happen at the time of the UN General Assembly in September.
The outgoing administration, on the other hand, will transition the work of the National Consultations Convening Committee to the new administration.
"Secretary Briones reiterated her assurance that Vice President-elect Duterte has the full support of the DepEd family in this transition period. She also agreed to continue to work with the incoming administration as a consultant," the DepEd said.
A joint farewell and welcome ceremony will be held on July 4, according to the department.
Briones earlier congratulated the vice president-elect, adding that she was looking forward to turning over the leadership of DepEd to Duterte.
"That the department will be concurrently led by no less that the Vice President speaks to the highest priority that education will be given under the incoming administration," Briones said in a statement ahead of Duterte's inauguration as the Philippines' 15th vice president on June 19.
She said Duterte "has a wide understanding of the problems of the education sector, especially in the grassroots level."
Duterte earlier said she would look into the possibility of a full resumption of face-to-face classes although the country is still under a state of public health emergency due to the COVID-19 pandemic.
She also said that President-elect Ferdinand "Bongbong" Marcos Jr. instructed her to conduct a review of the K to 12 program. —VBL, GMA News