Filtered By: Topstories
News
Paolo Duterte, seven others, make renewed push for Department of Disaster Resilience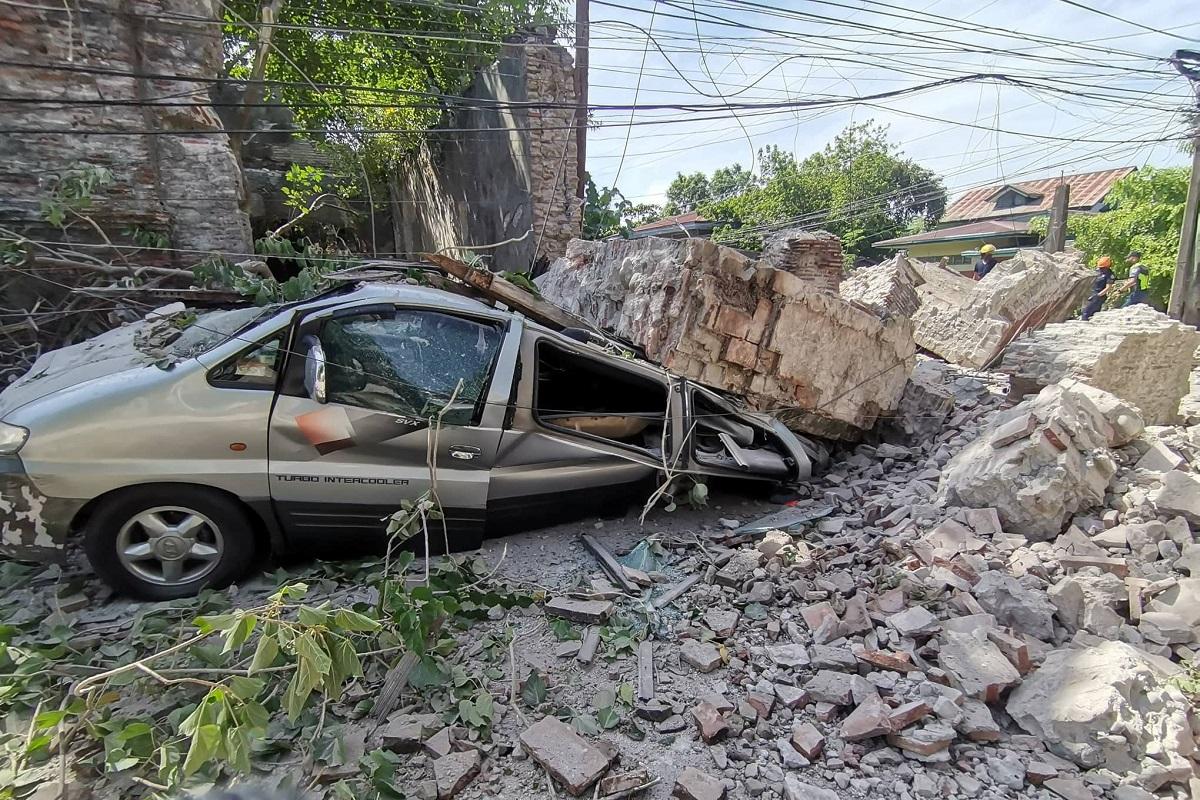 At least eight members of the House of Representatives on Thursday made a renewed push for the passage of the law creating a Department of Disaster Resilience (DRR) agency which they expect to improve the government's disaster preparedness, response, and rehabilitation efforts.
The lawmakers who made the appeal a day after a 7.0 magnitude earthquake hit Abra include:
Paolo Duterte of Davao City
Eric Yap of Benguet
Ralph Tulfo of Quezon City
Edvic Yap of ACT-CIS party-list
Jocelyn Tulfo of ACT-CIS party-list
Jeffrey Soriano of ACT-CIS party-list,
Alfred "Apid" Delos Santos of Ang Probinsyano party-list and
Angelica Natasha Co of BHW party-list
Under the House bill filed by Duterte, Yaps, the Tulfos and Soriano, "an empowered, highly specialized, science and ICT (information and communications technology)-based and fast and responsive Department of Disaster Resilience will be established, with the clear unity of command and be primarily responsible for ensuring safe, adaptive and disaster-resilient communities."
The same measure states that the DDR will manage and direct the implementation of national, local, and community-based disaster resilience and disaster management programs, projects, and activities in collaboration with relevant government agencies, local government units (LGUs), civil society organizations, academic groups, and other stakeholders.
"We should emphasize the science-based aspect of this proposal. With the Philippines among the countries most vulnerable to the destructive effects of climate change, science and technology should play a key role in helping us prepare for possible disasters," Duterte said in a statement.
Based on the records of the National Disaster Risk Reduction and Management Council (NDRRMC), at least five people have been reported killed while 131 others were injured as a result of the Abra quake that was felt in many areas in Luzon, including Metro Manila.
Likewise, Duterte cited data from the Philippine Statistics Authority (PSA) showing that extreme events and disasters from 2010 to 2019 cost the Philippine economy nearly P500 billion in losses.
Duterte's proposal also entails the establishment of a National Disaster Operations Center (NDOC), Alternative Command and Control Centers (ACCCs) in the regions, and the Disaster Resilience Research and Training Institute (DRRTI), which will help develop a highly professionalized corps of officers that will be in charge of, among others, multi-hazard mapping; risk analysis; and the setting up of a database that includes relevant information from other government agencies and third parties for the DDR to better prepare and respond to natural hazards.
The DRRTI, Duterte said, will also include establishment of reliable and up-to-date disaster-related information and communications systems and technologies through close coordination with the Department of Science and Technology (DOST) and academic institutions.
Delos Santos of Ang Probinsyano Party-list and Co BHW party-list, for their part, said that the Abra earthquake is a reminder to Congress on the urgency of creating the Department of Disaster Resilience."
"The earthquake reminds us of what we need to do to be prepared for any disaster. We did not have a DDR when the COVID-19 pandemic struck. We could have fared better against COVID if we had the DDR in place," Delos Santos pointed out.
Agency under OP
But earlier in the day, President Ferdinand Marcos Jr. expressed support to the suggestion that the proposed new disaster response body be an attached agency under the Office of the President (OP) instead of a new department.
Presiding over a briefing in Bangued, Abra, Marcos said there is a need for the government to "disabuse" itself of the idea of creating new departments, amid lawmakers' push for the creation of a Department of Disaster Resilience (DDR).
Marcos was agreeing to the proposal of his sister, Senator Imee Marcos, who was at the briefing, to create a government body in charge of disaster response under OP.
"May I recommend by way of yet another Imeesolusyon rather than a whole scale department na mauubos lang ang budget sa sahod ng limang [undersecretaries], sangkatutak na [assistant secretaries], can we start with an NDRRMC authority or administration?" Senator Marcos said.
"We are siblings, indeed. I fully agree. I did not ever understand the concept of a full... department. I don't think we need that because you don't really have to form policy," Marcos said in response.
"It is just an implementation of a rescue mission or search and rescue mission," he added, citing the Federal Emergency Management Agency (FEMA) of the United States as a "good model."
"There are many models, but the good model I've seen is FEMA in the United States and that's only an adjunct of the Ministry of Interior or the Department of the Interior," the President said. — RSJ, GMA News