Filtered By: Topstories
News
Marcos says Mutual Defense Treaty in constant evolution; Blinken reaffirms commitment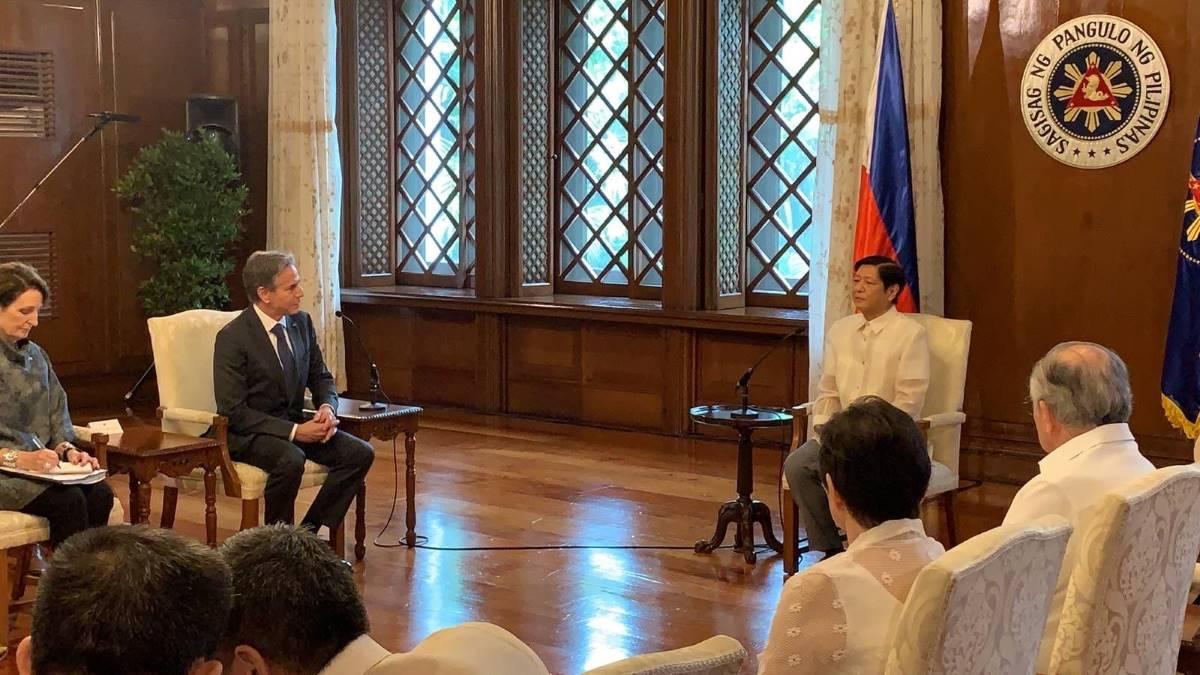 President Ferdinand "Bongbong" Marcos Jr. and United States Secretary of State Antony Blinken briefly discussed the Mutual Defense Treaty between the two countries during the latter's courtesy call at Malacañang on Saturday morning.
During the courtesy call, Marcos said, "The Mutual Defense Treaty is in constant evolution, I'd like to think of it."
The Mutual Defense Treaty between the Philippines and the US is a 70-year-old accord between the two nations. The accord binds Washington DC to defend Manila from any aggression.
"As I spoke with your Ambassador some time when she came, is that we cannot, we can no longer isolate one part of our relationship from the other," Marcos said.
"We are too closely tied because of the special relationship between the United States and the Philippines and the history that we share. And of course, all the assistance and help and support that we have received from the United States over the years," the President said.
US Ambassador to the Philippines MaryKay Carlson, on July 22, said the US said that "our Mutual Defense Treaty and other agreements are at the heart of our commitment to help defend the Philippines' sovereignty and independence."
For his part, Blinken told Marcos that "we're committed to the Mutual Defense Treaty. We're committed to working with you on shared challenges."
The US Secretary of State has earlier reaffirmed the Biden administration's commitment to defend the Philippines against any armed attack in the South China Sea and rejected anew China's massive claim on the resource-rich waters.
"What's so striking to me, Mr. President, is that [we're] working together on bilateral relations between us, we're working together in the region, and increasingly, we're working globally," Blinken said.
The US Secretary of State is also scheduled to have a meeting with Foreign Affairs Secretary Enrique Manalo on Saturday morning, then hold a joint press conference with him on Saturday afternoon.
The US Embassy in Manila earlier said Marcos, Manalo, and Blinken would "discuss bilateral efforts to strengthen the US-Philippines alliance, through increased cooperation on energy, trade, and investment, advancing shared democratic values, and pandemic recovery."
Blinken arrived in Manila on Friday night.
Department of Foreign Affairs Chief of Protocol Fred Santos and Office of American Affairs Assistant Secretary JV Chan-Gonzaga welcomed Blinken when his aircraft landed at the Villamor Airbase. —KG, GMA News