Filtered By: Topstories
News
Malaysia PM Anwar to visit Philippines on March 1 –officials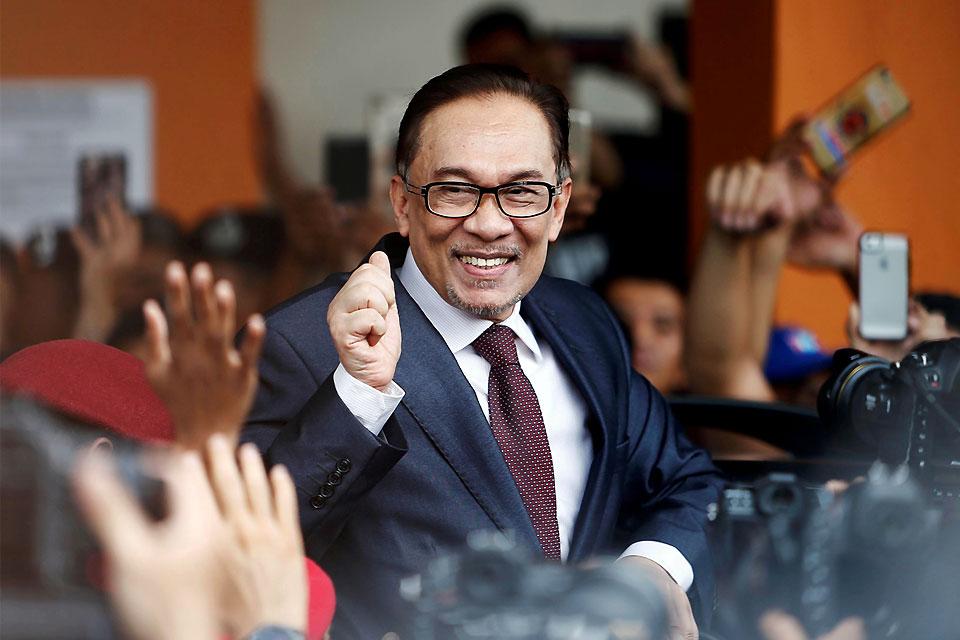 Malaysian Prime Minister Anwar Ibrahim will make a one-day official visit to the Philippines on Wednesday, where he and counterpart President Ferdinand Marcos Jr. will hold talks on strengthening bilateral relations between Manila and Kuala Lumpur, senior Philippine officials and diplomats said.
This will be Anwar's first visit to the Philippines in his current capacity since he was sworn in as Malaysia's 10th prime minister in November 24, 2022.
"He will meet with President Marcos and deliver a public lecture and have other engagements," Philippine officials and diplomats told GMA News Online. Anwar will leave Manila on March 2.
A long-time opposition leader, Anwar, 75, earlier said on Twitter that Malaysia and the Philippines "always enjoyed strong cooperation on bilateral, regional and multilateral forums."
Marcos and Anwar are expected to discuss how to further strengthen political, economic and security ties between their two countries, as well as pressing regional and global issues.
In a press release issued by Malaysia's Ministry of Foreign Affairs, it was mentioned that the two leaders would also tackle security cooperation, the halal industry collaboration, and digital economy cooperation.
Anwar will be accompanied by YABhg. Dato Seri Dr. Wan Azizah Dr. Wan Ismail. His delegation will include Minister of Foreign Affairs YB Dato Seri Diraja Dr. Zambry Abd Kadir, Minister of Home Affairs YB Senator Datuk Seri Saifuddin Nasution Ismail, Minister of Entrepreneur and Cooperatives Development YB Datuk Ewon Benedick, and other officials from relevant agencies.
Meanwhile, Anwar will also deliver a public lecture at the University of the Philippines and have an engagement session with the Malaysian diaspora in the Philippines.
Malaysia was the facilitator of the peace process between the Philippine government and the Moro Islamic Liberation Front (MILF), which led to the signing of a peace deal in March 2014.
While generally enjoying good relations, the issue of Sabah has been a long-time thorn in the diplomatic ties between the two Southeast Asian neighbors.
Sabah, located south of Mindanao, is territorially disputed by the Philippines and Malaysia. A Philippine claim for sovereignty over Sabah has lain dormant for decades, but Malaysia has paid a yearly rent to the heirs of the Sultan of Sulu. However, this stopped in 2013 after an armed intrusion in Sabah by forces said to be linked to the Sulu sultanate to reclaim rights over Sabah.
Malaysia has maintained that Sabah has been recognized by the United Nations and the international community as part of Malaysia since the formation of the Malaysia Federation on September 16, 1963.
A known friend of former President Joseph Estrada, Anwar, an ex-deputy prime minister in the 1990s, spent nearly a decade in jail for sodomy and corruption – charges he said were politically motivated and aimed at ending his career.
Anwar's ascent to the prime minister post was seen by his supporters as a vindication more than two decades since his ouster from government and imprisonment.
Since assuming the post, Anwar had visited Indonesia and Singapore.
The Ministry of Foreign Affairs of Malaysia said Anwar's visit to the Philippines would reflect the importance of relations between the two countries as close neighbors and partners in ASEAN.
"It will provide an excellent opportunity for both sides to advance the partnership for progress, guided by shared interest, increased political and economic cooperation, and people-to-people exchanges," it said. —KG/ VAL, GMA Integrated News