Filtered By: Topstories
News
Malaysia PM Anwar calls for multilateral approach to South China Sea dispute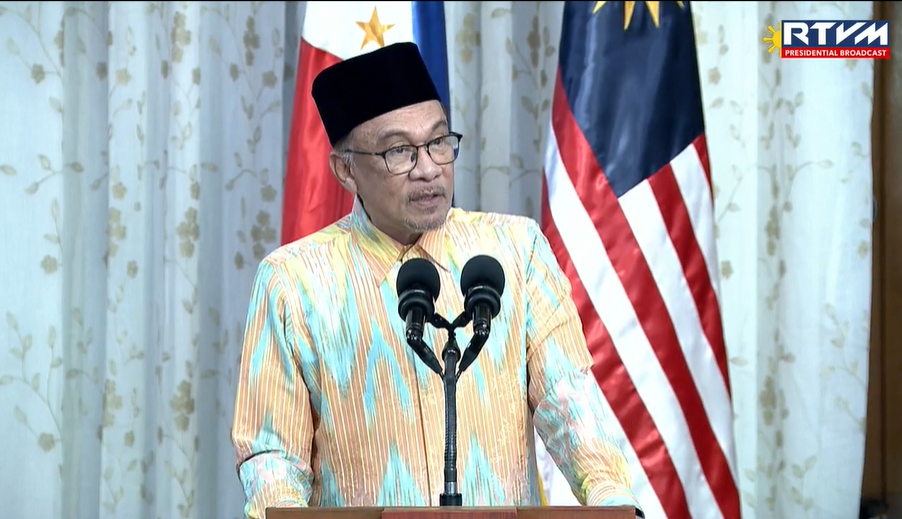 Malaysian Prime Minister Anwar Ibrahim said Wednesday that the South China Sea dispute should be resolved amicably at a multilateral level.
The dispute in the resource-rich region was among the topics discussed by President Ferdinand "Bongbong" Marcos Jr. and Anwar during their bilateral meeting at Malacañang Palace.
"We did discuss the South China Sea issue, and I shared President Marcos Jr.'s concern that, due to the complexity and sensitivity of the issue, we should try and engage and take the position at a multilateral level between ASEAN so that we may have a comprehensive approach and achieve an amicable resolution to this outstanding problem," Anwar said at the joint press conference.
Malaysia also has claims in the South China Sea.
The Association of Southeast Asian Nations and China have been negotiating a code of conduct in the South China Sea. At the 25th ASEAN-China Summit last November, Marcos expressed hope for "an approved code of conduct in the very near future."
Marcos said the Philippines and Malaysia, being "immediate neighbors," have recognized the importance of maintaining peace and security in the region.
"As such, we agreed to continue our cooperation on political and security matters, rekindling the joint commission meetings and joint initiatives to combat transnational crime and terrorism," he added.
China claims a huge swathe of the South China Sea as part of its territory, but the tribunal in The Hague invalidated this on July 12, 2016, following a case filed by the Philippines in 2013.
Beijing has since ignored the ruling and continued its activities that are seen as aggressive by its neighbors in the region. —VBL, GMA Integrated News