Filtered By: Topstories
News
'LARGEST EVER'
PH, US kick off 2023 Balikatan military exercise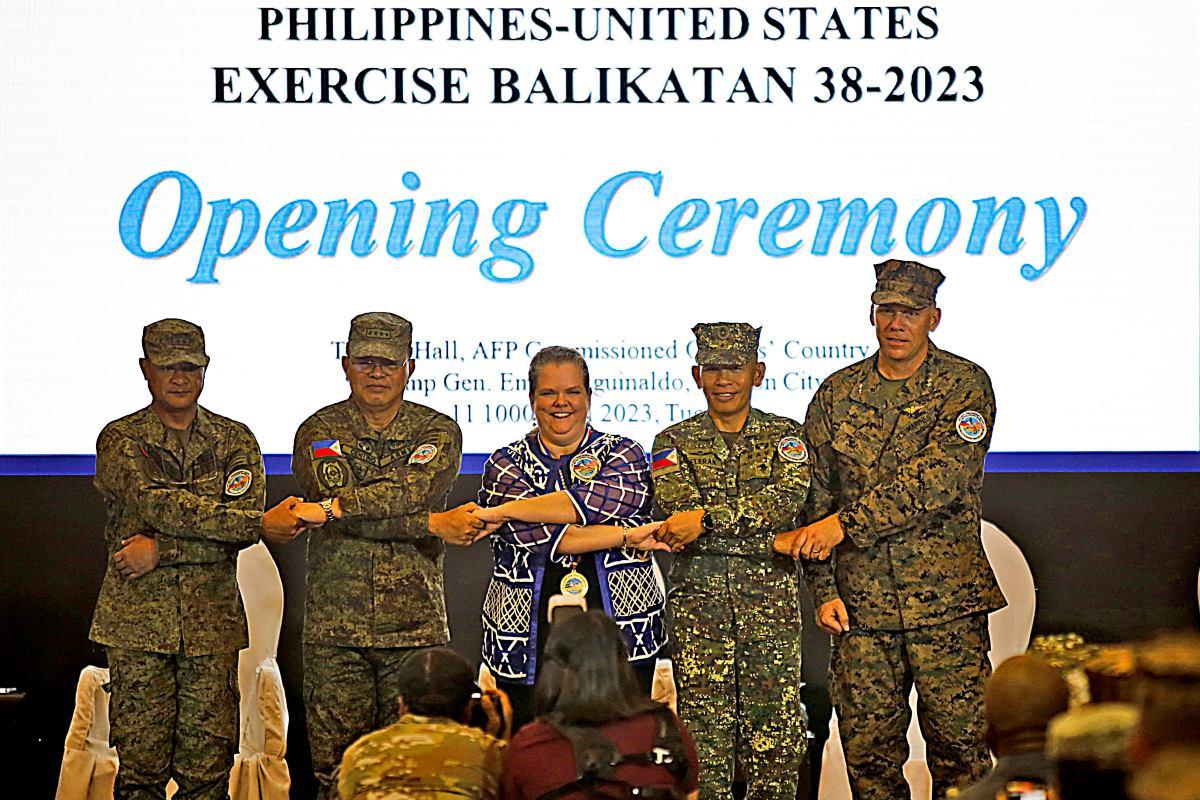 The Philippines and the United States kicked off their biggest Balikatan military exercise on Tuesday, which aims to develop interoperability between the two countries and improve capability.
"By the authority vested in me as the Chief of Staff of the AFP, I now formally declare the Philippine-US Exercise Balikatan 38-2023 open," AFP chief General Andres Centino said during the opening ceremony.
The 38th Balikatan will have 17,600 participants including 12,200 US troops and 5,400 Philippine soldiers.
Four major events are set in this year's Balikatan: Command Post Exercise, Cyber Defense Exercise, Field Training Exercise, and Humanitarian Civic Assistance (HCA).
Philippine and US troops will work on maritime security, amphibious operations, live-fire exercise, urban operations, aviation operations, counterterrorism, and humanitarian assistance and disaster response.
Activities will be conducted in North and Central Luzon as well as in Palawan and Antique.
Balikatan 2023 spokesperson Colonel Michael Logico earlier said it will also be the first time Philippine and US forces will engage in live-fire exercises at sea.
The training will include combined joint logistics over the shore in Subic and Casiguran Bays and combined joint littoral live fire exercise in Zambales.
"We're going to sink a very old Philippine Navy ship... They have to fire at a target closer to what we would expect to an actual threat which would be an intrusion coming from an adversary by sea. How will they do that? They will do is through a navy ship," Logico said in an ambush interview after the Balikatan opening ceremony.
Logico added that any exercises they do is a demonstration of "combat readiness".
'We are demonstrating that we are combat ready, we have the capacity to deliver fires on a target from the land, air, and sea," Logico said in Chino Gascon's report on "24 Oras",
Humanitarian Civic Assistance activities, meanwhile, will be conducted in Brgy. Inabasan, Sibalom, Antique; San Joaquin, Sarrat, Ilocos Norte; and Brgy. Suklayin, Baler, Aurora.
On Monday, the 3rd Infantry (Spearhead) Division hosted an opening ceremony for the Chemical Biological Radiological Nuclear (CBRN) Training under Balikatan at Camp General Macario B Peralta in Capiz.
The CBRN training program aims to enhance the capabilities of the Philippine military and its allied forces in responding to chemical, biological, radiological, and nuclear threats.
Activities will also be conducted in North and Central Luzon as well as in Palawan and Antique.
Around 100 members of the Australian Defense Force will also participate in selected activities while representatives from Armed Forces of allied and partner nations will attend as observers only.
The Balikatan exercise will conclude on April 28.
China's comment
In the backdrop of this year's Balikatan is the continued territorial dispute in the South China Sea.
On Monday, Chinese Ministry of Foreign Affairs spokesperson Wang Wenbin said joint exercises between the Philippines and the US should not interfere with the disputes in the South China Sea.
"The US-Philippines military cooperation must not interfere in South China Sea disputes, still less harm China's territorial sovereignty, maritime rights and interests and security interests," Wang said.
Philippine exercise director Major General Marvin Licudine said that the exercises will not affect the tensions in the South China Sea and surrounding territories.
"The Balikatan exercise will not affect the tensions going on around us particularly in Taiwan or South China Sea. Balikatan is a year to year activity of the US and the AFP," he said in a press conference.
"We don't feel urgency based on any tensions. There are tensions we all understand that, but what we do feel is a true value into the partnership with allies and partners throughout the region," said US exercise director Maj. Gen. Eric Austin —VAL, GMA Integrated News