Filtered By: Topstories
News
Gatchalian: Lack of preferred SHS strand adds to students' college costs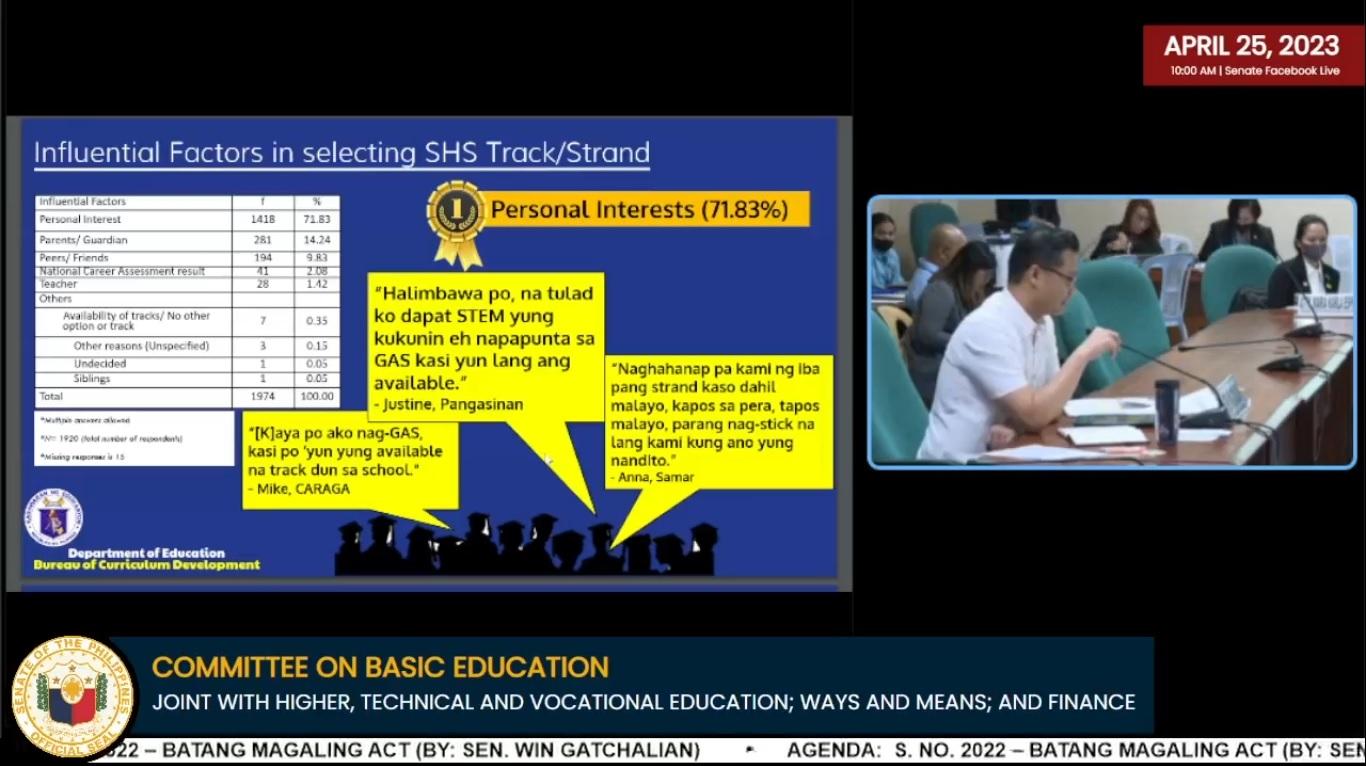 Students who are forced to take a different senior high school (SHS) strand from the one they prefer due to unavailability face more costs at the tertiary education level, Senator Sherwin Gatchalian said Tuesday.
The lawmaker raised this at a Senate hearing after the Department of Education presented a tracer study that found that SHS graduates encounter challenges such as difficulty of the subjects, non-crediting of SHS subjects, and rejection from the degree program in pursuing higher education.
Gatchalian focused on the non-crediting of subjects and rejection from the college degree program as he noted the comments from SHS students which the DepEd included in their presentation which showed the unavailability of their preferred strand.
In DepEd's presentation, a student from the CARAGA region stated that he chose the General Academic Strand (GAS) because it is the available track in his school. Another student in Pangasinan wanted to take the Science, Technology, Engineering, and Mathematics (STEM) strand but had to take GAS because it was the only available track in her school.
Gatchalian said that the lack of available strands in schools was also pointed out in a research conducted by the Philippine Institute for Development Studies (PIDS).
PIDS President Aniceto Orbeta Jr., who was present in the hearing, presented their study which showed the availability of SHS strands at the municipal and city level.
Orbeta said that 64 percent of the municipalities/cities have no Accountancy, Business and Management (ABM) strand; 70 percent have no Humanities and Social Science (HUMSS) strand; 74 percent have no STEM strand; 37 percent have no GAS; 99 percent have no maritime academic strand; and 99 percent have no sports and arts strand.
"Sometimes the interest of the SHS is not in their area and they are forced to take something that is available there but the problem is when they move to college, whatever they took in senior high school is not accepted or not credited," Gatchalian said.
"'Pag punta nila sa college, magbi-bridging program sila. Dagdag gastos, dagdag oras pa [When they get to college, they have to take a bridging program, which is added time and cost]. My point here is we're penalizing our senior high school students or graduates by adding a bridging program, by adding more time, and by not accepting them to a course that they want but it's not available during their senior high school," Gatchalian said.
Asked the cost of a bridging program for students who want to pursue a degree that is not related to their senior high school strand, Dr. Flordeliza Francisco of the Commission on Higher Education said the average fee in private schools range from P3,000 to P5,000 as the program is equivalent to a three-unit subject.
Francisco said students who take the bridging program will have to attend classes for a whole semester or for four to five months.
The number of subjects for the bridging program will still depend on the higher education institutions' assessment of the subjects that a student took in senior high school, she added.
Gatchalian then pointed out that it is the fault of the government that students are suffering from more costs in college due to lack of available strands in schools.
"Kasalanan ng gobyerno na hindi available 'yung gusto nila, but when they go to college hindi natin tinatanggap ang kanilang degree program [It is the government's fault that their preferred strand is not available, and when they get to college they are not accepted by their degree program]. If they are forced to take a particular track or a particular strand because that is the only one available there but when they go to college it is not accepted, kasalanan ng gobyerno 'yan, 'di ba? [it's the government's fault, isn't it?]" he stressed.
For CHED's part, Francisco said that they issued a memorandum instructing the higher education institutions to accept any SHS graduate even if their strand is different from their preferred college degree.
"The HEIs were instructed [that] you should accept any senior high school graduate—even if they are applying for a STEM course and their track in senior high school is not STEM, that should not stop you from accepting them but you should provide for necessary bridging that they need," she said.
The Senate committee on basic education on Tuesday continued the deliberations of Senate Bill No. 2022 or the proposed Batang Magaling Act which seeks to ensure that K to 12 graduates are equipped with knowledge, training and skills demanded in the labor market, regardless of their chosen curriculum exit. — BM, GMA Integrated News