Filtered By: Topstories
News
Filipino families who rate themselves as 'poor' steady at 51% —SWS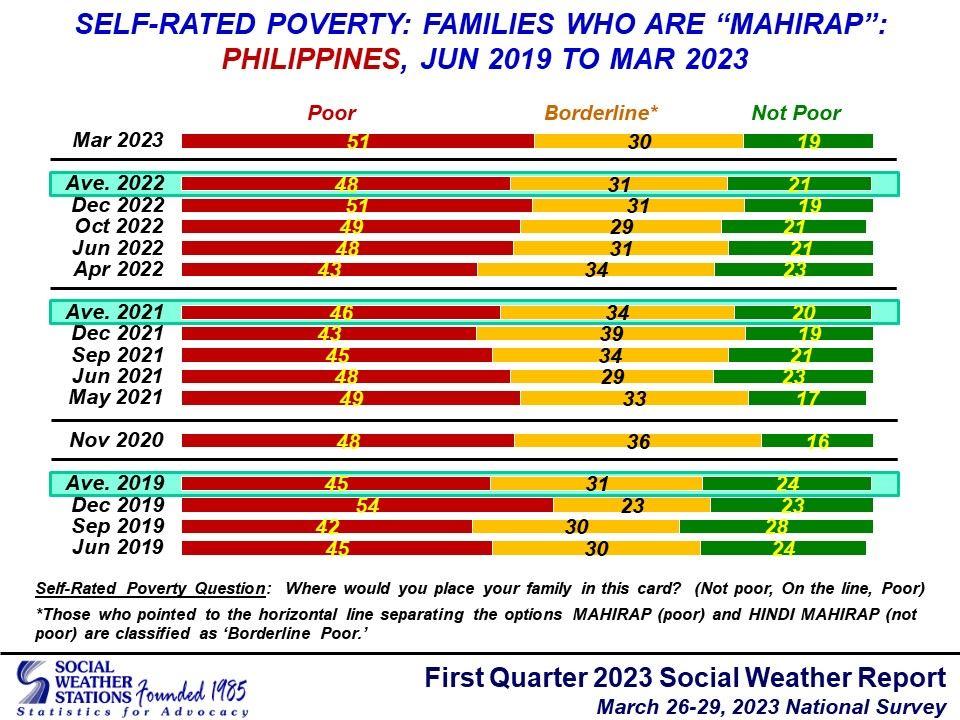 Half of all Filipino families described themselves as poor in March 2023—a finding barely changed from December 2022, according to a Social Weather Stations survey.
In a statement released on Sunday, the polling organization said the survey conducted from March 26 to 29, 2023 found that 51% of families self-rated as poor, while 30% rated themselves as "borderline," and 19% rated themselves as not poor.
Some 14.0 million families self-rated as poor in March 2023, compared to 12.9 million families for the same percentage in the December poll. "To arrive at the estimated numbers of Self-Rated Poor families, the percentage of respondent households rating themselves as poor was applied to the Philippine Statistics Authority medium-population projections for 2023 and 2022, respectively," SWS explained.
The steady percentage in the "self-rated poor" figure nationwide is the result of increases in the National Capital Region and the Visayas, a decline in Balance Luzon (Luzon outside of Metro Manila), and steady numbers in Mindanao, SWS said.
In Metro Manila, families who rated themselves as poor rose from 32% in December to 40%; in the Visayas, the percentage rose from 58% to 65%.
In Balance Luzon, the percentage fell from 49% to 43%, while in Mindanao the percentage was statistically steady, going from 59% to 62%.
Borderline and not poor
The percentage of Filipino families who rate themselves on the borderline did not statistically change in three regions, going from 29% to 26% in Metro Manila; 30% to 32% in Balance Luzon; and 30% to 33% in Mindanao. In the Visayas, the percentage fell to 26% from 34%.
Families who rate themselves as "not poor" rose in Balance Luzon from 20% to 25%; fell to 33% from 39% in Metro Manila; dropped to 6% from 11% in Mindanao; and remained steady in the Visayas at 9%.
SRP threshold, SRP gap
In Metro Manila, the self-rated poverty (SRP) threshold—the "minimum monthly budget self-rated poor families say they need for home expenses in order not to consider themselves poor"—rose to P20,000 in March 2023 from P15,000 in December 2022.
In other areas, the SRP threshold remained steady: P15,000 in Balance Luzon and the Visayas and P10,000 in Mindanao.
The median SRP gap, meanwhile, rose from P6,000 to P10,000 in Metro Manila; rose from P5,000 to P6000 in Balance Luzon; stayed steady at P7,000 in the Visayas, and remained the same at P5,000 in Mindanao.
The median SRP gap—the amount that families lack in their minimum monthly budgets to reach the SRP threshold—has generally been about half the SRP threshold. "An increase in the proportion of the median SRP Gap relative to the median SRP Threshold means a worsening in families' budget for home expenses," SWS said.
6.5% are 'newly poor'
Among the 51% who rated themselves as "poor," 6.5% or 1.8 million families said they were "non-poor" one to four years ago.
Another 6.7% said they were "non-poor" five or more years ago, while 37.9% have never experienced being non-poor.
Among the 49% who "non-poor"—consisting of 30% borderline and 19% not poor—17.7 percent or 4.8 million were poor one to four years ago; 9.5% or 2.6 million were poor five or more years ago; and 21.7% or 5.9 million have never experienced being poor.
Food-poor
Meanwhile, more than 10 million Filipino families said they consider themselves food-poor. This represents 39% of respondents.
Those who say they are borderline food-poor comprise 35%, while 26% do not consider themselves as food-poor.
The survey was conducted from March 26 to 29, with face-to-face interviews of 1,200 Filipinos aged 18 and above in Metro Manila, balance Luzon, Visayas, and Mindanao.
Inflation
In reaction to this, National Economic Development Authority (NEDA) Secretary Arsenio Balisacan said "families tend to self-rate themselves as poor when the inflation rate, particularly food inflation, is high."
"The SWS survey results for March 2023 reflect that tendency, even as the labor market conditions have been improving, as shown by recent months of PSA surveys," Balisacan said in a statement.
"That is why we have been working hard to address the issues contributing to the price elevation in recent months," he added.
Balisacan also said the Marcos administration has succeeded in reducing overall inflation in the past three months.
"We have, however, much more work to do as the government targets inflation to return to low levels of 2 to 4% by the end of the year," the NEDA chief said. —with a report from Anna Felicia Bajo/BM/KG, GMA Integrated News