Filtered By: Topstories
News
LGUs, residents on Typhoon Betty's path prepare for impact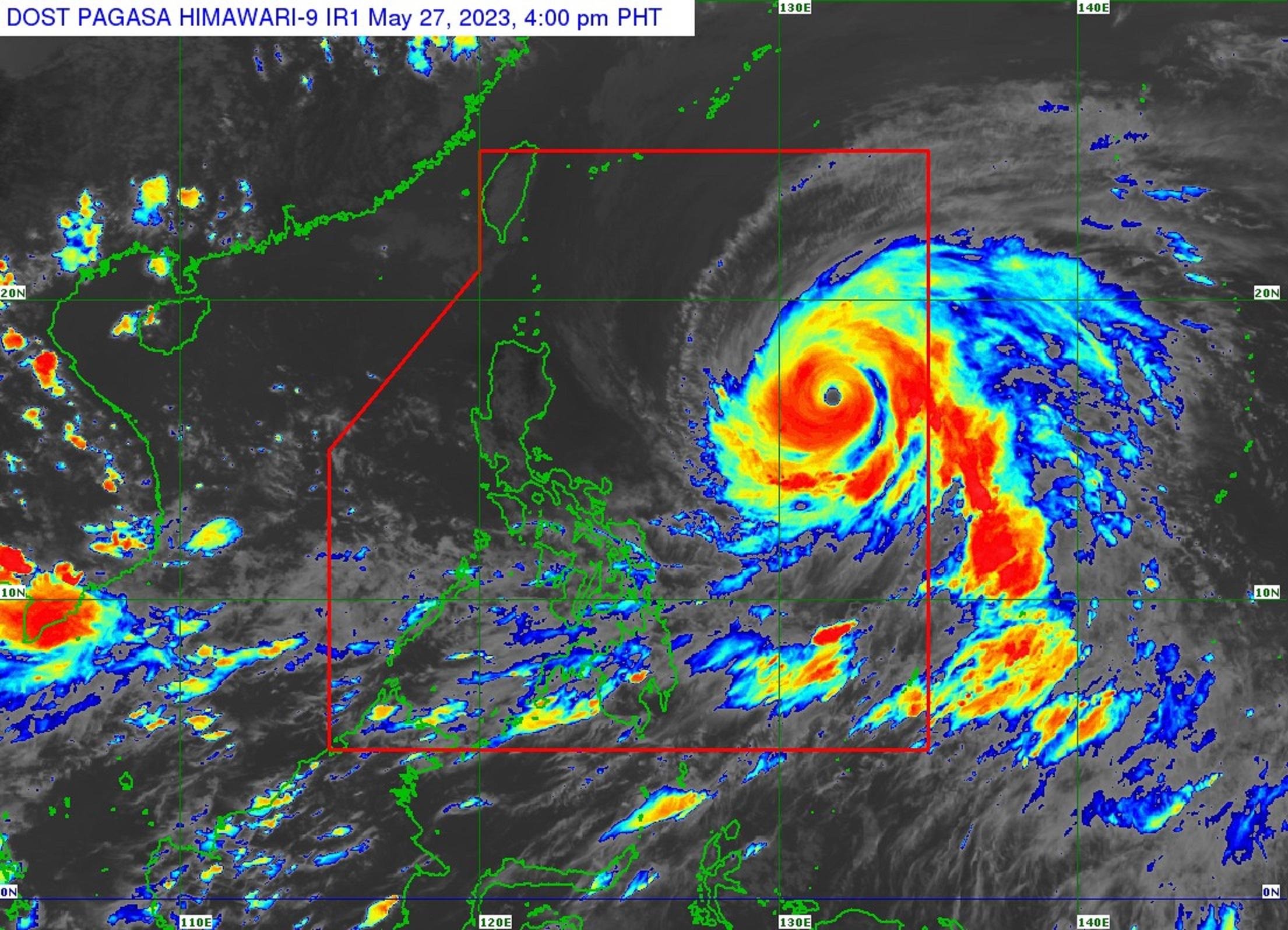 Several local government units and residents in areas facing the threat of Super Typhoon Betty -- which entered the Philippine Area of Responsibility at 2 a.m. Saturday -- are bracing themselves against the cyclone's dreaded wrath.
Batanes
Residents and fishermen in Batanes transferred their boats to higher grounds, along the roads, and secured the roofs of their houses with plywood in anticipation of the effects of Betty, according to GMA Integrated News reporter Jonathan Andal.
Personnel tied the roofs of school structures to the trees, while water tanks were fastened in place with thick ropes.
"Tradisyon na namin magtulungan pagka ganito. Ganun ang Ivatan po (It's our tradition to work together in times like this. That's the nature of Ivatans)," a resident said.
"Kung mayroon pa tayong Tulong Panghanapbuhay sa Ating Disadvantaged/Displaced Workers (TUPAD) sa Department of Social Welfare and Development (DSWD) atsaka Department of Labor and Employment (DOLE) baka pwedeng bigyan niyo kami," Ivana, Batanes mayor Celso Batallones said.
(If we still have TUPAD from DSWD and DOLE, maybe they can give it to us.)
This early, scheduled brownouts were already experienced in the province from 10 p.m. to 6 a.m. as generator sets were running low on fuel.
The Philippine Coast Guard (PCG) said sea trips were normal at the Batanes Port on Saturday, according to GMA Regional TV Balitang Southern Tagalog.
Aurora
The province of Aurora was also prepared for the typhoon. But some tourists were still enjoying water activities in the province's beaches, according to GMA reporter Ian Cruz.
Water activities were not yet prohibited in some of the beachfronts in Sabang, Baler, Aurora.
On the other hand, some fishermen and surfing instructors expressed concern as their livelihood will be affected by the typhoon.
According to the Provincial Disaster Risk Reduction and Management Office (PDRRMO), tourism activities in the towns of Dingalan, and San Luis were suspended.
At least 2,500 food packs were also prepared by the province, while 10,000 more have been prepositioned by the Department of Social Welfare and Development (DSWD).
Ormoc City
The DRMMO of Ormoc City has been on blue alert status since Friday, which means that all personnel are on-call for immediate response, according to GMA Regional TV report.
Operation dispatchers, meanwhile, are closely monitoring the weather conditions. Ormoc City has been experiencing heavy rains since Friday.
Occidental Mindoro
Several areas in Lubang, Occidental Mindoro were experiencing inclement weather, according to GMA Regional TV Balitang Southern Tagalog report.
The town mayor said the area will be affected by the strong waves caused by the typhoon.
Meanwhile, at least three fishermen were reported missing on Friday due to the thick haze, but they were found on Saturday, the mayor of Lubang said.
The local government has since prohibited small boats from venturing into the sea due to the incident.
At least 1,000 food packs from the DSWD are expected to arrive in Lubang on Saturday afternoon.
Leyte
Several fishermen have not gone fishing since Friday as precautionary measure, according to GMA Regional TV Balitang Bisdak report.
Meanwhile, private and tourist motor banca owners in Tacloban, Leyte were also preparing for the effects of the typhoon.
Officials at the Tacloban City Port have been closely monitoring the weather, and announcements from the Philippine Coast Guard.
Some boat skippers said they were ready to transfer their boats to safer berths in anticipation of Betty's onslaught.
Cagayan
Some fishermen ventured into the sea while the weather was still good.
"Para meron kaming.. pag may bagyo na meron kaming uulamin (So that we have.. when there is a typhoon we have something to eat)," a fisherman said in Jasmin Gabriel-Galban's GMA Regional TV One North Central Luzon report which aired on "24 Oras Weekend" on Saturday.
"Pumalaot pa rin po sila ngayon kasi maghahanda na rin sila pag may bagyo mayroon na silang mga isda nakatago para sa kanila po," PO3 Elmer Viloria, PCG Sta. Ana substation duty commander, said.
(They still sail because they will also have to prepare, and if there's a typhoon, they already have fish stock with them.)
Meanwhile, some farmers were also forced to harvest their crops.
Some residents remained in their houses but will evacuate once the effects of the typhoon become severe.
"Kung lalaki man talagang lilikas kami pero kung maliliit lang yan, hindi kami lilikas kasi dito na kami," a resident said.
(If it worsens, we will evacuate, but if it is not that bad, we won't evacuate and we will stay here.)
"The local chief executive, we have provided them na red alert status na tayo kahapon (since yesterday) and it will be its own decision whether it is preemptive or forced evacuation," Cagayan DRRM officer Ruelie Rapsing said.
Benguet
The Lamtang Road in La Trinidad, Benguet, was closed to huge vehicles due to landslides.
According to the MDRRMO, heavy rains caused the landslide, which may possibly worsen due to the typhoon.
Plastic tunnels were also placed in the strawberry crops in the Cordilleras.
The DOT Cordillera recommended to LGUs that they enforce a temporary suspension of outdoor tourism activities.
Metro Manila
Authorities in Barangay Bagong Silangan, Quezon City, have started to repack relief goods in preparation for the typhoon, according to Bernadette Reyes' "24 Oras Weekend" report on Saturday.
"Ang inaantay na lang namin talaga yung warning ng QCDRMO na pwede na kami magpaforce evacuate. Meron kaming 55 na HOA (homeowners association) na nasasakupan sa low-lying areas, so lahat sila natrain na namin dito sa barangay namin, nabigyan na namin ng boat, and life vest," an official said.
(We are just waiting for the QCDRMO's warning that we can implement forced evacuation. We have 55 HOAs that belong to low-lying areas, so we have trained all of them here in our barangay, given them boats, and given them life vests.)
Some employees in Barangay Ugong, Pasig City, conducted rescue training, while supplies such as evacuation tents were also prepared.
"Sakaling may sakuna eh nakaready po tayo. Ang ating rescue 24/7 dito sa ating barangay," a rescuer said.
(In case of a disaster, we are ready. Our rescue operation is ready 24/7 here in our barangay.)
Authorities were also monitoring the water level in the Marikina River.
Boats, minibuses, and rescue trucks to be used for evacuation were also prepared in San Juan City and Mandaluyong City.
Some tarpaulins were also taken down as a safety precaution.
"Nakikipag-ugnayan na po sa mga association ng mga billboard, para ibaba po agad yung kanilang mga billboards, mga tarpaulin nila. At yun atin pong pumping stations sa MMDA ay nabigyan na rin po ng instructions," Roald Arcangel, Mandaluyong CDRRMO head, said.
(We are coordinating with the association of billboard operators to take down their billboards and their tarpaulins immediately. And our MMDA pumping stations have also been given instructions.)
Personnel from CDRRMO, PCG, the Bureau of Fire Protection, the Philippine Army, and PNP Search and Rescue Team Augmentation in Taguig City were also prepared, according to Katrina Son's "24 Oras Weekend" report on Saturday.
Search and rescue equipment such as a rope, helmet, chainsaw, speed boat, life vest, and life rings have also been set up.
Residents near Laguna de Bay were advised of the procedures during heavy rains.—LBG/VBL, GMA Integrated News