Filtered By: Topstories
News
AFP: Over 50 Chinese vessels spotted near Iroquois Reef, Sabina Shoal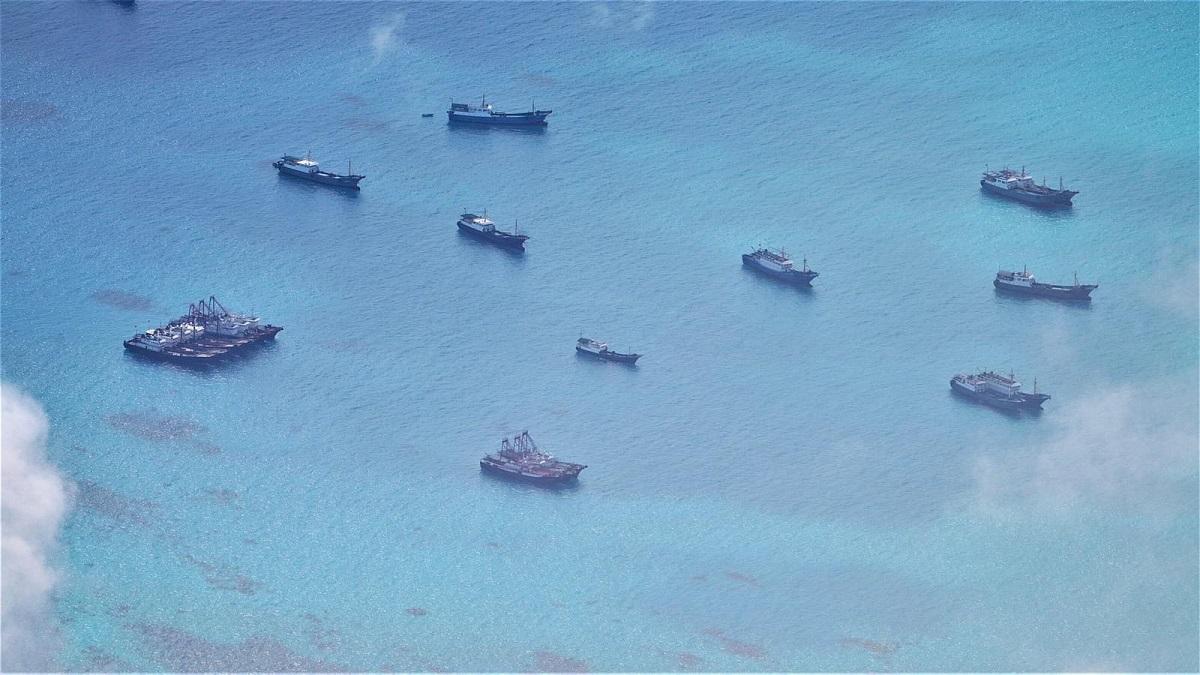 The Philippine military on Friday said it had spotted over 50 Chinese vessels in the vicinity of Iroquois Reef and Sabina Shoal in the West Philippine Sea (WPS) during a recent air patrol.
Citing its air patrol conducted on June 30, the Western Command (Wescom) of the Armed Forces of the Philippines (AFP) said 48 Chinese fishing vessels were seen near Iroquois Reef, located south of Recto Bank in the WPS.
Lieutenant Karla Andres, co-pilot of Philippine Navy's light patrol aircraft, said the fishing vessels were observed to be "anchored in groups of five to seven and no fishing activities were noticed."
"They seem to just loiter in the area," a Wescom statement quoted Andres as saying.
Based on earlier Intelligence Surveillance and Reconnaissance (ISR) flights, Wescom said the number of Chinese fishing vessels in the area increased from 12 in February to 47 on June 12.
Aside from the Chinese fishing vessels, three China coast guard (CCG) ships and two People's Liberation Army Navy vessels were seen "regularly loitering" near Sabina Shoal, Wescom said.
Two wooden resupply boats from the Philippines and two Philippine Coast Guard (PCG) vessels were also seen in the same area, it added.
"These developments raise an alarming concern about China's intentions and actions within these disputed waters," Wescom said.
Recto Bank
According to Wescom, Recto Bank stands as "a focal point in this rising concern over China's recent behavior" and "a significant feature for the Philippines holding immense potential for the country's energy security and economic growth."
"Recto Bank is a vital feature within the Philippines' Exclusive Economic Zone (EEZ), and China must cease its swarming of vessels to respect our sovereign rights," said Wescom spokesperson Commander Ariel Coloma.
Wescom said detailed reports will be forwarded to higher authorities as a step "to facilitate the potential filing of a diplomatic protest."
GMA News Online has sought a comment from the Chinese Embassy on the matter but it has yet to provide a statement as of posting time.
On Wednesday, the PCG said two CCG vessels numbered 5201 and 4203 made "dangerous maneuvers" that could have caused a collision with two PCG ships near Ayungin Shoal on June 30.
PCG spokesperson for the WPS Commodore Jay Tarriela said PCG deployed its vessels BRP Malabrigo and BRP Malapascua to assist the resupply mission of the AFP in the area.
After the incident, another CCG vessel with body number 3103 went to the area from Bajo Masinloc to "reinforce" the two CCG vessels.
Tarriela said six Chinese maritime militia (CMM) vessels swarmed the area and blocked the Philippine ship from going to Ayungin Shoal. He also said two People's Liberation Army (PLA) Navy warships, 629 and 620, were seen in the area.
Chinese Foreign Ministry spokesperson Wang Wenbin on Thursday said the maneuvers of their vessels during the June 30 incident in Ayungin Shoal were "professional and restrained."
At his recent press conference, Wang said the Chinese vessels "carried out law enforcement activities to uphold China's territorial sovereignty and maritime order."
Wang maintained that Ren'ai Reef, or Ayungin Shoal, was part of China's Nansha Islands and pointed out that it was the PCG vessels who intruded Chinese waters.
US worries over China's actions
United States Defense Secretary Lloyd Austin III raised concern over the incident in Ayungin Shoal during his July 6 phone conversation with his Philippine counterpart, Gilbert Teodoro, according to the Pentagon.
US Ambassador to the Philippines MaryKay Carlson also slammed China for its "irresponsible behavior" in the South China Sea, Chino Gaston reported on "24 Oras.''
"We are concerned by the unprofessional maneuvers of the China Coast Guard against the Philippines Coast Guard," Carlson said on Twitter.
"The PRC's irresponsible behavior in the South China Sea threatens the security and legal rights of our treaty ally, the Philippines. We call on the PRC to comply with international law, including implementing the legally binding 2016 award in the Philippines v. China Law of the Sea Convention arbitration as a starting point to achieve a Free and Open Indo-Pacific," she added.
For security expert Renato de Castro, the swarming of Chinese vessels near Reed Bank may be linked to oil exploration.
"There's a possibility, of course, that the Philippines, under this current administration, might decide to conduct a unilateral exploration of the Reed Bank. China, of course, will do anything to prevent us from conducting a unilateral exploration," said de Castro.
The Philippines' planned oil drilling activities in Reed Bank have been suspended twice due to China's protests, the report said.
This was the same location where the Chinese fishing vessel Yuemaobinyu 42212 rammed the Filipino fishing boat F/B Gem-Vir in June 2019.
The trawler sailed away following the collision, abandoning 22 Filipino fishermen in the open sea for at least four hours before a passing Vietnamese vessel rescued them. —with Sundy Locus/KBK/VBL, GMA Integrated News