Filtered By: Topstories
News
US ambassador Carlson meets Defense chief Teodoro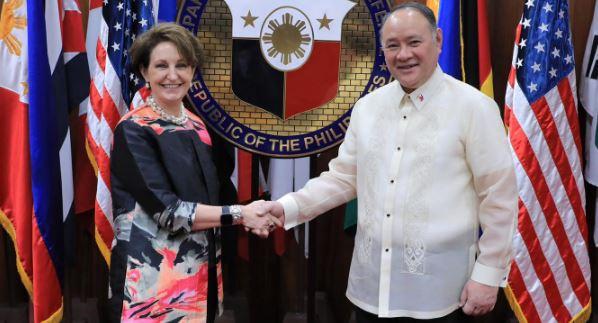 Department of National Defense (DND) Secretary Gilberto Teodoro Jr. and US Ambassador to the Philippines MaryKay Carlson met on Friday, and highlighted the "renewed and positive momentum" in defense cooperation between the Philippines and the United States.
During Carlson's courtesy call, the envoy recognized Teodoro's "transformative vision" and dedication to enhance the department's capabilities.
The two officials also cited the positive momentum in the defense engagements between the Philippines and the US.
In April, the DND announced the designation of four new locations of the Enhanced Defense Cooperation Agreement between the Philippines and the US.
Philippine Defense officials said this will further improve the country's capabilities to protect its national interests and contribute to the collective defense in the region.
The meeting also acknowledged the need to focus on priority areas of cooperation such as capability building, maritime security, and cybersecurity.
The US official expressed her government's "unwavering support" for the Philippines' position on the arbitral ruling on South China Sea, underscoring its commitment to upholding international law and promoting stability in the region.
The two countries vowed deeper cooperation, strengthened mutual understanding, and promotion of peace and security in the Indo-Pacific region.
In an earlier phone conversation, Teodoro and US Secretary of Defense Lloyd Austin III renewed their commitment to maintaining an "ironclad relationship" through streamlining procedures and ensuring that strategic objectives for the alliance are being met.
Victory
Meanwhile, the DND joined the Filipinos in marking the seventh anniversary of the award by an Arbitral Tribunal that rejected China's expansive South China Sea maritime claims
"The Award, underscoring the primacy of the UN Convention on the Law of the Sea serves as an anchor for the DND to protect our national interests in the West Philippine Sea based on established rules and generally accepted principles of International Law," it said.
"The DND stands fully behind this victory of the Filipino people, which cannot be frittered nor bargained away," the department added.
The DND said it will continue efforts to modernize its territorial defense capabilities and enhance security engagements with regional partners while keeping the country's actions to maintain orderly peace in the South China Sea.—LDF/KG, GMA Integrated News