Filtered By: Topstories
News
Bayani Fernando, longtime Marikina mayor, passes away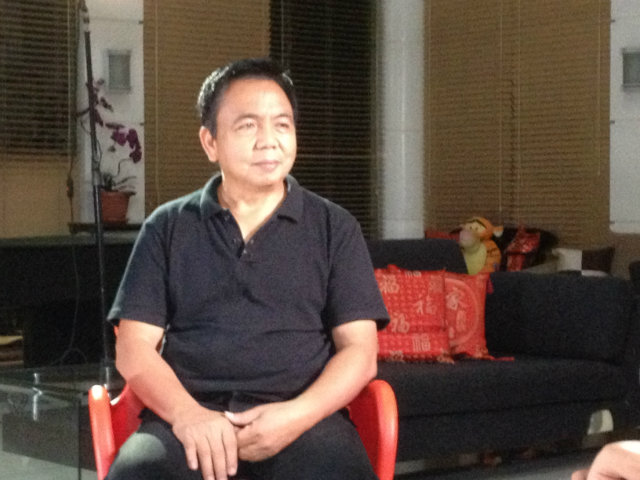 Former Marikina Mayor Bayani Fernando has died, his wife Marides confirmed on Friday.
"It is with great sadness that I announce the untimely death of my husband Bayani 'BF' Fernando today, September 22, 2023. He was 77 years old," she said in a press statement.
She said that her husband was a man of vision, political will, and action as he left his own brand of leadership and good governance.
"As a family man, he will be greatly missed and remembered as a loving husband, father and grandfather. We ask for your prayers during this difficult time in our life," she added.
Funeral services will be held at Queen of Angels Chapel, Riverbanks, Marikina.
According to Glen Juego's report on Super Radyo dzBB, Fernando died at the Quirino Memorial Hospital where he was rushed by Rescue 161 Marikina personnel and where some of his supporters have gathered.
Citing an unnamed source, Juego earlier reported said Fernando was brought to the hospital after falling from the roof of their house.
Fernando, 77, served three terms as mayor of Marikina City from 1992 to 2001. He then served as Metropolitan Manila Development Authority (MMDA) chairperson from 2002 to 2009.
He was also the Secretary of Public Works and Highways from January to April 2003.
From 2016 to 2022, Fernando served as the representative of the 1st District of Marikina in the House of Representatives.
In the 2010 elections, he ran for a national post as running mate of then presidential candidate and former Senator Richard Gordon.
Fernando was born on July 25, 1946 in San Juan to Gil Fernando, who served as Marikina mayor from 1947 to 1951 and 1956 to 1959, and the former Remedios Constantino Flores.
He was married to Maria Lourdes Fernando, who also served as mayor of Marikina from 2001 to 2010.
Fernando graduated with a degree in mechanical engineering from the Mapua Institute of Technology in 1967.
He founded the BF Group of Companies in 1985.
'Metro Gwapo'
In a statement, the MMDA said it was "deeply saddened and shocked" by its former chairman's death.
"Under his helm, he put the MMDA in the spotlight. He was the person behind rapid bus lanes and the 'Metro Gwapo' campaign transforming the region into a livable metropolis," the MMDA said.
The MMDA said Fernando, a mechanical engineer by profession, "used scientific and practical approaches in his quest to solve the problems of Metro Manila."
"A man of few words, Fernando is known to be a workaholic and a disciplinarian among MMDA employees," it said.
'No-nonsense approach'
The Department of Public Works and Highways recalled how Fernando removed obstructons in national roads during his stint as secretary.
"Secretary BF applied his no-nonsense approach when he assumed leadership of the DPWH and initiated the removal of obstructions and prohibited uses within the right-of-way of national roads," the DPWH said.
The agency said Fernando also ordered the clearing of project sites upon project completion, and prescribed the color and markings of DPWH construction and maintenance equipment including service vehicles to ensure proper use.
September 22, 2023
'Lived up to name'
In a statement Gordon said Fernando "lived up to his name, Bayani. A worthy people's leader, with ambition and vision for our country."
"He was a hard worker and expected that ethic from his co workers. He led by a code of discipline as he believed that values are the sure pathways to human development," Gordon said.
"We respected each other as transformers and not transactional leaders," he added.
Gordon said he and Fernando ran for president and vice president "with the hope of getting a 12 year partnership offering continuous, strong, firm and fair leadership towards uplifting our people through change, commitment and continuity."
Gordon and Fernando were both former mayors. Fernando of Marikina, Gordon of Olongapo City.
"We tried to give an example or measure of what our people can be; proud, dignified, not through hand outs or dole outs but through a hold on, fight on, self reliant people," Gordon said.
"We ran together because we offered choice, a track record of good governance and not empty , meaningless popularity. He and I knew it was almost Quixotic. We refused to fear, be mediocre, or to suffer in silence or be complicit,"he added.
'Visionary leadership'
From the House of Representatives, Speaker Martin Romualdez lauded Fernando for his accomplishments in Marikina and his "commitment to progress and development."
Romualdez said Fernando "transformed the city into a model for others to follow, exemplified his commitment to progress and development."
"His leadership extended beyond Marikina, as he also served as the Chairman of the Metropolitan Manila Development Authority from 2002 to 2009, where he worked tirelessly to improve the quality of life for countless Filipinos in the capital region," Romualdez said.
"His legacy of visionary leadership and dedication to the betterment of our communities will forever be remembered. Our thoughts and prayers are with his family and loved ones during this difficult time. May he rest in eternal peace," he added.
Tenacity, humor
Fernando's party, the Nationalist People's Coalition, remembered the longtime local chief executive for his "problem-solving tenacity, wit and humor."
"We, in the Nationalist People's Coalition, lost a sterling member and public service exemplar with the untimely passing of Mayor and Congressman Bayani Fernando," Quezon Rep. Wilfrido Mark Enverga said in a statement.
"Bayani is a good man, energetic, and whose heart and mind were focused on his constituents, especially the residents and business community of Marikina City. Bayani's brand of public service is one of our benchmarks. He set high standards for all of us in NPC and in public service," he added.
"The Bayani Fernando tenacity at solving problems and witty sense of humor were his most potent weapons. No problem was unsolvable to Bayani. Bayani will most certainly be missed," Enverga said. —Sherylin Untalan with a report from GMA Integrated News Research/KBK/NB/VBL, GMA Integrated News