Filtered By: Topstories
News
Senators call out PH Retirement Authority chief for demand to prioritize tackling her agency's budget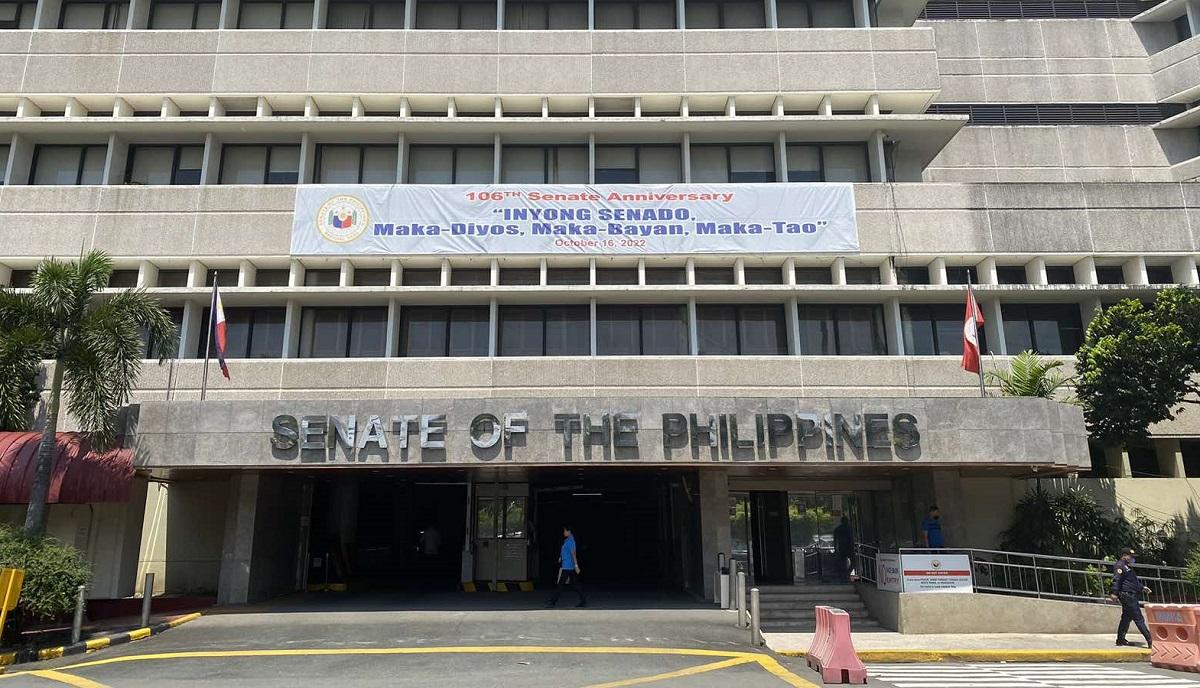 Senators on early Tuesday morning called out Philippine Retirement Authority (PRA) General Manager Cynthia Lagdameo Carrion for texting several senators and demanding that they prioritize her agency's proposed 2024 budget.
During the Senate plenary deliberations on the proposed budget for next year of the Department of Tourism (DOT), Senator Jinggoy Estrada disclosed that Carrion has "incessantly texted" Senate President Juan Miguel Zubiri, Deputy Minority Leader Risa Hontiveros and Senator Pia Cayetano.
"[She was] telling us or lecturing us to stop asking questions because according to that department head, she has been here since 1 o'clock waiting for the budget of their agency to be deliberated upon," Estrada said.
"May I call the attention of Ms. Cynthia Carrion, we've been here working at 9 o'clock in the morning waiting for all the budget of the departments to be deliberated upon. We are doing our job and no one has the right to tell us to stop talking here. It is our duty and our job to perform our work here in the Senate and you don't have the right to tell us what to do here," he went on.
Estrada told Carrion that the Senate may defer the deliberations of their budget or slash their proposed funding for 2024.
He mentioned that this is not the first time that Carrion did this and mentioned that the PRA chief had earlier texted Cayetano regarding Olympian and Filipino pole vaulter EJ Obiena's performance.
"The [DOT] secretary is not complaining. She is a neophyte secretary. She never complained. Who are you to complain? Kahit siguro alas tres na ma-hear ang budget ng DOT, hindi magrereklamo 'yan," Estrada went on.
Zubiri explained that it is the Senate's constitutional mandate to hear all the budgets of government agencies, adding that even members of the Senate do not ask their colleagues to stop interpellating.
"We have no right to stop any member of the Senate to ask questions, propose amendments, and as Senate president, I will never do that to any of you. So it's very surprising," he said,
"When I heard that you were texting other members of the Senate, particularly more insulting text messages to Senator Risa Hontiveros, to stop asking the budget of the DENR because you want the DOT to be next in line, that is not proper, that is inappropriate. And I think the sad part about it is she doesn't know you from Adam. So it's like an angry text message from an anonymous person which is again as I mentioned inappropriate. It's quite insulting," he added.
Senate Majority Leader Joel Villanueva shared the sentiments of Zubiri and Estrada and said he takes offense as a member of the Senate.
"It's unacceptable. So even if the distinguished head of the PRA is not willing to answer or apologize, I think we should hear from her what she wants, what she wanted to happen, how she think(s) this Senate as an institution can be better if we will succumb to whatever she wants," Villanueva said.
While Tourism Secretary Christina Garcia Frasco apologized for Carrion's text messages, Hontiveros urged the PRA chief to publicly apologize.
"Sa huli kasi, higit sa lahat, tungkol ito sa respeto kasi hindi po tayo gumagamit ng sense of entitlement. Ginagawa lang namin dito sa Senado ang aming tungkulin ang aming mandato," Hontiveros quipped.
Although she is in the minority bloc, Hontiveros said she takes offense that Carrion sent such text messages to Zubiri.
"I heard the apology of the person concerned but I think moving forward, words must be followed by action. Pagwasto sa ginawa niya, hindi lang sa ilang indibidwal natin, pero sa buong institusyon natin," she said.
"So I hope things can be set right in the next days, hindi lang sa Senado pati sa publiko na sumusubaybay sa trabaho namin over the past two weeks. They, at least, appreciate the seriousness in which we do our work, ano man ang oras, gaano man kami kapagod o hindi pagod," she added.
Frasco, who was allowed to speak at the plenary, apologized to the senators and said that she already ordered an investigation on Carrion's actions.
She disclosed that Carrion had demanded the same on Monday afternoon but she was surprised that the PRA chief had defied her instruction to respect the schedule of the Senate.
"I share in your shock and dismay at the highly inappropriate, unacceptable and out of line actions of the head of the PRA, the recently appointed [General Manager] Cynthia Carrion, who at the beginning of this day also actually approached me and demanded that we be placed first as far as the schedule of the deliberations of the budget to which I immediately replied to her to say that we cannot do that because the Senate is an independent body and we must fully respect their schedule, their discretion, their time. We wait like everybody else because we are in their house," Frasco said.
"Imagine my shock and complete and utter disappointment when I learned that she, in defiance of what I have been very clear to her about, proceeded to send these inappropriate text messages," she added.
The DOT chief said that she also ordered Carrions to issue an immediate and personal apology which will state that she acted on her and without the imprimatur of the department or any of its attached agency.
"As a tacit manifestation of our commitment to set things right, I have already ordered by chief of staff to immediately conduct an investigation into her actuations and subsequent findings of the same to mete out the appropriate penalty that is appropriate for the [impropriety] of her actions," she said.
Before the senators ended the discussion on Carrion's actions, Villanueva cited Section 4(b) of Republic Act 6713 or the Code of Conduct and Ethical Standards for Public Officials and Employees.
This states that: "Public officials and employees shall perform and discharge their duties with the highest degree of excellence, professionalism, intelligence and skill. They shall enter public service with utmost devotion and dedication to duty. They shall endeavor to discourage wrong perceptions of their roles as dispensers or peddlers of undue patronage." — BAP, GMA Integrated News