Filtered By: Topstories
News
Thousands join rally against SM Baguio
(Updated 9:42 a.m. Jan. 24) - More than 5,000 people walked down Session Road in Baguio City Friday to protest against the redevelopment of SM City Baguio, which includes a plan to remove more than 100 trees on Luneta Hill.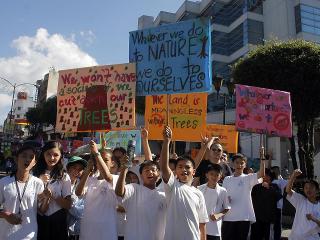 Students march along Session Road in Baguio City on Friday to urge the management of SM Baguio not to push through with its plan to ball and cut 127 mature pine trees for its expansion program. Kristian Leprozo
The protest, dubbed "
Occupy SM Baguio
" was organized as an outcry against the mall's plan to build a multi-level parking lot and entertainment plaza on the lot where the trees are currently located.
Leading the protesters was Michael Bengwayan of Pine Tree Cordillera Ecological Center who instigated the online petition opposing the decision of the Department of Environment and Natural Resources to grant SM Development Corporation a permit to cut, ball, and prune trees.
The petition garnered close to 5,000 signatures and 10,000 recommendations, enough to spark a mass protest.
One of those who joined the Friday march is CJ, a 5th grade student at a Catholic school in Baguio. She said she joined the rally to save the trees.
Students from the local elementary school, high schools and college kids, nuns, priests, members of the gay and lesbian community, local apaches, elders, senior citizens, artists, writers, and members of environmental groups trooped down Session Road Friday afternoon to People's Park.
Some 2,000 students from the University of the Philippines-Baguio participated in the protest action, said UP Chancellor Priscilla Macansantos.
Representatives of St. Louis School Center in Baguio said more than 700 students from the grades 5 and 6 levels joined the protest action following a school directive.
A hundred members of the LGBT community also marched in protest.
Earlier, Presidential Adviser for Environmental Protection Neric Acosta said despite permits given to the mall chain, he will call for a meeting with stakeholders to revisit the plans made, citing the issue is not just about cutting trees but about the heritage of the city.
SM City Baguio is planning a seven-level open-air retail, dining and entertainment destination, and will rely almost exclusively on natural ventilation for the mall's generous public spaces. The expansion area along Governor Pack Road will have a 76,000-square-meter floor area. Its existing mall space in Baguio has 106,000 square meters.
The DENR, according to Moises Bai, chief of DENR-CAR's Forest Resources Conservation Division, has given permission to SM City Baguio for the cutting of 43 planted Alnus trees, and balling of 97 growing Benguet pine trees and 42 pine saplings.
Baguio City Mayor Mauricio Domogan also approved the plan, which further enraged the local community.
SM City Baguio officials explained, however, that there will be no tree cutting to be done. Instead, trees will be balled.
The Friday rally is said to be the biggest since the 1994 protest against tree cutting in Camp John Hay. Bengwayan tagged the move as a "tree massacre" and the biggest tree cutting/transfer to date. –AL/KG, GMA News