Filtered By: Topstories
News
Comedian Tado among 14 dead in bus crash in Mt. Province
(Updated Feb.8, 1:50 a.m.)
Fourteen people were killed while 32 others were injured when a bus they were riding fell off a road and into a ravine several meters below in Mountain Province early Friday morning, police said.
Among those confirmed dead were comedian Arvin "Tado" Jimenez, musician David Sicam, leader of the Kinaiya band, and visual artist Gerard Baja. Sicam was on a family vacation to Kalinga, according to his close friend Diwa de Leon. His wife, Abby, is in serious condition in Bontoc General Hospital. His two young sons also survived the crash.
Tado's death was confirmed by the police and the artists organization that he co-founded, Dakila, which posted the news of his death on its Facebook page.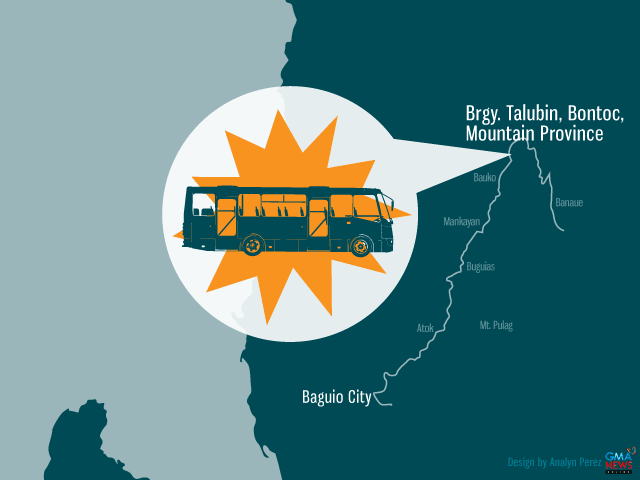 In an interview with News TV Live, Mountain Province police chief Senior Superintendent Oliver Enmodias said they had finished the rescue and retrieval of the 47 passengers, including the driver and conductor of Florida Trans Bus (TXT 872), around 12 noon.
The passenger bus fell down a 100 to 120-meter-deep ravine at around 7:20 a.m. in Sitio Paggang, Barangay Talubin, Bontoc town.
He said 15 were killed while 32 were wounded. Earlier in the day, he said there were 14 fatalities and that the wounded were rushed to Bontoc General Hospital.
Enmodias said a mechanical problem on the bus could be the cause of the accident.
"Ang sinasabi nagkaroon ng mechanical defect sa sasakyan kaya nagkaroon ng problema. Titignan natin kasi may nakitang skid mark.Yun ang isa sa mga dahilan kung bakit nahulog yung bus," he said.
"Ang sinasabi niya (driver ng bus) nagkaroon ng depekto ang sasakyan," Enmodias said. He added that they are now trying to contact the owner of the bus company.
Charley Sta. Maria, a passenger who survived with slight injuries, told GMA News that the conductor had jumped out of the bus after it seemed to have lost its brakes in the winding downhill approach to Bontoc, the capital and largest town in Mountain Province. As it gathered speed, the driver lost control and the bus fell over the edge.
One of the fatalities, musician David Sicam, was bringing his family of four to Kalinga to celebrate his four-year-old son Amian's birthday in a mountain village. "He was the glue who held our band together and kept everyone's egos in check," said fellow musician Diwa de Leon, who was in the band Makiling with Sicam, his batchmate at the Philippine High School for the Performing Arts on Mount Makiling. "He was a humble person whose priorities were family, friends, and music. But he also found time to go on adventures in the mountains."
Twenty-nine of the 32 wounded were identified as:
1. Edgar Renon (driver), 30 years old
2. Jerymiah Agnapan, 34
3. Agung Sicam, 7
4. Silvestre Dawey, 22
5. Ammelok, 32
6. Codiamat, 27
7. Teresita Sawad, 51
8. Melchor Suagen, 22
9. Camille Osorio, 28
10. Bernard Bernard, 25
11. Christian Conrado, 34
12. Alexandeer Longlong, 42
13. Kristina De Leon
14. Naty Bang-i, 57
15. Robert Conrado, 45
16. Aby Atin, 24
17. James Posao, 38
18. Carina Hairer, 38
19. Basilan Miluardo, 43
20. Abby Sicam
21. Edgar Kemon, 30
22. Winsislaw Siano, 30
23. Michael Ligito, 27
24. Dun Chavez, 30
25. Jason Melchor, 38
26. Olivia Aglipay, 27
27. Charley Santamaria, 32
28. Paeng Cordove, 32
29. Amian Sicam, 4

"Ito [the bus] galing Sampaloc [Manila] at papuntang Bontoc... may mga inaakyat papuntang hospital," Enmodias said in an earlier interview on dzBB.
— Amita Legaspi/LBG/KG/KBK/HS, GMA News