Filtered By: Topstories
News
'Negotiated' barangay posts in ARMM trumps western-style democracy
COTABATO CITY — Elections in some barangays in the Autonomous Region for Muslim Mindanao (ARMM) on Monday will be just a formality: There will be no real contest because many candidates are running unopposed.
Local politicos in these areas have opted to "negotiate" the elections as a way to avert violence in a place where political rivalries could turn violent, and at a time when elections are being held manually.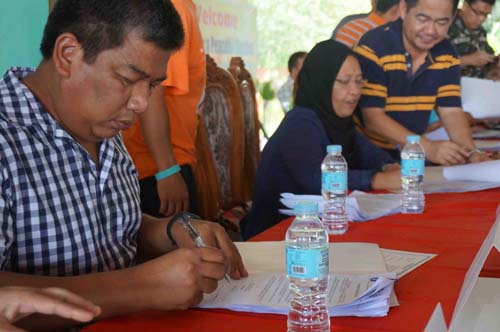 ARMM Regional governor Mujiv Hataman and Basilan governor Jum Akbar lead the signing of the covenant for peaceful barangay elections in Basilan. Photo by Daniel Abunales
In Bumbaran town in Lanao del Sur, all candidates for barangay positions in all 17 barangays are running unopposed. This is good news for Gov. Mamintal Adiong Jr.
"Alam nyo naman ang barangay, ito na yata 'yung pinakamainit at pinakamagulong election na idaraos ngayong taon," Adiong said in a speech at the flag-raising ceremony at the regional police headquarters in Camp General Salipada K. Pendatun in Parang, Maguindanao earlier this month.
In the governor's own hometown in Ditsaan-Ramain, candidates in almost half of its 35 barangays are likewise running without any opponents.
Adiong told VERA Files candidates are running unopposed in 50 to 60 percent of all barangays in Lanao del Sur.
The barangay is the smallest political unit in the country, and Lanao del Sur, with its 1,159 barangays, ranks sixth in the list of provinces with the most number of barangays nationwide. It has the most number of barangays in the ARMM, which is also composed of the provinces of Maguindanao, Basilan, Sulu and Tawi-Tawi and the cities of Marawi and Lamitan (See table).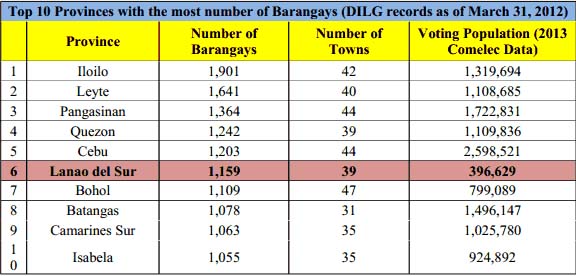 In Maguindanao, there will be no opposition in all barangays of Datu Odin Sinsuat and Sultan Kudarat.
As of Oct. 27, there are 264 unopposed candidates for barangay captain, a number that may increase because, Provincial Election Officer Udtog Tago said, "there are ongoing negotiations of elders in the family asking an opponent to withdraw (to) preserve the family ties." Most of the candidates are relatives.
Citizens Coalition for ARMM Electoral Reform (C-CARE) Secretary General Jumda S. Saba-ani cited Commission on Elections data showing candidates in 290 of Sulu's total 410 barangays running unopposed.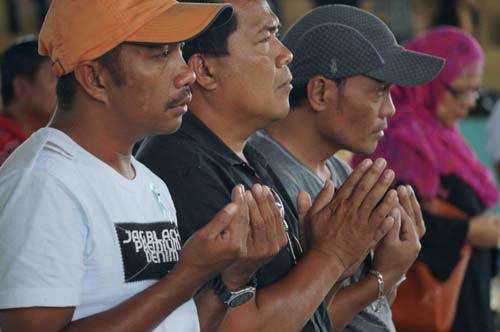 Basilan candidates for barangay captain pray for peaceful elections during Saturday's signing of a peace covenant in the province. Photo by Daniel Abunales, VERA Files
She said the local poll watchdog asked for data from Basilan, but even the local Comelec could not determine the exact number of villages with unopposed candidates as of Oct. 26.
Comelec records in Basilan show there are more than 800 candidates for barangay chairman in 255 barangays. These include those in Isabela City, which is not part of the ARMM.
Available data from the towns of Panglima Sugala, Sibutu, Sitangkai, Mapun, Bongao, Tandubas and Simunul in Tawi-Tawi show that 56 barangays captains and their kagawad are running unopposed. There are no updates yet from the rest of the province's four towns.
Comelec Regional Director Ray Sumalipao said at least 20 percent, or 527 out of the 2,490 barangays in the ARMM, have unopposed candidates.
Like Adiong, ARMM Gov. Mujiv Hataman said he prefers that differences be ironed out to prevent heated electoral contests. He said candidates could take turns with local positions and offers, counter offers, and covenants could be made.
His message to political rivals vying for barangay positions: "'Wag na kayong maglaban. Pwede kang mag-councilor, mag-kagawad, or pwede kang magpatapos ng term tapos palit-palitan kayo."
Barangay elections are pivotal because village leaders are seen as crucial to the 2016 presidential elections.

They are more significant in the ARMM, now that the Philippine government and the Moro Islamic Liberation Front has signed the Framework Agreement on the Bangsamoro in 2012 establishing a new political entity replacing the ARMM. A transitional government is expected to take over in 2015 until the ARMM's replacement at the end of President Benigno S. Aquino's term in 2016.
Politicians in the ARMM view the barangay polls as a means to put themselves in position, and prepare for these future events.
What also makes the situation in the ARMM volatile is the presence of rido or violent clan wars. More than half of all recorded deaths from rido were politically motivated, according to the Regional Reconciliation and Unification Commission (RRUC). In its 2013 report, the RRUC said at least 170 of the 313 deaths were caused by political violence.
Elections caused tension among families, the report said, as clans defended their bailiwicks by dominating barangay and municipal positions.
Local election officers as well as poll watchdogs in the ARMM acknowledged that talks have been going on among these rival political clans, with local government leaders brokering these talks.
Yet one election officer said this means democracy is thrown out the window and political affairs are left in the hands of a few. "Sila-sila lang nag-uusap," he said, referring to the political elite of each village.
Another factor prompting local officials to negotiate is that Monday's elections will be done manually. In the ARMM, once tagged as the country's cheating capital, candidates are expected to revert to the old ways of vote buying, ballot snatching, disrupting the electoral process through violence and other means of electoral fraud.

(Ironically, it was in the ARMM that Comelec pilot-tested automated elections in 1996 during the regional elections.)
Adiong said he wanted the barangay polls in Lanao del Sur to be a repeat of the May 2013 midterm elections when there was "zero failure of election."
A failure of election happens when voting is disrupted and special elections have to be scheduled at a later date. Adiong himself experienced seven special elections in Lanao del Sur since he ran and won for governor in 2007.
"At ginagawan natin ng paraan na ang mga barangay ay makausap natin ang magkakalaban na 'wag ng labanan 'yung iba, 'yung kalaban nila," he said.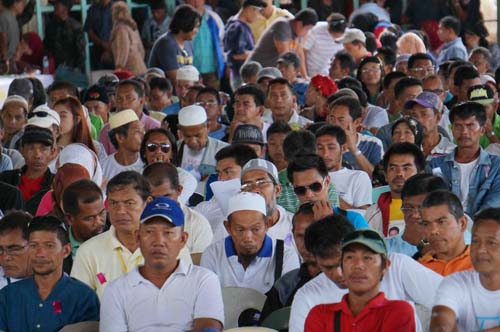 Punong barangay candidates gather for a peace covenant in Basilan. Photo by Daniel Abunales
Regional leaders here have their own experiences to learn from. Hataman said that in the May 13 midterm elections, posts were negotiated "from provincial level down to the municipal" between the Hataman clan and its rival, the Akbar family, in his province, Basilan.
In 2012, both families signed a peace pact and agreed not to compete for the same positions in last May's elections. "Ang naging usapan na lang, sige tutal andyan pa kayo, andito pa kami, diyan na kayo, dito na kami," he said.
Jum Akbar ran and won as governor while Jim Hataman Salliman won as the lone congressional representative. They did not run unopposed, but no members from each family ran against the other.
The region's ingrained reputation for cheating and violence is why watchdogs also see negotiations as a more peaceful way to conduct elections.
Fr. David Procalla, regional head of the Parish Pastoral Council for Responsible Voting, said hakot (transporting hundreds of voters from one precinct to another), rido, election-related violence and fraud may occur in the region, but are almost unlikely in uncontested areas.
"'Yun nga kasi, negotiated na 'yan," he said, and this may include paying off candidates not to run.
"Para sa atin, bayaran 'yan, pero para sa kanila, hindi. Kasi that's part of compensation na parang sa kasal, may dowry. Kahit sa rido, may blood money," he said.
"For us it is wrong, but for them it's not," he said, likening it more to an indigenous form of settlement and the perception of it being wrong as a "western point of view."
Although the relatively more peaceful conduct of elections in unopposed areas is welcome, C-CARE's Bobby Taguntong said, "People must still vote."
ARMM leaders' efforts to negotiate the barangay elections so that most can run unopposed is also favorable from the point of view of security forces, Police Regional Director Noel delos Reyes said.
He said this means "less violence" and there are areas that really want to avoid conflicts.
Oblate priest and former peace panel chair Eliseo Mercado said in an interview there would be less violence, killing, and expenses if an agreement such as the one made by the Akbars and Hatamans in Basilan were made.
"In their own local affairs, they should start their own way of choosing their own leaders, not just copycat of Luzon and Visayas," he said, adding that selection can start within families where they can agree that one can run in the next 10 years then another can take over after.
The Regional Legislative Assembly is mandated by law to enact election laws. As long as it does not affect the national elections, he said, ARMM voters "can have their own way of selecting their own leaders" because this is the very heart of autonomy." – with additional reports from Babylyn Kano-Omar, Daniel Abunales, Dexter Cabalza and Melissa Luz Lopez
(This story was produced under VERA Files' ARMM WATCH project, undertaken in partnership with MindaNews, The Asia Foundation and Australian Agency for International Development. VERA Files is put out by veteran journalists taking a deeper look at current issues. Vera is Latin for "true.")