Filtered By: Topstories
News
Super Typhoon Mawar hits Guam with Category 4 winds, rain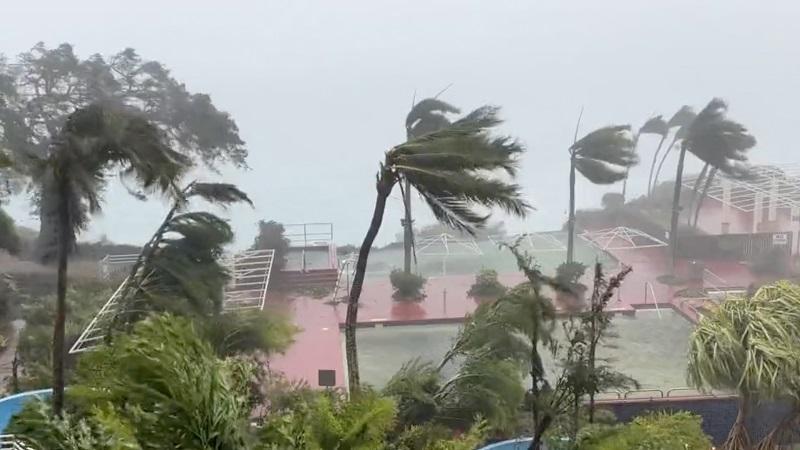 A Category 4 typhoon hit Guam on Thursday, packing winds of up to 140 miles per hour (225 kph) and torrential rain, as it inched across the Western Pacific Ocean, but there were no early reports of deaths or injuries.
The slow-moving storm, dubbed Super Typhoon Mawar, delivered rainfall of up to 2 inches (5 cm) per hour overnight, the US National Weather Service (NWS) said. Wind speeds placed the storm in Category 4, the second-strongest designation on the Saffir-Simpson Hurricane Wind scale.
Moving northwest at 8 mph, Mawar could produce landslides, flash flooding and life-threatening storm surge, the NWS said in a series of warnings for the tropical island, located across the international date line about 6,000 miles (9,600 km) southwest of Los Angeles.
"I'm very worried for our people's safety and very concerned," Guam's Governor Lou Leon Guerrero told National Public Radio during an interview on Wednesday.
She compared the storm with the 1962 storm Typhoon Karen that flattened much of the island, a US territory with a population of about 170,000, including about 10,000 US military personnel.
According to early reports, Mawar damaged houses and forced the rescue of eight people, said Guerrero.
Images posted on social media showed ominous clouds drifting over beaches, rains lashing buildings and winds bending palm trees.
"Lots of us have relocated to the basement. All the units totally flooded, several windows blown out, and the building is shuddering from the wind," said Twitter user Ginger Cruz, who posted a video of winds overturning a pickup truck outside her home.
President Joe Biden, who has approved an emergency declaration authorizing federal assistance for Guam, was briefed on the typhoon, White House spokesperson Karine Jean-Pierre said on Wednesday.
"The White House is in close contact with the government of Guam and has offered as much support as needed to this tragic, tragic major storm," Jean-Pierre said. -- Reuters