After logging in Palawan, billionaire wants to be governor
At the age of 65, when most men would be thinking of retirement, billionaire Jose "Pepito" Alvarez is setting his sights on a new career. With an audience of thousands of youth from all over the province, he celebrated his birthday on June 29 by launching his campaign to become the next governor of Palawan.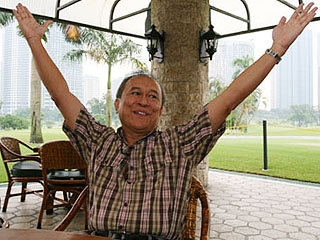 JOSE 'PEPITO' ALVAREZ:
Upbeat about his plans in Palawan. -
Joe Galvez, GMANews.TV
It seems an unlikely path for a man who is better known for holding the biggest logging concessions in the province two decades ago, but Alvarez shrugs off the environmental baggage.
"Almost all environmentalists at that time were not born during the logging days. In their mind, kapag logging, masama (logging is bad)," he said in an exclusive interview with GMANews.TV at the posh Manila Golf and Country Club.
"Ngayon, maski lumibot ka sa buong San Vicente, makita mo yung forest namin, intact na intact (Now, if you go around the entire San Vicente, you will see that our forest is intact)," he adds. The municipality hosted his main logging camp, the Pagdanan Timber Products, in the past.
While the boast may be true today, the scene was different at the height of his logging days. In the late 1980s and early 1990s, environment advocates campaigned for a log ban after noticing the siltation and other negative effects from denuded patches in Alvarez's concession areas, which covered a wide swath of mountainous area in the northern Palawan mainland.
The campaign succeeded and a commercial log ban was included in the law creating a Strategic Environmental Plan for Palawan, which was passed in 1992. Alvarez was forced to give up his concessions, which would have lasted until 2012, but he is making a comeback in the province, this time in the field of politics.
With a land area of 1.5 million hectares, Palawan is the country's largest province in terms of size. Almost half of it is forested – 724,176 hectares as of the last inventory of forest in the Philippines in 2003. Palawan tops the list of provinces with the biggest forest cover in the country, with Cagayan and Isabela ranking a far second and third. (See table)
Environmental justice
Alvarez has promised to uphold the logging ban and oppose mining projects if he succeeds in his political plans, but he has yet to convince the likes of prominent environmental lawyer Gerthie Mayo-Anda, whose group has handled some of the cases involving his local business interests.
"That's a very convenient agenda, but it's not enough," says Anda, area manager for Palawan of the Environmental Legal Assistance Center (ELAC). "From our perspective, there's a lot of things he needs to explain."
She says a case filed by Pagdanan workers for compensation remains unresolved, and local residents in San Vicente have complained about eviction from their land near the airport. Local officials close to Alvarez have opposed the ancestral domain claims and community-based forest management applications of indigenous communities, she added.
"It would be good if we have candidates for Palawan who will promote social justice and environmental justice," Anda said. "We do not see that from Alvarez," she said.
In laying out his plans, Alvarez follows the pattern seen among political patrons in many rural areas. He talks about distributing cows to the poor as a source of livelihood, and providing free water and health care to indigent families.
"I want you to see what I can do for Palawan. If I can alleviate social unrest in Palawan, I'll be the happiest man on earth before I die," he said.
On land ownership, his 10-point agenda does not mention agrarian reform or indigenous land rights, but instead promises to "fast-track land surveys, reclassification and titling of land in order to benefit the rightful owners."
Nevertheless, his vision to transform Palawan into an urban hub as developed as Cebu province has won over local civic leaders like Gerry Ortega, a well- known wildlife conservationist who once ran but lost in the gubernatorial race.
"I don't think his actions and plans are just cosmetic. People change," says Ortega. He quoted Alvarez as saying that the Pagdanan case involved the workers' cooperative and not the company.
"He's totally different from the image of JCA that was created in our minds. I am committed to really help him," says Ortega, referring to the initials of Alvarez.
Anda disagrees with Ortega's view that Alvarez has become more "enlightened" since his logging days: "It's easy to say you have changed, but it's harder to do it. We want a track record for anyone who wants to lead Palawan."
Not close to Arroyo
Since January, the JCA Foundation of Alvarez has been working on softening his image and projecting him as a humanitarian through medical missions all over Palawan. In its website, the charity group counts 58,703 residents who have benefited from the sorties. The number is substantial, as Palawan only has a population of 800,000.
Apart from his logger background, Alvarez seems to be shaking off his association with political figures whose unpopularity could become a liability in his campaign.
He is guarded, for instance, in responding to questions about his alleged closeness to President Gloria Macapagal Arroyo. After the administration slate's debacle in the 2007 senatorial elections, many analysts see an Arroyo endorsement as a "kiss of death" for political aspirants.
"I've known her even before she became senator, but I don't claim to be close to her," Alvarez said. He denies any knowledge about reports that his aircraft was used to bring controversial elections official Virgilio Garcillano to another country at the height of the "Hello Garci" cheating scandal against Arroyo.
"I went out of my way to find out what happened. I sent people to Singapore, but we faced a blank wall," he said.
Alvarez also denied reports that he obtained his logging concessions as a favor from then-president Ferdinand Marcos during Martial Law.
"I've never been close to the guy. I bought this from Jardine Davies, not from him," Alvarez said. "I don't know (Marcos) from Adam. I just know him as the president."
However, he admitted that he knows Ferdinand "Bong-bong" Marcos Jr. as he supplies fertilizer for rice farms in the Ilocos region.
Alvarez has not decided on a political party yet, but says he supports the good governance platform of the Kaya Natin! Movement of reform-minded local officials from different parts of the country.
Isabela Governor Grace Padaca, a Kaya Natin! stalwart, attended a youth forum coinciding with the birthday celebration of Alvarez, along with Governor Jose Zubiri Jr. of Bukidnon, whom Alvarez considers his role model in local governance.
Alvarez said he has received feelers from Senator Manuel Villar, but said he would choose the political party that "will be good for Palawan."
Self-made billionaire
Awash in cash and well-connected in the private sector, Alvarez is an asset to any political party. His transportation investments cover land, air, and sea routes. He also has business interests in tourism, real estate, water services, insurance, and the fertilizer industry. (See table)
Amid the lush greens of the golf course, he talks about his early start in business as a used car dealer, amassing enough wealth "from my own hard sweat" to acquire houses in the Makati enclaves of Forbes and Dasmariñas.
"I have so much land holdings all over the country," he said. Alvarez gained an appreciation for the value of land from his father, a geodetic engineer who rose from the government ranks to become the chief surveyor of the Bureau of Lands.
His business strategy is simple: keep a strong cash flow, trim down operations when necessary, and expand when there is an opportunity. "It's easier to survive slim rather than fat in a time of turmoil," says the self-made billionaire.
"Most companies fail because they are not responsive to the environment," he adds. He cited the example of Philtranco bus company, which he helped downsize to a tenth of its former personnel and updated with buses fit for long-haul land travel.
Alvarez says his investments in the ferry, bus, and fertilizer industries provide a gross income of about P18 billion per year.
Political defamation
Since last year, the businessman had been dropping broad hints about running for governor after clashing publicly with local officials over the use of funds from the Malampaya natural gas project off western Palawan. One of his bitter opponents is Gov. Joel Reyes, who is ending his third term next year.
Alvarez has accused the governor of wasting the funds in a reclamation project in Reyes' hometown of Coron, and failing to pay back a loan for the latter's campaign in 2001. He says one of the reasons he is eyeing the gubernatorial seat is that he wants to make sure
"yung pera ng bayan hindi pagnanakawin
(government funds will not be stolen),"
Reyes branded the charges as "political defamation" and said, "I think he is hallucinating." The governor said the bidding for the Coron project was transparent, and that he does not remember borrowing any money from Alvarez in previous elections.
He countered the allegations with a criticism of the medical missions of Alvarez, saying "There is nothing wrong with presenting yourself for public office, but if you're offering assistance in return for a political position, that's not good."
The governor's wife has been presented as a potential candidate for vice governor in 2010, but there is widespread speculation that she could run for the higher position if the expected opponent of Alvarez, Representative Abraham Mitra, drops out of the race. Mitra is the son of the late former House Speaker Ramon Mitra.
This early, Alvarez is learning some hard lessons in local politics. He had earlier denied that he was courting the youth vote, saying the participants in the forum organized on his birthday were only 15 to 17 years old and not yet of voting age.
According to Ortega and other sources in Palawan, many of the youth went hungry and had no place to stay during the forum, the result of botched planning by the event organizer. Local officials took up the slack, helping feed and ferry the participants back to their hometowns, and gaining political points in the process, said Ortega.
With his launching salvo a disappointment, it may take some time for Alvarez to convince those youth, the future voters of Palawan, about his plans for the province.
"I dream of transforming Palawan into an island that is almost equal to Cebu in the tourism industry, power resources etc. Palawan is so rich," he told GMANews.TV.
"Hopefully God will give me three years, six years, nine years, I don't know. I just want to make a difference," says Alvarez. – GMANews.TV
Yasmin Arquiza was a Palawan-based journalist for 13 years. She moved
back to Manila in 2006 and is now Managing Editor of GMANews.TV.