Robots face off in 2012 National Robotics Competition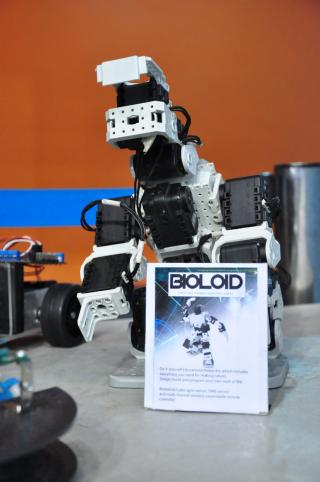 Robots face off in 2012 National Robotics Competition. Over 680 students from public and private schools all over the Philippines flocked to San Juan�s ARENA for the 2012 annual National Robotics Competition on Friday, January 20. Now running for the fifth year in a row, the National Robotics Competition is jointly organized by the Genetic Computer Institute and Data Science and Technology. REGINA LAYUG-ROSERO
Over 680 students from public and private schools all over the Philippines flocked to San Juan's ARENA for the 2012 annual National Robotics Competition on Friday, January 20. Now running for the fifth year in a row, the National Robotics Competition is jointly organized by the Genetic Computer Institute and Data Science and Technology.
Genetic develops Computer Curriculum Support for grade school and high school, and robotics is a part of that curriculum.
High school and college students form teams of two to four members, plus a coach. They have the option of joining one of three categories:
In Prison Break, robots must overcome a two-part obstacle course with blocks and bridges, similar to a person trying to escape a maze. The robots must use sensors to detect the obstacles and find ways around them. Given the complexity of the maze, only a few robots made it past the first half of the game board. The winners of this challenge will represent the Philippines in an all expenses paid trip to the 2012 International Robot Olympiad in Gwangju, South Korea. Last year the Philippines was represented by Grace Christian Academy—which won a silver medal—and Harris International School as well as other schools.
The SumoBot category simulates traditional Japanese wrestling. Two robots must face off in a sumo ring, and try to push each other out of the ring. The winner is determined by the best of three rounds. This year, the organizers instituted weight categories, similar to weight classes in boxing, according to VP for Marketing Pinky Legaspi. Each robot must meet the weight limits of 1kg, 500 grams or 400 grams, as well as other basic requirements such as height and width, materials used and attached sensors.
Line Tracing requires a robot to follow a line on a given path, similar to a human following a road. The robot must complete the challenge in three minutes. In all three categories, the robots are autonomous, not remote-controlled by the team.
In addition to the competition activities, Genetic also held mini-workshops for students and teachers interested in starting robotics programs in their schools. Among the topics discussed were the computer curricula for the new K-12 educational system, and how robotics can be used to teach English, Math and Science. Conrad Sng Lye Huat of INEX in Singapore gave a talk on the basics of robotics, and commented on significant improvements among Filipino students' creativity and technical skill in robotics. "A lot of the students' creations are really based on creativity, and they use parts from different areas. They cut it themselves, they make it themselves, using different micro-controllers, not just one product. They think outside of what is given to them." — TJD, GMA News