Hackers deface PAGASA website
Hackers broke into a Philippine government website Wednesday afternoon, but claimed the breach was only for "fun."
The Philippine Atmospheric Geophysical and Astronomical Services Administration site was replaced with a text message indicating it was hacked into by "Net user."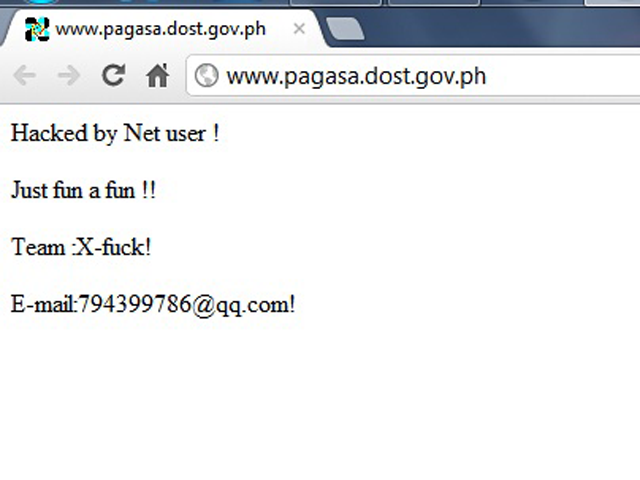 A screenshot of the Philippine Atmospheric Geophysical and Astronomical Services Administration website as of 2:45 p.m. Wednesday. The site was taken offline before 3 p.m. GMA News
"Hacked by Net user!... Just fun a fun!!"
read
the text message on the defaced page.
Another line on the defaced page indicated the hacker's supposed email, 794399786@qq.com.
The defaced site was still live as of 2:45 p.m. but was taken offline at about 2:52 p.m.
But a separate report by dzBB radio's Rowena Salvacion said the initial defaced page showed a "red" screen with "Chinese characters." The dzBB report said PAGASA's site appeared to have been first hacked at about noon.
PAGASA advised visitors to its website to go to its alternate site (kidlat.pagasa.dost.gov.ph) for now. The alternate site appeared to be normal.
It was the latest incident where a government website was defaced.
Last month, the websites of the Budget Department and some Malacañang offices were defaced in the wake of the Philippines and China's standoff over the Panatag (Scarborough) Shoal.
Pro-China groups attacked the University of the Philippines website, but pro-Philippine groups retaliated by defacing Chinese websites.
But the Philippine government has called for a stop to the cyber-warfare, saying it will not resolve the territorial problem.
— LBG, GMA News