Filbar's rebooted: More than just comics
A bit of trivia: Filbar's, the Philippines' own go-to store for anything comic book-related, has been around since 1979. Yes, Filbar's has been giving us our regular dose of Batman, Spiderman, and other superhero goodness for the last 34 years.
May 1 of this year, however, saw a passing of the torch. The new management, Collecticons Inc., has taken up the mantle of local distributor of our favorite comic books. And while bidding goodbye to what came before will always be laced with sadness, this infusion of new blood into a brand beloved and trusted by legions of fans promises fresh beginnings, and the excitement of new things to come.
New look, new feel: like a giant comic book
Under Collecticons Inc., Filbar's has opened its very first all-new, all-different comic book store at Festival Supermall, Alabang.
Gone is the old green logo. The first thing you'll notice is that the store's new exterior design is exploding with motion lines and color. Speech balloons and word boxes draw your eyes to pictures adorning the walls. The atmosphere is one of fun, of action.

The interior layout has undergone a major overhaul. Shelves along one wall have been arranged to resemble the panels in a comic book. Look up at the ceiling and you'll find a montage of thrilling scenes, culled from sources ranging from Archie and Astro Boy, to Marvel and DC.
So basically, it's like walking into a giant comic book. Decoration-wise, no space is wasted; there is something of interest to see everywhere you look.
The changes are more than just face value, however.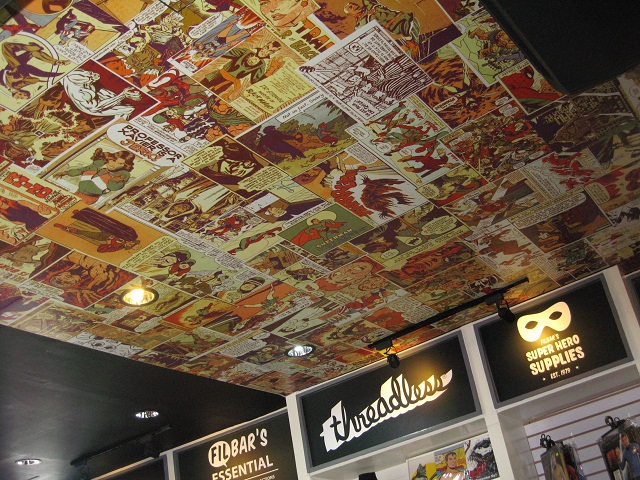 "We have a wider range of products now, and they're all driven by different segments," explained Ivan Guerrero, chief creative officer and co-founder of Collecticons Inc. "What we want to do with the new store is to create a sort of nexus, a point where all the different fanbases can come together. And we have products especially made – tailored, suited to their collections and tastes."
Aside from comic books and action figures, customers will also be able to select from a variety of magazines, young adult novels, manga, stuffed toys, shirts, costumes, caps, mugs, stickers, statuettes, and other items.

Particularly abundant as of now are the cute, super deformed Funko pop culture figures; Revoltech robots; and Game of Thrones memorabilia.
"It's a little more lifestyle-oriented. Let's say you collect Superman comics; (in addition to the comics) we have Superman shirts, we have Superman caps, we have key chains, and so and on and so forth. It's a wider range (of products). It's not like you just come in and get your (comic book) issue; you see what suits your lifestyle. We'll have umbrellas, we'll have Marvel handbags for ladies, Walking Dead handbags. Why buy a regular umbrella when you can buy a Marvel umbrella?"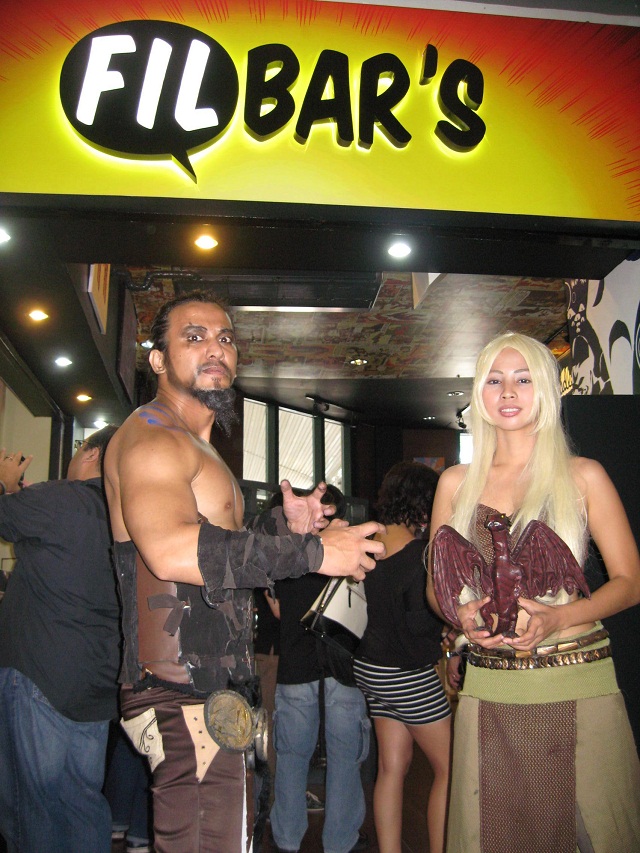 Catering to geek culture
Guerrero stated that the new Filbar's will be dedicated to bringing the geek culture everything it wants and needs. "The geek culture itself is so broad and vast. You have scifi, you have fantasy, you have comics, you have superhero books, you have collectibles, and it branches into a whole range of things, from shirts to shoes – you name it."
In relation to this, they are also bringing in a bunch of unique brands. As a specific example, Guerrero mentioned Threadless shirts.
"We have Threadless shirts, a Chicago brand that is really well-known around the world. The artworks are produced by artists from different countries, and they're voted on on their website. The best designs get printed on a limited run. So the shirts are also collectibles in themselves."
A place for the indie scene to thrive
The shelves are segmented based on characteristics common to a group of products. For example, the store has a "Filbar's Essentials" section, which is basically composed of current top-grossing items in the comic book industry. They also have "Filbar's Superhero Supplies", which, as the name suggests, is where you will find costumes such as Stark Trek uniforms and The Walking Dead's sheriff's deputy Rick Grimes' hat.
One of the most interesting sections is "Filbar's Indie!". Here you will find the hottest independent comic book titles, both local and international.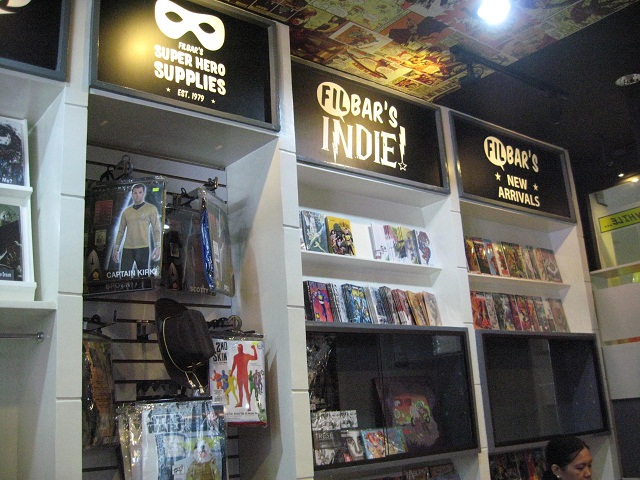 "It's a little hub for all independent titles," said Guerrero. "We don't want to discern between comics from the Philippines and comics from the States. They're all independent titles and we see them on par, whether it be Scott Pilgrim or Trese. We consider them of the same footing."
Guerrero also stated that the new Filbar's will give local artists the opportunity to exhibit their works in the store.
"With the new store, the layout is unique. The panels can be used as a sort of art gallery where artists can bring in their stuff that they want to consign or that they would like to sell. Every month or so the exhibit changes, and it will be a different artist, a different showcase of works."
Guerrero and his team will be going to comic conventions to survey the local talent for possible new independent works they could include in their shop. "We go to Komikon," stated Guerrero. "We look at the titles that are out there. We get a whole bunch of them, and we read through everything. We pick out the ones that we really, really like, and we try as hard as we can to bring those titles to the store."
Regarding the indie titles, Guerrero added: "All the books that you see now, all the artists were contacted personally by us and invited to consign their works."
The comic convention experience
"We want it to feel like every time you visit the store, it's like visiting a comic convention," said Guerrero. "So it's like your everyday comic convention around the corner. There will always be something unique, something new that you won't see anywhere else. We're really building up on exclusive stuff, exclusive deals with suppliers. We want to create an experience that can't be duplicated, something very personal for our fans."
According to Guerrero, fans of all genres will find something to be happy about at the new Filbar's. "We want it to be a pop culture experience so that we can bring in magazine readers, we can bring in book readers of sci-fi and fantasy and all these genres."
Old brand, young blood
The founders of Collecticons Inc., who include Ivan Guerrero and Kenneth Gaisano, were classmates who grew up reading and purchasing comic books from Filbar's. When the previous management stopped their orders of regular monthly comics, Guerrero and his friends were disheartened.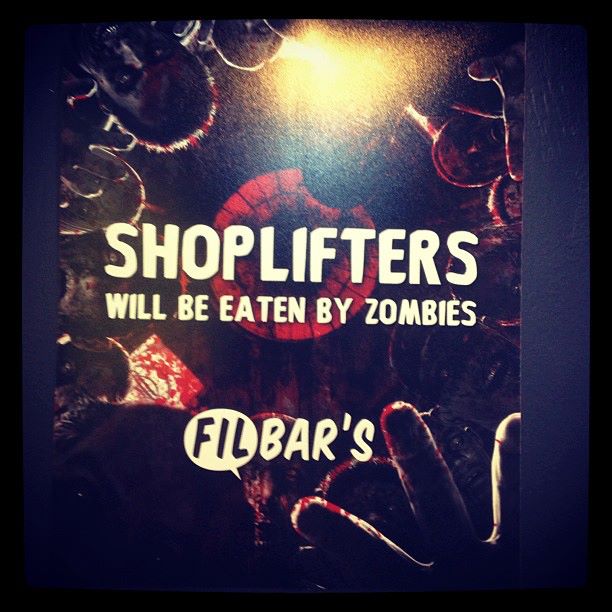 "It was kind of an end of an era when they stopped selling monthly comics," said Guerrero. When the opportunity arose to take over the reins of Filbar's, they were therefore understandably eager to grab it.
And grab it, they did.
"We really wanted to bring in monthly comics again," Guerrero explained, "and we wanted to do it in a way that was exciting. We want to make people really excited about comic books again."
Guerrero believes, however, that the success of the new, rebooted Filbar's will ultimately depend on the local comic book community.
"We want to give you guys the same opportunity to make the store your own by creating exclusive pieces, selling exclusive artwork, your own comics, your own books. Any of that. We want to share that experience with you guys."
The new Filbar's, located on the ground floor at Festival Supermall, officially opened to the public on July 28. As for Filbar's existing branches in other locations, Guerrero said these will be renovated within the year to reflect the brand's new personality and revitalized atmosphere.