Something to think about before scrapping the pork barrel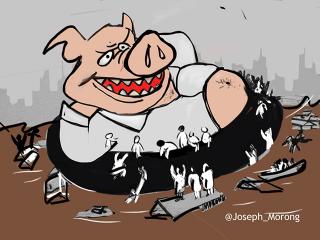 Some sit pretty while many suffer. In the midst of public anger over pork barrel abuses, Storm Maring arrives to wreak havoc. Instead of making irate citizens forget, the disaster only reminds many that all the stolen pork could have bought better emergency services and equipment, as many local governments have appeared, once again, woefully unprepared. Joseph Morong
"Kuya, paano na yung scholarship namin? Wala na ba yun next sem?"
Last Tuesday, this was the question that a college scholar asked me when news came out that President Benigno "Noynoy" Aquino III had decided to suspend the release of the controversial Priority Development Assistance Fund (PDAF) or pork barrel. For the past three years, she had been receiving financial aid from their Congressman that allowed her to continue with her college education. Now that there are proposals to totally scrap and abolish the pork barrel or PDAF, she is worried that without the financial assistance that is provided to her, her family will no longer be able to afford to help her finish her last year in school.
This is the dilemma that tens of thousands of financially-disadvantaged college students who receive financial aid or scholarships from their Congressman or Senator will be facing all over the country if and when the President decides to finally abolish the pork barrel. Will these students now be forced to drop out or take a leave from school? Aside from scholarships given to financially disadvantaged students, the pork barrel is also used to provide medical and hospitalization assistance to indigent patients. If the pork barrel is scrapped, where will these indigent patients go for help?
For many of us like me who agree with those who are calling for the suspension or even outright scrapping of the pork barrel, this is a legitimate concern that we also have to discern about. The reality is, while many of our leaders have abused and misused it, there are also many Filipinos who continue to benefit from it. The challenge now is to ensure that those who continue to benefit from it will not be adversely affected if and when the pork barrel is scrapped and that they will still be able to continue to go to school or receive medical assistance.
Sadly, some of us who are very active in social media fail to understand the realities on the ground and thus, this is the reason why it is easy for us to make stands on issues without seriously thinking about the impact that these stands or decisions will have on majority of Filipinos who still heavily rely on government support for their needs. My only hope is that before we jump the bandwagon and make a strong stand on any issue, let us also find the time to consider those that will be affected directly by our decisions.
While the call to suspend and scrap the pork barrel comes from the noblest of intentions to curb corruption and promote good governance in our country, let us also make sure that all voices in our society are considered especially those that will feel the direct impact of this decision. The worst that could happen is that we end up further marginalizing those who are already marginalized in our society if we do not immediately come up with realistic and doable alternatives to help those that benefit from their Congressmen or Senator's pork barrel.
The experience of the Arab Spring in Egypt should serve as a good example to all of us. We cannot just go out on the streets and call for a drastic revolution without having the foresight to look ahead and plan on what to do next once we emerge triumphant in this revolution. This will result in chaos as we are seeing in their country now. This is the same with our call to suspend or scrap the pork barrel, hopefully, we are also able to propose and eventually implement solutions on how to ensure that public services given to those who need it the most will continue while the release of the pork barrel remains suspended. Hopefully, by coming up with alternative programs to the pork barrel before scrapping it altogether, the poor and the powerless won't become a sacrificial lamb in our continued fight against graft and corruption in our society.
Comments are welcome at harveykeh@gmail.com
Follow me at Twitter: twitter.com/harveykeh
Harvey S. Keh is Director for Youth Leadership and Social Entrepreneurship at the Ateneo School of Government and is also the Lead Convenor of the Kaya Natin! Movement for Good Governance and Ethical Leadership.