Kapow! Universe store is a Marvel geek's heaven
Searching for geek merchandise in the Philippines is like an Arthurian quest for the Holy Grail. Many stores claim to be the mecca of merchandise but, for all their shelves and stocks of action-figures and t-shirts, true believers recognize the grey market when they see it.
So, when officially licensed Marvel merchandise finally arrived at our tropical shores courtesy of the newly-opened KAPOW! Universe store, those who worshipped at the altar of geekiness rejoiced at this newfound heaven.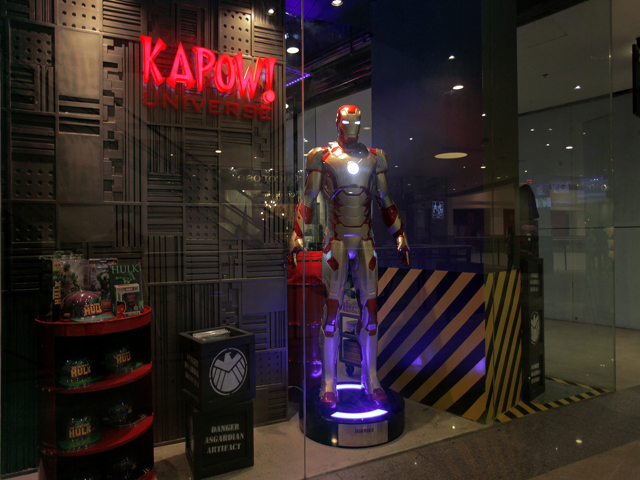 Authentic and officially-licensed Marvel merchandise is now in Manila.
Formally opened on September 29, KAPOW! Universe is a Marvel concept store, the first of its kind in the Philippines. Kapow! Universe is a joint effort of MINDstyle International, LLC and Collecticons Inc., the new owners of Filbar's.
If you wanted to get officially licensed shirts, bags, keychains—anything—with a Marvel Comics hero or three on it, then this may indeed be mecca for you.
Are fans buying it?
The store opening was celebrated with a big event at Glorietta 5. The launch included a Geekfight! trivia game, a fashion show, as well as games and prizes for the crowd.
Geekfight! organizer Denice De Guzman loved the merchandise. "I was particularly salivating for the comic-printed headscarves. And the Punisher bag. Kind of pricey, but it's the real thing."
Her colleague, Caroline Dy, was thrilled with Deadpool. "I wanted the Deadpool bobblehead. I also wanted the Loki keychain. And the Deadpool statue! The prices are reasonable for authentic marvel merchandise."
Kapow!'s biggest selling point is that they're bringing in authenticity and a truly geeky shopping experience for fans. In addition to bags, bobbleheads and keychains, there was apparel for men and women and, of course, comics galore.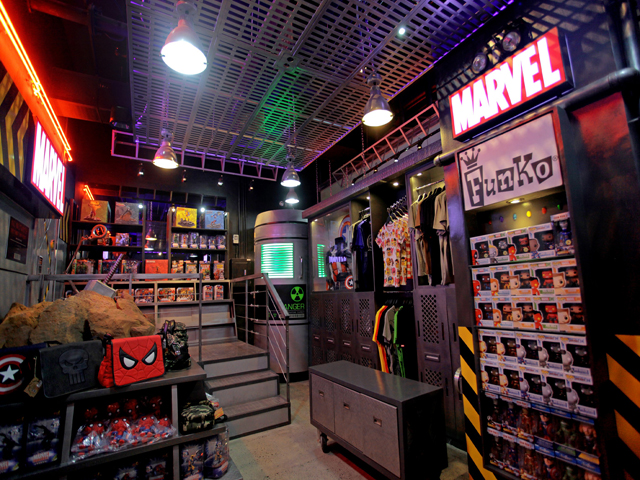 Kapow! Universe is a joint effort of MINDstyle International, LLC and Collecticons Inc., the new owners of Filbar's.
The prices may seem steep to those who are used to buying their merchandise from Greenhills or other small sellers. A heavy silver Spider-Man keychain, for example, costs Php 499. But maybe you can save this gift for your favorite inaanak this Christmas?
Creative store design
The store's design is as much to be enjoyed as the merchandise.
Macy Anonuevo of Geekerie Shirts said, "The store interior design is great, obviously designed by a fan. Lots of Easter eggs too." Visitors to the store should look for the radioactive spider, though those with arachnophobia are forewarned. And everyone raved about the fitting room, designed to look like a gamma radiation chamber.
Other geeks weren't so easily impressed. Costumer Oneal Rosero said, "The shop looked less like a comic book store and more like a stage set. However, without the merchandise, it didn't really come off as a Marvel store. They didn't have enough Marvel-branded merchandise, plus their stock of comics, apparel and exclusives weren't enough to establish the brand."
Pinoya are Marvel fans
Marvel Comics and the Marvel Cinematic Universe are pretty popular among Pinoys. The store opening was besieged by cosplayers from the various Marvel titles.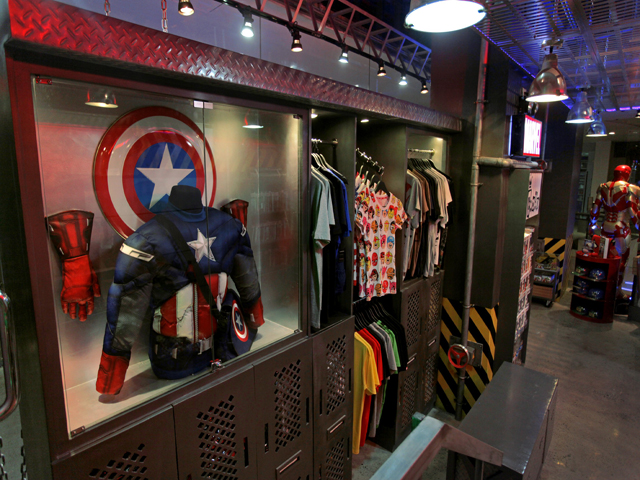 Aside from bags, bobbleheads, and keychains, the store has apparel for men and women and, of course, comics galore.
In attendance were Cyclops, Storm, Wolverine, Iron Man, Psylocke, Cable, Spider-Man and Scarlet Witch, among others. Geekfight! players wore t-shirts showing off their favorite heroes. And there are many collectors of various busts, statues, vintage comics and props related to the most popular groups, the X-Men and the Avengers.
Pinoy geeks are big Marvel Comics fans and they flock to the cinemas on the opening day of any of the Marvel films. Many of them are now watching the new show on American TV network ABC set in the Marvel Universe, "Agents of SHIELD." The show features fan favorite Coulson, whose first name is Agent, according to Tony Stark.
It seems this new mecca of Marvel will be a welcome sight to many Pinoy true believers. Will a similar store for DC Comics merchandise soon follow? We can only hope. – KDM, GMA News
Photos courtesy of Kapow! Universe

Kapow! Universe is located on the second floor of Glorietta 5 in Makati.