Filtered By: Lifestyle
Lifestyle
At Art Fair Philippines 2019, artists show life is worth living
The biggest buzz this week among the art crowd is the art fair being held on four floors of a carpark in Makati City.
This is Art Fair Philippines, the seventh time it is being held.
With 52 local and foreign art galleries participating, the buzz is understandable, but throw in names like Fernando Botero, David Medalla, and TeamLab, to name a few, and it does seem that the art fair this year is worth visiting.
And it is, because aside from the incredible art displayed, it comes with a message from artists themselves that life is worth living.
Take sculptor Daniel dela Cruz's "Finding the Light," which shows rows of men and women figures with cellphones covering their faces, the screens showing news about bullying and suicide, among other things. There are also metal sculptures of depressed men and women encased in glass. At the end of the booth though, is a wall where viewers are encouraged to "leave someone a positive reminder of what is most important in life." The black wall is peppered with colorful Post-its containing messages from visitors such as "You can!", "Heal," "Ask for help," "You are loved," and "You are MORE than what you think!" Dela Cruz's exhibit highlights mental health and aims to remind people that help is available.
Part of Daniel dela Cruz's work "Finding the Light". Karen Galarpe
David Medalla's "A Stitch in Time" is a tapestry in progress, as viewers are invited to sew right on it. I saw names sewn onto the huge white cloth, along with squares and hearts as spools of thread hang overhead. Here is something to do, why not sew, let's collaborate, the work seems to be saying.
TeamLab's two videos are mesmerizing, one showing the way brushstrokes move in calligraphy, and the other showing golden waves splashing here and there. Life goes on and on.
Then there is Botero whose works showing fat people look whimsical at first but intriguing as you continue to look at them. What is on the man's mind as he plays the violin? Where is the woman in red going from the square? They have their own lives to tell.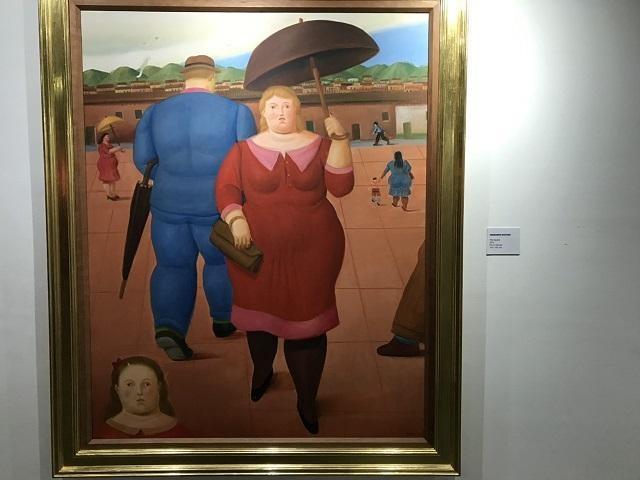 Fernando Botero's "The Square". Karen Galarpe
Ryan Villamael's "Behold A City" shows Manila bare-boned and naked, beautiful and haunting at the same time. What goes on in people's lives in the city's buildings is left for the viewer to ponder.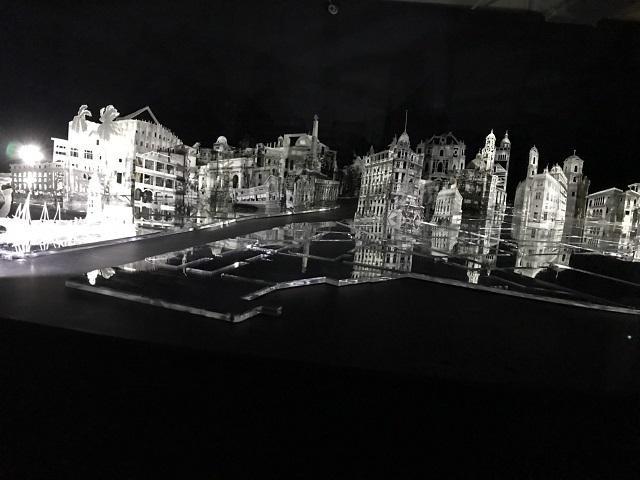 Ryan Villamael's "Behold A City". Karen Galarpe
And then there is Norman Dreo whose work "My Little Museum" begs you to look at each square inch. In this painting which he started doing in May, Dreo painted people looking at paintings in a museum, the little artworks themselves showing much detail too. Dreo told this writer that he has yet to finish the huge mural so he is continuing to paint some unfinished faces right there at the art fair in time for the work's scheduled exhibition at Art Central in Hong Kong in March.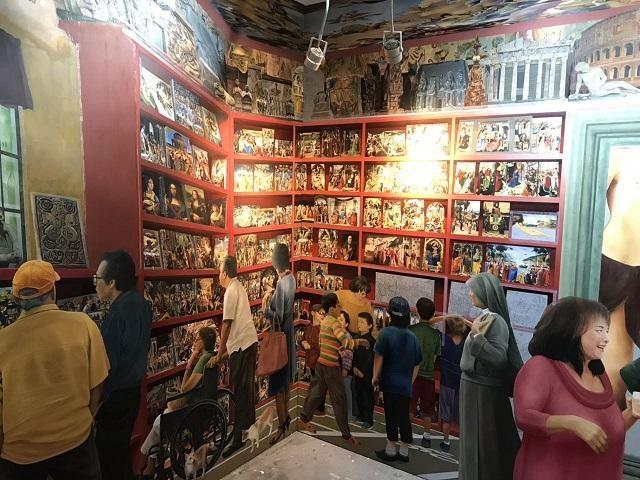 This is just a portion of Norman Dreo's painting "My Little Museum". Karen Galarpe
Two acrylic works by Monica Delgado entitled "Drawing the Lines #5" and "Drawing The Lines #6" show viewers there is art and symmetry in rows and rows of strips of wood which at first glance look like rubber. Curiosity piqued!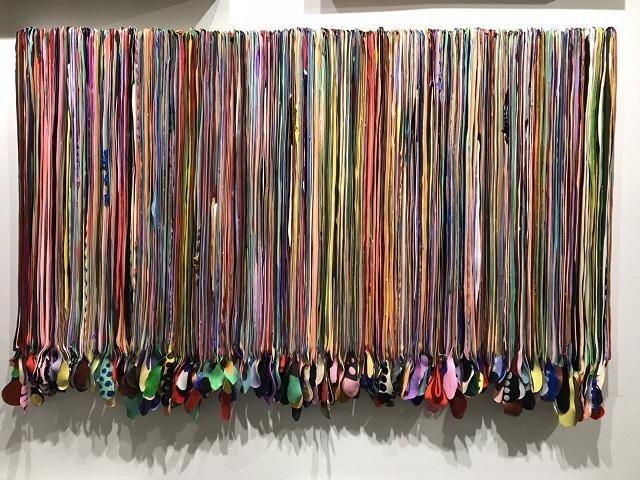 "Drawing The Lines #6" by Monica Delgado. Karen Galarpe
Olivia D' Aboville's "Coral Stress", a work using steel frame, recycled cocktail stirrers and cable ties, draws attention to the need to care for coral reefs. Her other work "Catch of the Day" shows plastic caught on a fishing net—a clear call to do something about the environment.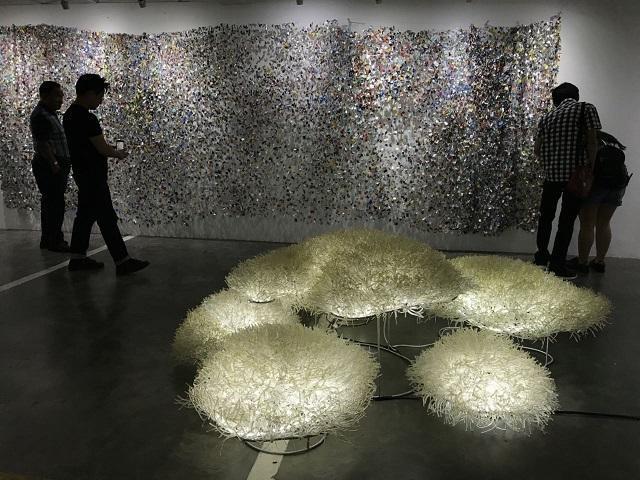 "Coral Stress" (foreground) and "Catch of the Day" by Olivia D'Aboville. Karen Galarpe
And still there's more—Jim Orencio's trees, Romulo Olazo's diaphanous paintings, Malang's women, Denise Weldon's still life photos, and Japanese artist Yu Tanaka's ceramic wrapped bags, among others—all capture life as they see it, as they live it. Indeed, despite our aches and pains, society's ills and troubles, it's still a wonderful world, after all. —LBG, GMA News
Art Fair Philippines is ongoing at The Link on Makati Avenue beside Landmark, Makati City until Sunday, Feb. 24, 2019, from 10 a.m. to 9 p.m. Tickets are at P350 each, with discounts available for students and other groups.