Filtered By: Lifestyle
Lifestyle
Aze Ong shares her healing journey through fiber at Art Fair Philippines 2022 exhibit 'Transcendence'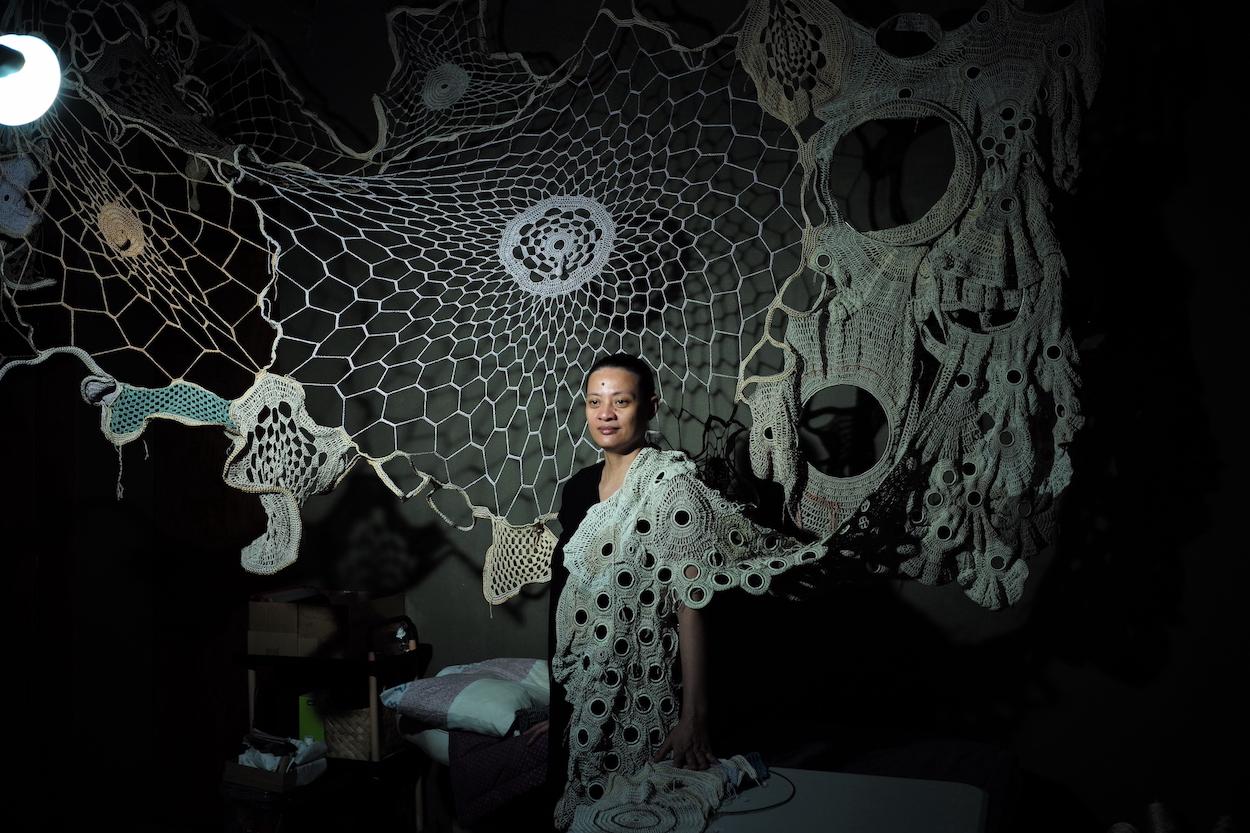 It goes without saying that when COVID-19 stopped how we used to live at the start of 2020, everyone was lost and confused about what would happen next in our lives.
We all have different coping mechanisms. For someone like me who hasn't experienced a global health crisis as huge as this pandemic, I resorted to writing; it was my outlet even before, and it was my comfort even up to now.
If words are this writer's sharpest weapon in her healing journey, it's fiber for this Filipino contemporary artist.
Aze Ong is one of the featured artists in the ArtFairPH/Projects section of Art Fair Philippines 2022 currently exhibited at Ayala Triangle Gardens. She is one of the Filipino artists known for re-interpreting the traditions and techniques of producing art out of fiber through installation and performance.
"Fiber is my weapon," said Aze. Most of Aze's creation mode is crocheting—a nitty-gritty type of handwork comparable to women's hardworking characteristic.
Titled "Transcendence," Aze's exhibit exudes eight months of vividly colorful, interactive, and texture-filled art symbolic of the artist's journey to healing from the distress brought about by COVID-19.
Transcendence, according to Aze, "symbolizes the web-relations of all things that whatever we may have lost is but transformed and vivid elsewhere."
In this GMA Online exclusive interview, the celebrated contemporary artist shares her inspirations and her hope for her piece "Transcendence."
As an artist, what's your primary sources of inspiration?
Aze: I have a lot of inspiration for it, especially during the pandemic. Before COVID-19, my project is "Queen," which explores the public space. I started my "Queen" project in New York, calling it "Queen" because I made it in Queens. I basically walk with my sculpture in the streets of New York. The momentum started in 2019, then suddenly, it stopped due to the pandemic.
What are the difficulties you faced as an artist in the time of COVID-19?
My question is, "nasaan ang public in a public space?" It was so devastating for me [because I perform in public spaces]. So when the pandemic unfolded, I started performing inside the house, then when I exhausted all corners of my home, I went up the roof to perform. It was shown virtually, but it was very difficult because the work was very immersive. People would appreciate it better physically. Needless to say, the pandemic was challenging for fiber artists.
What's the driving force behind "Transcendence?"
Maraming inspiration, especially when COVID-19 happened. Before the pandemic, my mother-in-law passed away. Then right after the pandemic, my grandmother passed away also. Some sentimental pieces I hold dear to my heart related to these people, I incorporated to "Transcendence."
The shirt my lola gave me, naka-incorporate diyan. And then 'yung mouthpiece niya for air (when she was sick), naka-install din. And then, I also incorporated the "Queen" project, the pink crown in the middle. Nandyan din 'yung favorite kong shirts from high school, I embroidered them using the sewing machine.
How did you stay motivated to finish the piece in more or less eight months?
So, parang sinusulat ko in an abstract way 'yung journey ko. Gusto ko kasi i-challenge 'yung sarili ko physically, mentally, and emotionally. Also kasi, pag na i-in the zone na ako, nawawala na 'yung negative thoughts. Nawawala na 'yung kung anu-anong iniisip ko. Basically it's an [advantageous] meditation [for me], the repetitiveness [of crochet, knitting, knotting, embroidery, macrame, and sewing].
What emotions do you hope to spark with people who get to see "Transcendence"?
Sana ma-transcend nila kung ano man napagdaanan natin during the pandemic. Hopefully, they heal. I'm sure ang daming nahirapan sa atin during the pandemic, and it takes a lot of time to heal. I'm hoping through my piece, ma-heal sila. Just to see the work, I hope ma-happy sila and be inspired. It's basically a simple thing, but it's healing.
You may catch Aze Ong's "Transcendence" at Art Fair Philippines 2022 at Ayala Triangle Gardens until April 1. – RC, GMA News