Filtered By: Lifestyle
Lifestyle
Artist Derek Tumala traces connection of climate change to capitalism, colonialism in latest works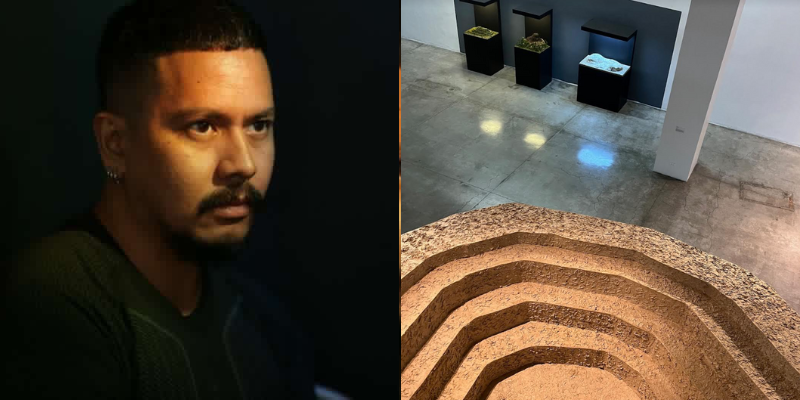 An imposing sculpture stands right of center at the Museum Contemporary Art and Design in the City of Manila. Situated just below the mezzanine, the large brown paper mache structure looks a tad awkward in its position — like a giant trying to hide but unable to do so because of its sheer 10m x 5m x 2m size.
It is one of four dioramas that artist Derek Tumala is showing at the group exhibit "Adaptation: A Reconnected Earth," MCAD's first in-person exhibit post-pandemic, and on a Zoom call one Monday afternoon, Tumala tells GMA News Online how he constructed it.
"We've been doing this since last year for prototyping. But we started the paper mache in January? February? So we only had two months," he said. Tumala partnered with an artisan from Paete, Laguna and said constructing the massive sculpture was "done piece by piece, parang Lego." On site, it took eight people — 16 hands — to finish it in roughly about a week.
Its size makes it the most visible, and for Tumala, the most urgent.
Called "Unearthing of a Funny Weather," the structure aims to give the experience of the scale of an open-pit mine, says the exhibition notes. It is "one of the worst but very real threats to local areas, affecting air health and waterways due to the heavy metals released together with the dust that comes from this surface mining technique."
It's as real as one can get because "Unearthing of a Funny Weather" is an actual 3D rendition of an open-pit mine Tumala found on Google Earth. "The sculpture is in an exact location called Didipio Mine in Nueva Vizcaya in Sierra Madre," he tells us.
He thinks it's a good imagery of climate change because apart from being a very real cause of the global problem, it is also an image that's very much relevant to the Philippine context.
"I found an interest in open-pit mining — I was trying to gauge which one is actually relevant to our context. When I see the climate crisis agenda, it's very Western, very Global North. It's always about melting ice, the heat, the polar bears — that's their own concern and that kind of imagery, hindi naman related sa atin."
His research on extraction, "on what kind of extraction activities that's aggravating the climate crisis" led Tumala to open-pit mining, which he calls is a worse form of mining "because of the scale of it. It's very invasive. Once you do mining, it's dead earth."
For "Adaptation," Tumala looked at the climate crisis and focused on its root causes. His four dioramas point to several big intertwined things — capitalism, colonialism, communications, culture.
But as the large mining structure indicates, it all boils down to humankind's undeniable destruction of Planet Earth.
"I think mining is a factor, a big one. And not just because of mining itself but also the very act of extracting is very toxic. Coal mining, the emissions — it's contributing a lot to the climate crisis," Tumala said.
There's another reason why he chose Didipio: "It's controversial," he said. In 2021, President Duterte lifted the nine-year-ban on mining imposed by President Noynoy Aquino in 2012, to stir economic growth.
Didipio Mine, owned by Oceanagold, was among those granted a 25-year-license.
That Oceanagold is a non-Filipino company, listed in Australia and Canada, adds nuance to his thesis. "This is a form of colonialism," he asserts.
And colonialism, Tumala continues, is among the factors that's brought forward the climate crisis. He points this out in the three smaller dioramas across the imposing structure in the room.
"What Looks Like Burning Is Not Really Burnt" portrays the kaingin system, a practice we all know is bad for the environment but "is not actually bad," Tumala said. "It fertilizes the soil. So when trees burn, that's fertilizer for the soil."
In his research, he learned kaingin was a pre-colonial practice, done in a very small scale manner. "When the Spaniards arrived, sila yung nagsabi na masama yan," he said. "It was demonized, [and eventually] that's what we know, too."
Because the practice indeed includes burning of trees and clearing of forest, it was deemed destructive. "But I saw scientific studies that said it was sustainable. They were only utilizing what they needed. They live in that area so they know how to navigate it. It's actually regenerative. It helps fertilize the land."
There was a misconception on scale, he added. "It's nothing like illegal logging because they only burned what was enough for them," Tumala said, which he quickly connected to moderation.
For Tumala, moderation — using only what is needed, learning and practicing the concept of enough — is another way to adapt to the changing climate. It's something of a unifying theme in his commissioned works at MCAD, including the diorama "Eating Gold Will Make Our Eyes Mutating," which depicts the famous Banawe rice terraces.
While the immediate message feels like one on climate, food, and yes even, colonialism, Tumala says it also centers on how we are mutating to adapt to the changing climate.
"I met some rice scientists in UPLB who told me about climate resilient varieties of rice that they are developing right now," he said. Tumala pointed to the Golden Rice, a GMO rice variety that's been around for 20 years. In 2021, the Philippines became the first country to approve it.
"It's GMO and vitamin-enriched so it's full of chemicals, and it's yellow. But the plant itself, the variant is easier to plant, more resistant to climate change — a factor kaya siya na-approve," he said.
The name of the GMO rice variety is also another point of interest: Golden Rice. "Laging grand, 'di ba? It's that kind of thinking."
In trying to understand what the climate crisis is about, Tumala began "tracing the roots of our way of doing things. Kung saan tayo nagkamali, or kung saan hindi na-moderate."
The last of his four works, "A Hairy Blob Washed Ashore; and Doomsday Is Coming," perhaps partially answers the question. The diorama depicts a hairy blob that washed ashore in plenty of coastal communities like Mindoro and Davao before the pandemic.
"Nagalit daw yung ocean, warning us na may masamang mangyayari," Tumala said. "When the locals saw it, they were so scared. 'The world is ending' mga ganyang stories."
That fascinated him because it showed him how "we think. We disregard scientific information because culturally, that's how we are. We are indigenous and superstitious. The way we think has a colonial legacy, like religion affecting our thinking of how we look at truths."
Supported by the British Council's Creative Commissions for Climate Action, a global programme exploring climate change through art, science and digital technology, Tumala's four works displayed in Adaptation is something of a culmination of his previous projects: Tropical Climate Forensics, which is a project with the World Weather Network; his residency at the Manila Observatory, and in some ways, the London residency that followed with the Delfina Foundation.
Tumala proudly says that all of his works are based on research. "I always want to be informed," he said.
In fact, he applied to the 2021 open call of Art Fair Philippines for the art residency in Manila Observatory because "I have been trying to reach different scientific institutions before. I was even trying to get into the UP Institute of Physics."
While art and science may seem like strange bedfellows — "When I first came to the Manila Observatory, may language barrier. Hindi nila maintindihan why an artist is there in residency," he says — his residency in Europe informed him that art and science could work together.
Interestingly enough, it was science that led Tumala to consider the connection of anthropological subjects like colonialism and capitalism to climate change.
"I really was interested in the climate change agenda. At the Manila Observatory, they have an organization inside called KLIMA and I really wanted to connect with them. But my residency happened at the height of the pandemic, so no one was around. So I looked into the archives instead," Tumala said.
The archives showed him that the main goal of the Jesuit-operated Manila Observatory was capitalistic in nature.
"Their main goal was really to predict weather because of the ships coming in. Marami kasing lumubog na ships before because they weren't able to predict the weather. The ships were for trade. Economic siya, so there's a capitalist agenda," Tumala explains.
That priests have been running the observatory holds another layer of tension for Tumala as well. "There are so many layers to it. You no longer just look at climate change as typhoon or extreme heat. I wanted to look at it as a whole. What's behind it? What happened? What brought us here?"
And here is this: The world has already warmed 1.1C above pre-industrial levels. We are inches away from the recommended limit of 1.5C set in the Paris Agreement of 2015. We are now experiencing stronger typhoons, heat waves and drought occur more frequently, and a lot of species are dying, or mutating to survive the changing climate.
"I think I want the audience to see that looking beyond typhoons and tragedies is not enough," he said.
"The typhoons, the tragedies, the climate extremes, that's what they're calling it now — these are the end. They're the result of what we've done." — GMA Integrated News
"Adaptation: A Reconnected Earth" features art works from nine artists from all over the world. It runs until July 23, 2023. MCAD is located at G/F De La Salle – College of Saint Benilde, Design and Arts Campus, Dominga St. Malate, Manila. +632 82305100 local 3897-3898. Tuesdays-Saturday 10am-6pm. Sundays 10am-2pm. Website.