Filtered By: Lifestyle
Lifestyle
Ilocano artist, OFW win top prizes in first Sining PSE art competition
With works that celebrate the Filipino, a 33-year-old Ilocano and an overseas Filipino worker clinched the grand prizes for Sining PSE, the first national art competition of the Philippine Stock Exchange (PSE).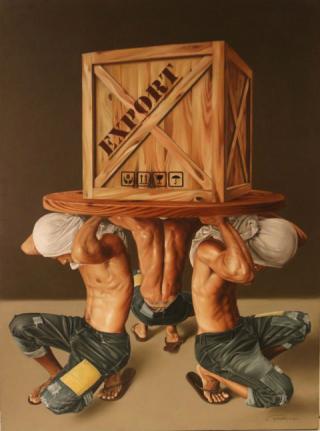 Turning Tables by Bryan Teves
Bryan Teves of Sta. Lucia, Ilocos Sur, took home the grand prize at the November 9 awards ceremony. He won in the Painting category for his work titled "Turning Tables." It took him one month to work on his entry for Sining PSE, which was launched in June this year, a press release from the PSE said.
Teves, a fine arts graduate of UP Baguio, considers himself as a social realist relating to his father being a laborer, the release said. "Turning Tables" hails Overseas Filipino Workers as modern day heroes.
Meanwhile, Gerald Mungcal from Tarlac was awarded second place for his painting called "Kayod Kalabaw: Pula, Dilaw, at Bughaw."
Jeffrey Salon, born in Camarines Sur, took third place for his painting, "The Vision II: Empowered."
Sculpture
In the sculpture category, Natalio G. Alob, Jr. won the grand prize for his sculpture "Gear Up Pinoys."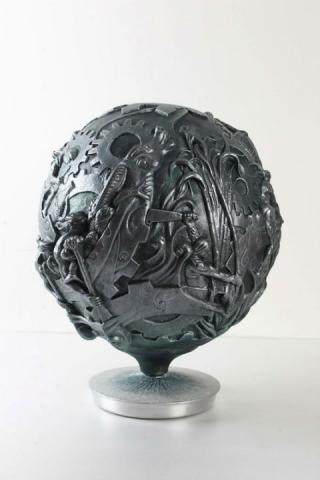 Gear Up Pinoys by Natalio Alob, Jr
Alob lived and studied fine arts in Bacolod prior to working in Riyadh, Saudi Arabia, where he has had the chance to present his illustrated works to royalty, the release said. He also won first prize in the sculpture category of the Government Service Insurance System (GSIS) 2012 Art Competition last June, for his piece "The Painful Tie That Binds."
Second place in Sining PSE's sculpture category went to Joji Limayo for his wood sculpture entitled "Vault," while Julian Almirol took third place for his wooden piece, "Luzviminda: Key of Prosperity."
Sining PSE was held in observance of the Exchange's 20th anniversary on the unification of the Manila and Makati bourses, with the theme "Nagkakaisang Pilipino Para sa Maunlad at Masigasig na Kalakalan" or United Filipino People for Progressive and Active Trade.
"The celebration of the outpouring of Filipino talent all throughout the course of this competition is indeed a very fitting element in our own celebration of the 20th year celebration of the unification of the Philippine Stock Exchange. The paintings and sculptures have embodied well how progress is achieved when we all put our efforts together towards a common goal, towards progress," PSE president and chief executive officer Hans B. Sicat said in the release.
Sicat noted that Sining PSE showcased talents from all over the country, drawing entries from as far north as Ilocos to down south in Davao. Of the 20 finalists, 14 of them have come from outside Metro Manila, the press release said.
"Having opened the contest to amateur artists 21 years and above, we appreciate very much the positive response we have gotten from our up and coming artists. We have also received the very heartwarming gratitude from our elderly artists as old as 77 years who have once again found a venue to showcase their talents," Sicat said.
Abdulmari Imao and Benedicto Cabrera (BenCab), who were both declared National Artists in 2006,
headed the panel of judges
in Sining PSE's sculpture and painting categories, respectively.
Also on the panel for the painting category are Dr. Jaime Laya, Felice Sta.Maria, Raul Isidro, and Alfred Esquillo Jr. On the other hand, sculptors Eduardo Castrillo and Jose Mendoza joined Imao as jurors in the sculpture category. –Carmela G. Lapeña/KG, GMA News Photos courtesy of Philippine Stock Exchange, Inc