Filtered By: Lifestyle
Lifestyle
#PINNED: Pre-quarantine food you miss and where to get them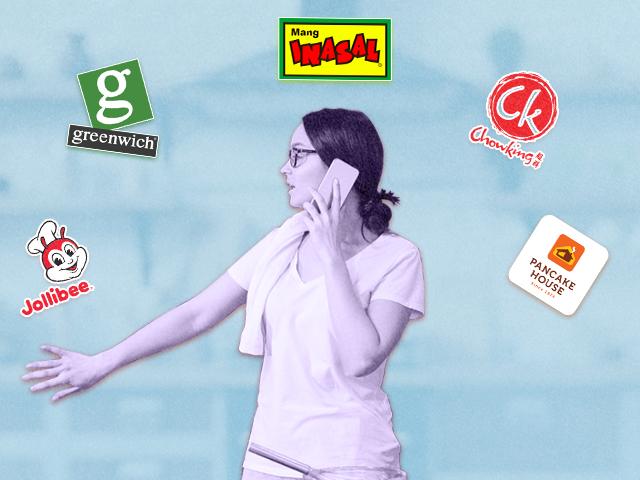 #Pinned makes it easier for young Filipinos to discover meaningful and enriching content and stories that will help them separate music from the noise, wheat from the chaff, and flowers from the weeds.
All our stories are written by young creatives who made it their life mission to know everything there is to know about how fellow young adults can make the most out of their limited down time every day, every week.
---
If there's one thing that everyone's craving for right now, other than their favorite pre-quarantine food, it is the sense of normalcy that is now all but gone. In a span of a few months, we've seen an erupting volcano, catastrophic fires, a global pandemic, and a wide-ranging community quarantine. This is definitely not the 2020 we signed up for, or, you know, what our horoscopes predicted.
While it is not possible to physically go back in time and experience the boring monotony of normalcy once more, we can still get a taste of what it was like before. These ready-to-cook food, like Jollibee's Chickenjoy and Amber's Lumpiang Shanghai, remind us of a world that seems so faraway now. Perhaps this memory is what we'll eventually need, once all of this is over?
Below, we listed some of the restaurants that we usually frequented before, together with the menu items that they're selling. These ready-to-cook meals will be perfect for days when you feel like treating yourself or to stave off the existential dread while waiting for targeted mass testing.


Amber
Complete the work-from-home vibe with Amber's bestseller menu items, the staples of office parties. Trust us, jaded and cynical office folks, that there is nothing that their Marinated Pork Barbeque (PHP 350/kilo) and Lumpiang Shanghai (PHP 180/20 pcs.) can't make better. You might even begin appreciating all the office parties (and meetings ugh) you hated with all your guts while munching on the free food.
This offer is available for a limited time only.
You may order through their temporary hotlines:
Manila: 8522-4444
Mandaluyong: 8533-1111
Caloocan: 8931-6827
Makati: 8886-1313
Las Piñas: 8776-2856
Muntinlupa: 8862-0000
Bacoor: (046) 436-7081
Or you may also try contacting their main hotlines:
Metro Manila: 8884-8888
Cavite: (046) 417-5555
Laguna: (049) 535-5555
Chowking
If there's one thing that almost all employees working from home now miss, it's probably the office air-conditioner. Probably the free-flowing coffee and the eternally empty Milo jar, too. So, if you're not burgis enough to own an air-conditioner, most likely you're always soaking wet for all the wrong reasons this work-from-home-at-summer season. To help with the summer heat, perhaps you can try Chowking's beloved halo-halo at home? Chowking is offering a wide selection of frozen menu items from halo-halo toppings to frozen meats and seafood.
Customize your own halo-halo by choosing from their available toppings: Leche Flan (PHP 112/500g), Sweet Ube Paste (PHP 65/400g), Banana in Syrup (PHP 74/600g), Langka in Syrup (PHP 102/800g), Bean Mix Topping (PHP 86/800g), Macapuno (PHP 134/500g), Ube Ice Cream (PHP 320/gallon), and Macapuno Ice Cream (PHP 320/gallon).
If desserts aren't your thing, you may also order their frozen Asado Siopao (PHP 109/6 pcs.) and Bola-Bola Siopao (PHP 132/6 pcs.). This offer is available until supplies last.
Check out the official website of Chowking to see if the store near you is available for delivery or you may call your local Chowking branch for inquiry.
Cold Layers Cafe
If you're looking for a comforting bowl of hot soup to make you feel warm and fuzzy inside, at least momentarily, you can try Cold Layers Café's Roasted Pumpkin Soup (PHP 80) or their French Onion Soup (PHP 100). While these soups won't make the fact that you're ghosted so hard go away, they could, at least provide some sort of warmth to your cold, shivering heart. They're all basic anyway, right?
You can also try Cold Layers Café's other bestsellers like Chicken Cordon Bleu (PHP 220), Meat Lasagna (PHP 285), and Marinated Porkchop (PHP 120). Their frozen meal packs are vacuum sealed and contain no preservatives. They are available for delivery via Lalamove.
For inquiries, you may message Cold Layers Café's Facebook page.
DECS
For simple office folk like yours truly, any kind of siomai is good siomai. Get what we're saying? It's not because our utterly unsophisticated palette can't make out the difference between pork and shrimp siomai. No, sir. It's just that we love all of them. That's why we're so over the moon with DECS' 12-pc. Siomai Sampler. For just PHP 260, you'll get to taste all of their siomai variants.
If you already have your eyes on a particular dim sum, you can buy their Hakaw (PHP 270/12 pcs.), Cuchay Dumpling (PHP 245/10pcs.), and all the variations of siomai. You may place your order through DECS' Facebook Page and wait for the confirmation before paying.
Orders will be delivered via Grab or Lalamove within Metro Manila only.
Greenwich
If you somehow bought pasta during the early days of panicked Metro Manila hoarding or you still got leftover pasta from the Noche Buena set that your office grudgingly gave everyone, then you can finally get rid of them. Here's the perfect sauces to cook them with - Greenwich's classic Carbonara (PHP 202/1.1 kg) and Spaghetti (PHP 308/2.4 kg).
Also, if you happened to have, we don't know why, some ready-made pizza dough, you can recreate Greenwich's pizzas with all their frozen toppings for sale. You can buy Sliced Bacon (PHP 120/200 grams), Spiced Ham (PHP 619/3 kg), Pepperoni (PHP 406/kilo), Italian Sausage (PHP 92/250 g), and a lot more. This offer is available until supplies last.
Check out the official website of Greenwich to see if the store near you is available for delivery or you may call your local Greenwich branch for inquiry.
Note: If you have ready-made pizza dough, it only stands to reason that you also have some sort of cheese variant at home. And pineapples, too. That's right, pizzas should have pineapples.
Jollibee
Our identity as a nation, however loathe we might be to admit this, hinges on two particular food items: Lumpiang Shanghai and Chickenjoy. There's no question to this, really. The competition's sorry excuse for a fried chicken has been blown to kingdom come since time immemorial, and well, Lumpiang Shanghai rolls are always the hottest menu item in any kind of party. Trust us, office party veterans, to know this. That's why we're absolutely thrilled that Jollibee's Chickenjoy is among the frozen food items that they're selling.
Hi there, the ready-to-cook items are available in Jollibee stores nationwide that are open for take-out and drive thru, until supplies last. Please call first the store to check items that are available: https://t.co/BPNhFN7r0k.

— jollibee (@Jollibee) March 27, 2020
While we're not particularly mourning the absence of Jollibee's version of Lumpiang Shanghai, we're devastated that Yumburger patties did not make the cut. Anyway, the Yumburger's absence is more than made up with the other items that select Jollibee stores are selling. There's the marinated (PHP 219/8 pcs.) and spicy (PHP 223/8 pcs.) versions of their Chickenjoy hot from your pan. You can also get their utterly famous (which we are clueless why) Tuna Pie (PHP 184/10 pcs.), Beef Longganisa (PHP 397/1.2 kg), and other Jollibee favorites. This offer is available until supplies last.
Check out the official website of Jollibee to see if the store near you is available for delivery or you may call your local Jollibee branch for inquiry. For the quintessential favorite, Chickenjoy, you can also try select Robinsons Supermarkets.
Mang Inasal
Unique take on soup aside, Mang Inasal is the OG of the burnt meat smell that samgyup joints in the Philippines have now coopted. While no longer in its rightful place at the top of the grilled meat pyramid, Mang Inasal's chicken is still a classic. And we have to understand that Mang Inasal was the trailblazer that started the unli-rice trend in the Philippines. Something that angered an anti-farmer capitalist who hate research so much, she tried to ban it.
You can have their nuot-sarap Chicken Inasal at home for PHP 329 for 5 pcs. of Pecho. If you're not keen on eating meat this Lenten Season (yup, it's still on), you can try their Bangus Sisig (PHP 483/10 servings). This offer is available until supplies last.
Check out the official website of Mang Inasal to see if the store near you is available for delivery or you may call your local Mang Inasal branch for inquiry.
Pancake House
No pancake batter for sale? No chicken as well? And you call yourself a *pancake* house?? The audacity! Move along, people.
Just kidding, of course. Pancake House's Spaghetti gives the perennial favorite, Jollibee's, a run for its money if we're being honest. Fortunately, that's among the frozen food items that you can buy at select Pancake House branches. You can cop Pancake House's Spaghetti Sauce for PHP 445 and other breakfast faves such as Beef Tapa (PHP 285) and Country Sausage (PHP 312).
This offer is available for pick-up at the following branches: Molito-Alabang, Tomas Morato, Banawe, España, Harbour Square-CCP, Magallanes, Hampton-Pasig, Burgos Eats-BGC, Opal Rd-Ortigas, and Katipunan
Tender Bob's
To our relatively well-off friends, here's a tip: Stop with the we-are-the-beerus handwringing on social media, check your privilege, and just eat steak. Just kidding! Or not. Anyway, if you're in the mood for steak and burgers during quarantine, you can try Tender Bob's.
They are now delivering US meat choices such as Angus Ribeye (PHP 460/180g), Lamb Breast Ribs (PHP 710/kilo), Topsirloin (PHP 320/180g), and Marinated Pork Chops (PHP 190/pack). They also have 100% Angus Beef Burger Patties (PHP 230/5 pcs.) if you're particularly craving for burgers.
Their meat choices are available for delivery within Metro Manila via Grab Express, Lalamove or Angkas. You may contact (02) 72183899 or 09178345708 to order.
Save other people's order
While cancelled orders are not particularly new, there's something more sinister when it comes to them now. Delivery drivers literally risk their lives and that of their families just by being on the streets. COVID-19, the deadly pandemic grappling the world now, is not selective when it comes to the people it infects, making the delivery drivers' job harder and more dangerous. And then enter inconsiderate and selfish people. See where the outrage is coming from?
Now, Filipino netizens are having none of it. A Facebook group for all food delivery drivers (Grab Food, Angkas Food, Foodpanda, and Lalamove) and concerned netizens, who are, also, undeniably hungry or craving for something – be it pizza or milk tea. If you're looking to help our delivery drivers, and at the same time satisfy sudden cravings, you can join the Facebook group – ORDER HERO.
Joining is easy, all you have to do is answer a few security questions and then read the group's rules. No special powers needed.