Filtered By: Lifestyle
Lifestyle
Is keeping an ostrich in a subdivision allowed? DENR says it needs permit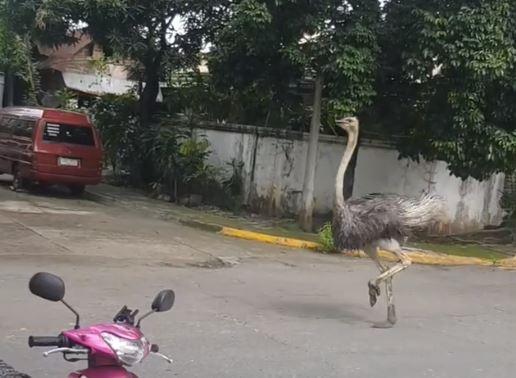 Ostriches running around the streets of a private Quezon City subdivision was among Tuesday's top talking points, after photos and videos of the flightless birds turned up on social media and went viral.
Many wondered what an ostrich was doing inside a private subdivision, if it were even legal to begin with.
According to the Department of Environment and Natural Resources (DENR), keeping an ostrich in subdivisions is legal, as long as it is compliant to Republic Act No. 9147and supported by necessary documents.
DENR told GMA News Online on Wednesday that keepers of wildlife should have financial and technical capability, as well as facility to maintain them.
"Generally, keeping wildlife is allowed and is legal as long as the provisions of Republic Act No. 9147 or the Wildlife Resources Conservation and Protection Act, are satisfied," DENR said.
Under Section 27, it is stated that the wildlife should not be obtained to commit violation against these animals through illegal acts such as collecting, hunting or possessing wildlife, their by-products and derivatives.
"However, it is not common, the practice, the interest, or concern of subdivisions to allow wildlife in their facilities for reasons of keeping their facilities clean and healthy," DENR said.
For those who are interested to keep wildlife animals, the DENR issues a Certificate of Wildlife Registration through the Wildlife Resources Permitting Section at the DENR-NCR for Metro Manila.
The certificate can also be obtained in other regions from respective Wildlife Resources Permitting Section offices, DENR told GMA News Online.
Requirements include duly accomplished Application Form and proof of Acquisition or Deeds of Donation, according to the DENR.
For further details, aspiring wildlife keepers may inquire with concerned DENR offices regarding the process of obtaining wildlife permits.
News of the ostriches running free in a QC village hogged social media for much of Tuesday, with netizens amused at another unexpected event for an already strange year.
By the afternoon, one ostrich was seen captured, while other flightless bird remained under the radar.
It remains unclear where the animals came from. — LA, GMA News