Filtered By: News
News
Distribution of human-grade ivermectin sans prescription illegal —Domingo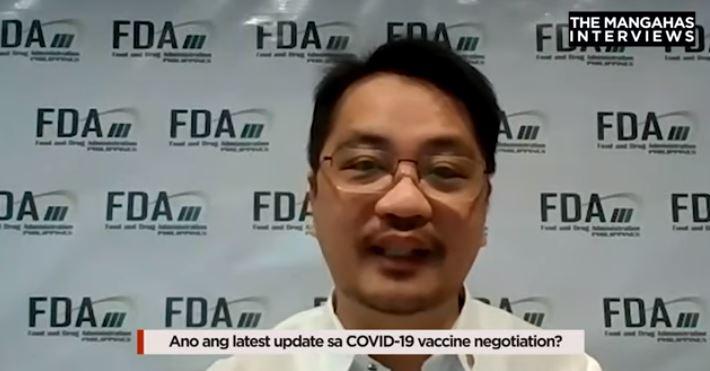 The use of human-grade Ivermectin drug is only legal if prescribed by a physician and compounded by a licensed pharmacy, Food and Drug Administration Director General Eric Domingo said Tuesday.
In an interview with ANC, Domingo was asked if it is legal for Anakalusugan party-list Representative Mike Defensor to distribute ivermectin to COVID-19 patients in Quezon City even if it's still unregistered for human use in the Philippines.
"Ang 'di lang pwede sa ating 'yung unauthorized drugs or unregistered drugs, hindi madistribute nang walang prescription," Domingo said.
But the FDA chief said there is a "legal way" to prescribe the human-grade Ivermectin in the country.
"I suppose, being a congressman, they would do it through a legal way. Of course, if you are going to dispense an antibiotic you have to have a doctor to see a patient and then write a prescription and the prescription maybe go to a compounding pharmacy and make the drug for the patient and explain to the patient that this is what the drug is, this is what it will do to you, this is the possible effects and if a patient accepts then of course that is the legal way of doing things," Domingo said.
In the Philippines, there are "quite few" pharmacies which are licensed to compound medical drugs, Domingo said. However, he pointed out that ivermectin should be compounded by a pharmacist.
This was his explanation after he was asked about Dr. Allan Landrito's disclosure in a House health panel hearing, saying he compounded ivermectin himself to give it to around 8,000 patients.
Landrito is one of the physicians who are pushing for the use of ivermectin as a treatment drug for COVID-19. He previously claimed that ivermectin reduces COVID-19 morality rate by 83%.
Currently, Domingo said an application for Certificate of Product Registration for ivermectin is pending before the FDA.
Domingo also confirmed presidential spokesperson Harry Roque's disclosure that a compassionate special permit was filed before the drug regulatory agency.
A compassionate use permit from FDA, however, only allows legal administration of the drug in the country, but does not guarantee the drug's safety and efficacy.
Despite these developments, Domingo reiterated that further studies should be done to prove the efficacy of ivermectin against COVID-19.
"We keep reminding people, you know, we all want to find a cure for COVID-19, but so far, hindi pa talaga kasi kumpleto ang ating [we don't have enough] scientific evidence for ivermectin against COVID-19," he said.
"Most regulatory agencies like the US FDA, the European Medicines Agency, the [World Health Organization], said we don't use it yet outside of the clinical trials," he added.
With all the clinical trials on ivermectin, the FDA chief said "scientific conclusion" for its efficacy on COVID-19 cases may not come out soon.
The FDA has earlier warned the public on the use of ivermectin for COVID-19 cases as the available grade of the said drug in the country is for veterinary use only.
Health experts warned that there is lack of evidence to prove that the drug can be a remedy for patients infected with COVID-19 despite articles and social media posts promoting ivermectin as an anti-COVID-19 drug in Brazil, France, South Africa and South Korea.
The Philippines on Monday registered 8,355 new COVID-19 infections, raising the total tally to 803,398. The new cases brought the number of active cases in the country to 143,726. —KBK, GMA News