Filtered By: Showbiz
Showbiz
H.E.R. is a fan of Gary V. plus 6 more things to know about the Fil-Am Grammy winner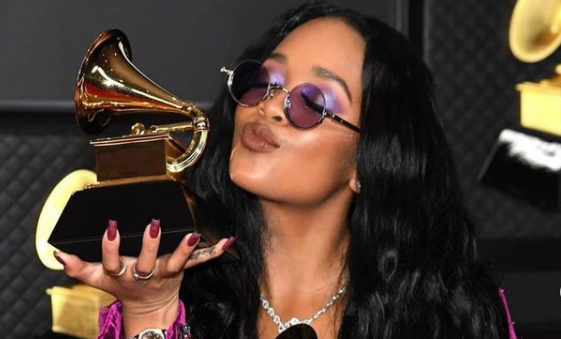 The song performed by Filipino-American artist H.E.R., "I Can't Breathe" won Song of the Year during the 63rd Annual Grammy Awards on Monday (Philippine time).
She shares the award with her co-writers Dernst Emile II and Tiara Thomas, whom the award-giving body also recognizes.
This is the second Grammy victory of the Fil-Am artist, having previously won the Best R&B Performance and Best R&B Album Grammy Awards in 2018.
In case you haven't heard how talented H.E.R. is, below we've listed down some cool things about the Filipino-American Grammy winner!
1. H.E.R. uses music to make her voice heard
The winning song, "I Can't Breathe," was written to mark the Black Lives Matter protests in the United States. It was released on Juneteeth 2020, in the wake of Minneapolis police killing George Floyd.
Upon accepting the Grammy award, H.E.R. said "That fight we had in us, the summer of 2020, keep that same energy."
The singer said they wrote the song over FaceTime, "and I had no idea that my fear would turn into change. But that's why I write music, that's why I do this."
"I'm so grateful. I thank God for giving me the gift of a voice and a pen and using me as a vessel to create change," she added.
2. She made history as the 1st Filipina American to get a Golden Globe nod
Last February, H.E.R. received her first Golden Globe nomination in the "Best Original Song - Motion Picture" category for "Fight For You" a song featured in the film "Judas and the Black Messiah."
The nomination made H.E.R. the first Filipina-American to get nominated for the category at the Golden Globe awards.
3. She grew up with a home filled with music and food
H.E.R. grew up in a home in Vallejo California. Her father is a Black American and her mother is a Filipina from Nueva Ecija.
In an earlier interview with GMA News Online's "Hollywood Insider," H.E.R. shared how she grew up surrounded by good food courtesy of her mother, and good music from her father.
"Oh, man. I recently learned how to make kare-kare so that's my favorite. And hopia, of course. My mom makes really good sinigang and adobo, sitaw. I make it all. Now I make it all. Yeah, I'm so thankful for those moments," she said in an interview with Janet Susan R. Nepales on GMA News Online.
"There was a lot of eating and music. I feel like that's what brings us together, especially in Filipino culture. But I was singing a lot of Whitney Houston songs — 'Greatest Love of All' — and Mariah Carey songs in the house," she added.
H.E.R. shared how her father, a construction worker who did music on the side, molded her and made her super comfortable in a music setting.
"Growing up in the Bay Area my dad, he was a construction worker but he did music on the weekends. He loved music, and he had a cover band in the Bay Area and all the instruments were in the house because they would rehearse in our living room and I would watch, since I was born," she narrated.
H.E.R. "picked up the guitar at seven and he taught me how to play the blues pentatonic scale and it was just something that I always gravitated towards."
4. Sharon Cuneta, Gary V, Bruno Mars and Jessica Sanchez are among the Filipino musicians she looks up to
While her father brought her up with a steady diet of James Brown, Jimi Hendrix, Prince, Lenny Kravitz, Eric Clapton, AC/DC, and Aretha Franklin, H.E.R. is no stranger to the great OPM artists of our time.
"Yeah, Sharon Cuneta, for sure. Obviously, Bruno Mars is Filipino, and I looked up to Bruno Mars a lot. And I thought it was cool that he's Filipino," H.E.R. said in another Hollywood Insider interview with Janet Susan R. Nepales.
"And there are other people like at the time, I was fan-girling when I was a little girl at Gary Valenciano when he would perform. I was a big Gary V fan."
"But there's a lot of great Filipino singers like American Idol's Jessica Sanchez. Oh my gosh. I've been following her since I was a little girl, and I always thought she was an amazing singer. So, it's so cool. She always represented for Filipinos," she added.
5. It's easier for her to tell her truth behind her screen name H.E.R.
In a January 2021 interview with Janet Susan R. Nepales, H.E.R., whose real name is Gabriella Sarmiento Wilson, said she "chose to release my music under the name H.E.R. because I wanted to separate my — not so much my identity, but more so things that represent me in my music than what I look like, or how old I am, or where I come from."
"And fight for the message of my music and fight for what we all go through and what makes us kind of all the same in some of the things that we go through," she added.
H.E.R. said her music is something of a diary. It's very personal "and it can get very deep and very hard to write these things."
"So when I decided to put out my project and be heard, be anonymous, it was like, this is easier for me to tell my truth," she continued.
She said through having a screen name it will be "easier for somebody to relate to the lyrics and really listen to the message because I feel like we focus too much on other things, we focus on the looks and all of these different things and I'm really just about the music."
"I love the music and the lyrics and I'm really about my art and I just wanted to represent that and that be the forefront," she added.
6. H.E.R. had the chance to perform D'Angelo where they gushed over each other
During D'Angelo's live performance from New York's Apollo Theater last February as part of the first-ever solo Versuz livestream, he had H.E.R. as one of his guests.
"Yo, I'm your biggest fan," H.E.R. told D'Angelo.
D'Angelo replied, "No, I'm your biggest fan."
H.E.R said, "I can't believe I'm here right now. Wow, what a moment."
The two played "Best Part" with D'Angelo singing Daniel Ceasar's part. Then they jammed to Lauryn Hill's "Nothing Even Matters," a track off the legendary album "The Miseducation of Lauryn Hill," which featured D'Angelo.
7. She has an inspiring message to Filipinas who want to follow her footsteps
H.E.R. who has been recognized worldwide in her craft has a message for Filipinas who also want to become a big success like her.
"Stay true to who you are. Keep that community close, and always be grateful. Have gratitude. Because every moment just makes you who you are, and it makes your journey that much more special," she said in a March edition of the Hollywood Insider column with Janet Susan R. Nepales.
"Every up and down, it's going to happen, but you just got to keep going and believe in yourself. And know that there are people that love and support you, and will always back up your decisions in navigating this crazy, crazy music industry. So, stay true to you," she added. — LA, GMA News