Filtered By: Topstories
News
2 solons to distribute ivermectin; FDA says doctors must be present, prescribe it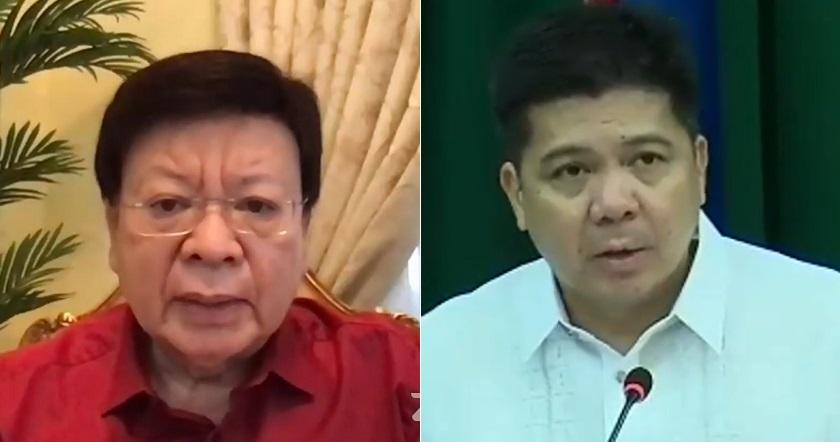 Representatives Rodante Marcoleta and Mike Defensor are set to distribute the anti-parasitic drug ivermectin as a possible treatment against COVID-19 beginning Thursday, April 29, in Quezon City, despite not being doctors.
The initiative, which they are calling "Ivermectin Pan-three," will provide each beneficiary with at least three ivermectin pills for free.
"This grave public health emergency caused by the pandemic is technically a war that needs to be decisively confronted. In war, people protect themselves with anything in order to survive," they said in a joint statement on Tuesday.
Asked if the initiative is legal, Food and Drug Administration director general Eric Domingo said it must have doctors "who will check the patients and prescribe medicines that will be dispensed properly."
The lawmakers said that doctors from a group known as the Concerned Doctors and Citizens PH (CDC-PH) will assist them during the distribution at Matandang Balara Hall Park.
"We need to cross the line and break the glass ceilings, if we must, one way or the other. We cannot, in good conscience, sit idly at the excuse of inflexible bureaucracy to deny our people, especially the underprivileged, their pharmaceutically-assisted moments as they struggle to breathe their last," they added.
Marcoleta and Defensor said they would also continue the distribution of ivermectin to the poor sector, such as those in Barangays New Era, Commonwealth and Holy Spirit.
The FDA had earlier said that only hospitals that have received compassionate special permits (CSP) for the drug may import it through a licensed importer.
To date, the agency has allowed five hospitals the use of the drug for COVID-19 patients.
However, the FDA, the Department of Health (DOH), and the World Health Organization have said there is no sufficient evidence yet that ivermectin is an effective COVID-19 treatment.
Ivermectin manufacturer Merck has also stated that there is "no scientific basis for a potential therapeutic effect [from ivermectin] against COVID-19 from pre-clinical studies."
Merck also said there is "no meaningful evidence for clinical activity or clinical efficacy in patients with COVID-19 and a concerning lack of safety data in the majority of studies."
"We do not believe that the data available support the safety and efficacy of ivermectin beyond the doses and populations indicated in the regulatory agency-approved prescribing information," it continued.
Earlier this month, doctors debating the use of ivermectin acknowledged the lack of phase two trials on the appropriate dose of the drug to be given for patients who are being treated for COVID-19 or as prophylaxis.
Dr. Tess Lawrie, director of the UK's Evidence-Based Medicine Consultancy Ltd., urged the Philippines to do a study on ivermectin as a prophylaxis for health workers, saying that there were few serious adverse events (SAEs) recorded during studies on ivermectin as a COVID-19 treatment.
Dr. Jacinto Blas Mantaring III, who chairs the Department of Clinical Epidemiology of the University of the Philippines' College of Medicine, cited an international research initiative's ivermectin studies in cautioning that there could be as much chance that ivermectin causes harm as it could bring benefit to patients.
Dr. Vicente Y. Belizario Jr., Dean of the UP College of Public Health, said there needs to be a consensus among doctors, as well as agencies such as the WHo and the FDA, for the possible use if ivermectin against COVID-19.
Marcoleta and Defensor said that the FDA and the DOH are "dismissive" about the potential of ivermectin as an anti-viral.
"Time and again, they are dismissive of the avalanche of clinical trials that have unfolded before their very eyes, unyielding to bend and improvise the guidelines and policies that apply only during normal times," they said.
GMA News Online has reached out to the DOH for comment.
President Rodrigo Duterte earlier ordered a clinical trial for ivermectin in the Philippines. It is expected to start by the end of May, according to the Department of Science and Technology. — BM, GMA News