Filtered By: Topstories
News
'KONTING RESPETO NAMAN PO'
Gordon, Drilon call on Duterte to respect Senate's job to examine anomalies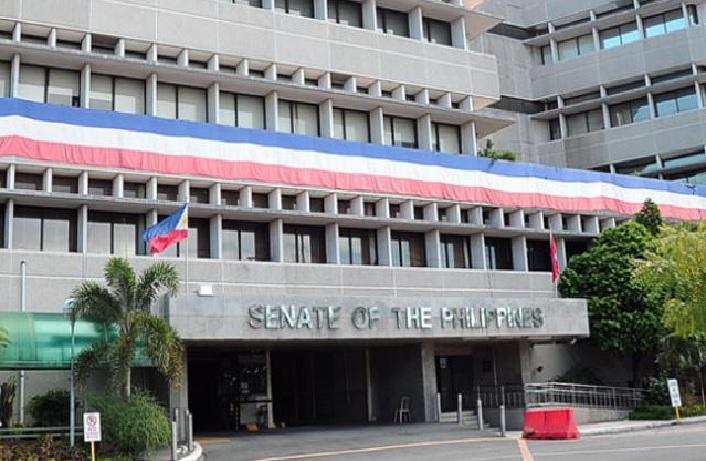 Senate Blue Ribbon Committee chairman Richard Gordon and Senate Minority Leader Franklin Drilon on Friday called on President Rodrigo Duterte to respect the Senate's job of investigating anomalies in the government.
During the continuation of the Senate's probe into the Department of Health's utilization of its 2020 funds, Gordon urged the President to refrain from issuing statements that claim that their investigations yield no results.
"Wag niyo naman pong sabihin na wag makinig at walang nangyayari dito sa atin sa Senado," he said.
(Don't tell the public not to listen to us and we are not doing anything here in the Senate.)
"Konting respeto rin naman po, we respect you. I respect you because you are the president of the Philippines. I always respect the title and the man," he added.
(Please give us some respect because we respect you.)
Gordon pointed out that the Senate is the Executive Department's co-equal branch and the chamber is just fulfilling its mandate.
"Ang Blue Ribbon ang tanging committee na nakaakda para imbestigahin ang katiwalian. Kung hindi ko gagawin ang trabaho, masama ako. Kung gagawin ko ang trabaho, mas masama ako? Excuse me po, I'd rather na murahin ako ng tao dahil ginawa ko ang trabaho than murahin ako ng tao na wala akong ginawa," he said.
(The Blue Ribbon is the only committee that is tasked to investigate irregularities. If I don't do my job, I will be put in a bad light. If I do my job, I will still look bad to the public. Excuse me, I'd rather be cursed by the public for doing my job than being badmouthed for not performing my duty.)
"It's unfair. We work long hours. Ang Blue Ribbon po mahabang mahaba ang pagtatrabaho, araw gabi, wala kaming para," he added.
(It's unfair. The Blue Ribbon is working long hours. We work day and night, we don't stop.)
The lawmaker also said that the Senate should not be treated as a "punching bag."
To prove his point, Gordon enumerated several issues and officials that they have investigated in the Senate Blue Ribbon panel:
Immigration Associate Commissioners Al Argosino, Michael Robles, and retired Police Colonel Wencelao Sombero on the issue at the Bureau of Immigration
Jimmy Guban, Mark Taguba, and Eirene Tatad on the drug issue in the Port of Manila and the Bureau of Customs
Former PNP Chief Oscar Albayalde and PNP Major Rodney Raymundo Louie Baloyo in his alleged involvement in the drug trade in Pampanga.
The irregularities in the Bureau of Corrections on the issue of Good Conduct Time Allowance (GCTA).
The $700 million NBN-ZTE deal
The Dengvaxia issue
"I respect the other senators no matter what and we are going to make sure that we are going to come out with the report, we may not catch everybody but lalabas at lalabas," he said.
Strong exception
Gordon pointed out the importance of the current investigation on the procurement of overpriced face shields and face masks by the Department of Budget and Management-Procurement Service.
"Di po ba dapat magtanong ang Senado dito sa PS-DBM na napakalaki ng pinapasok na mga kontrata?…Gusto niyo po ba tatahimik ang lahat ng tao sa ginagawa, namamatay ang tao," he said.
(Shouldn't the Senate question the PS-DBM for entering into big contracts? Do you want us to stay silent while a lot of people are dying?)
Drilon echoed Gordon's sentiments, saying he took "strong exception" to Duterte's statements against the Senate.
"With all due respect, to investigate in aid of legislation is Senate's constitutional mandate. Our investigations not only yielded to numerous meaningful legislation but also led to the prosecution of corrupt officials as clearly enumerated by our chairman Senator Gordon. There's a long list of these instances if we look deeper," Drilon said in his opening statement.
The minority leader then suggested that a list of Senate Blue Ribbon Committee investigations be sent to Duterte.
"The Senate, perhaps, maybe the Blue Ribbon Committee chairman, can submit a list to Malacañang, in order to show that indeed this is not just an investigation," he added.
"Kaya tuloy lang po tayo. Halungkatin natin ang mga dapat malaman ng taong bayan. (Let us just continue. Let us unearth the issues that the public should know.) It is our responsibility as duly elected representatives of the people to unearth truths, especially concerning disbursement of public funds," he ended.
Several senators also contradicted Duterte's statements earlier today.
In his Thursday night public address, Duterte criticized senators whom he said were only "posturing" when conducting Senate investigations on alleged government anomalies. — DVM, GMA News