Filtered By: Topstories
News
Blinken: US provided $50M worth of assistance for Philippines' COVID-19 response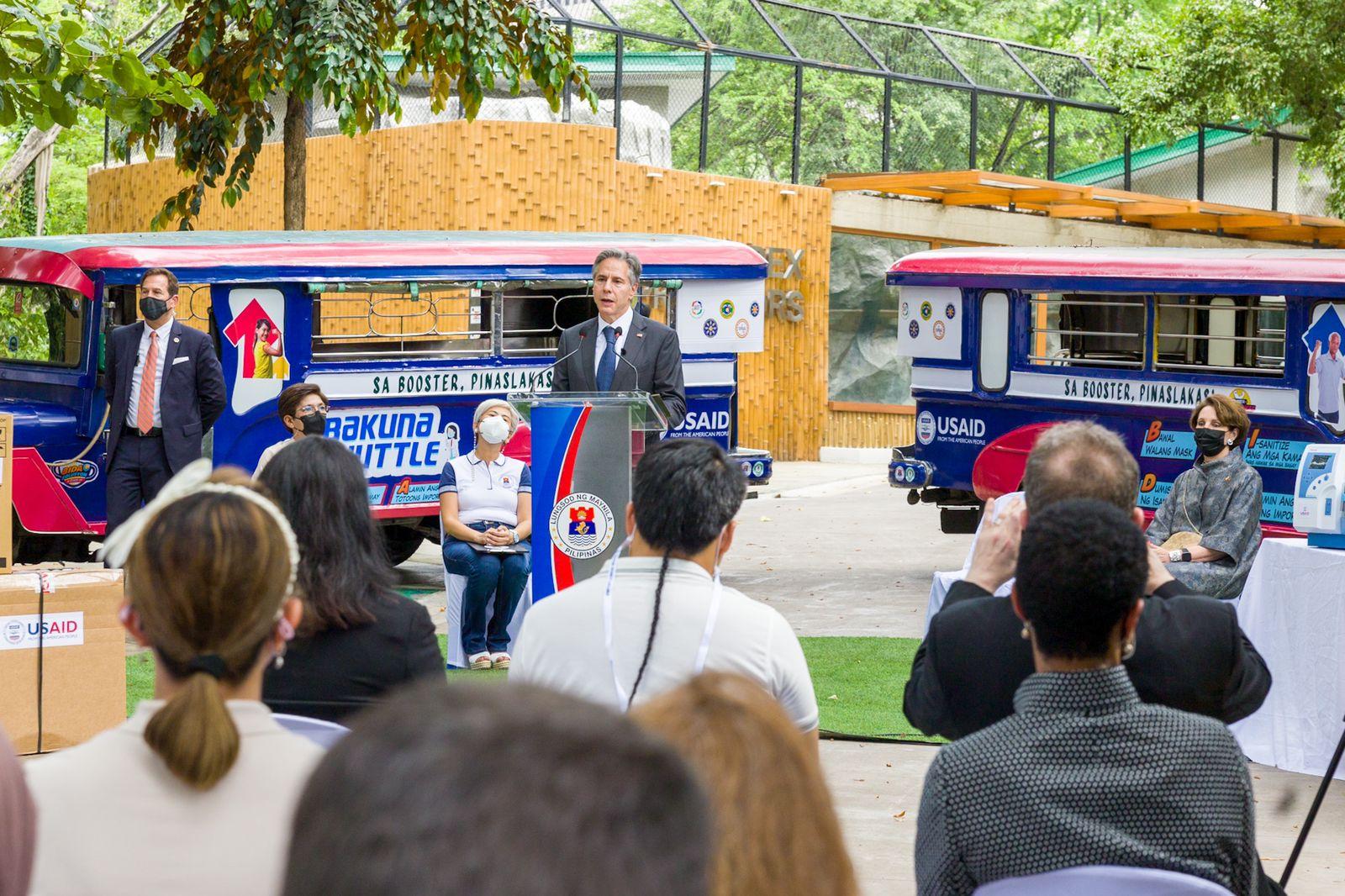 The United States has extended at least $50 million worth of assistance to help the Philippines mitigate the effects of the COVID-19 pandemic, visiting US Secretary of State Antony Blinken said on Saturday.
This was disclosed by Blinken during his attendance at a COVID-19 assistance event in Manila, where he also witnessed the vaccination of children ahead of the opening of classes later this month.
The United States Agency for International Development (USAID), in support of the Philippines' PinasLakas vaccination and booster campaign, initiated a pediatric vaccination activity with handover of COVID-19 aid and logistical equipment on Saturday at the Manila Zoo.
Aside from Blinken, present during the event were US Ambassador to the Philippines MaryKay Carlson, Department of Health (DOH) Officer-in-Charge Maria Rosario Vergeire, and Manila City Mayor Dr. Honey Lacuna.
"We've been proud to have donated more than 33 million safe, effective vaccines to the Philippines, [with] no political strings attached," Blinken said in his speech.
Through the COVAX Facility, the US has donated more than 33 million COVID-19 vaccine doses to the Philippines which consisted of Pfizer, Moderna and J&J platforms, DOH said.
"We've provided more than $50 million to your COVID-19 response to help train healthcare workers, to boost the vaccine rollout, [and] to support the economic recovery," Blinken said.
"We're also providing supplies for the continued fight against COVID-19, and we have some here with us here today—testing kits, laboratory equipment. All of that will go to the Philippines Genome Center, the Bulacan Medical Center, and our other partners who are here with us today," he added.
DOH on Sunday said that among those donated by the US government were 18,000 rapid antigen and other test kits, over 100 wash kits for schools and the Manila City Health Department, and an assortment of personal protective equipment (PPEs).
They also gave TaqPath COVID-19 testing reagents for the Philippine Genome Center which allows for 10,000 tests.
Vergeire thanked the US government "for helping the Philippines get back on its feet and build back better."
Department of Health officer-in-charge Maria Rosario Vergeire, who was also present at the event, thanked the US government "for helping the Philippines get back on its feet and build back better."
"The Filipino people will never forget the kindness you have shown during these trying times," she said.
In July, the DOH launched its PinasLakas campaign which aims to give booster shots to at least 23 million Filipinos in three months.
Earlier in the day, Blinken paid a courtesy call on President Ferdinand "Bongbong" Marcos Jr. in Malacañang and had a virtual meeting and joint press conference with Foreign Affairs Secretary Enrique Manalo.
The US official also visited a clean energy fair in Makati.
Blinken is the highest American official to visit the Philippines since Marcos took office on June 30. —Jamil Santos and Giselle Ombay/VBL/KG, GMA News