Filtered By: News
News
'NATURAL CAUSES'
PNP medico legal report rules out homicide in Christine Dacera death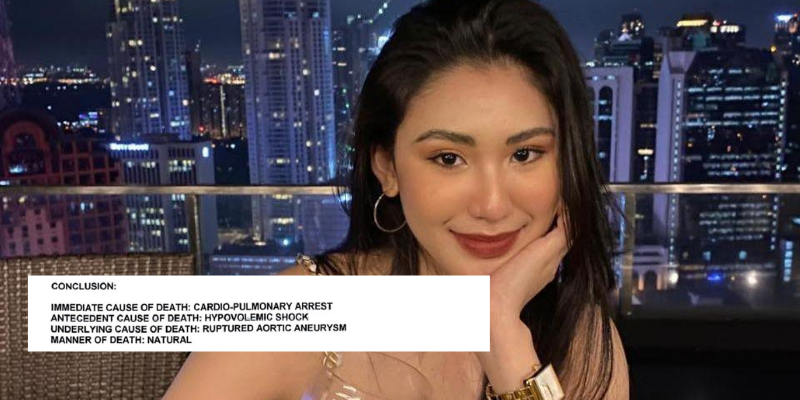 Flight attendant Christine Dacera died of natural causes, according to findings of the Philippine National Police Crime Laboratory.
A medico legal report from the PNP crime lab dated January 11 but submitted to a Makati prosecutor on Wednesday says Dacera died of a ruptured aortic aneurysm that was triggered by an increase in blood pressure.
"Manner of death as homicide is ruled out in Dacera's case because the aortic aneurysm is considered a medical condition. Rape and/or drug overdose will not result to the development of aneurysms," the report states.
"Even overdose and ruptured aneurysm are two different conditions and cannot be both included as cause of death of patient," it adds.
The PNP submitted the report Wednesday to the Makati prosecutor investigating its complaint for rape with homicide against Dacera's companions before her death.
Dacera died on January 1 after a New Year's Eve celebration with her friends. Her family believes she was drugged and sexually abused, but her companions claim they did not harm her.
READ: Timeline of Christine Dacera New Year's Day death
'Chronic condition'
According to the medico legal report, the "dilatation or aneurysm" in Dacera's aorta was a "chronic condition" that "started long time ago or maybe years prior to her death."
"No alcohol or recreational drugs taken the night prior to her death will cause that kind of dilatation or defect on her aorta," the report states.
"If she did not die that fateful night, she will still die in any scenario that presents an activity that will increase her blood pressure strong enough to tear that aneurysm."
If ever drugs or alcohol would be detected in Dacera's body, the report states this will be an "incidental finding because even by their absence, rupture can occur if blood pressure shoots up from different strenuous physical activities."
"Vomiting or retching may also increase blood pressure and trigger the ruptured aneurysm," the report states.
The enlargement of Dacera's heart, according to the report, was "most probably... due to her chronic hypertension."
Mike Santiago, lawyer for some of Dacera's friends accused of rape with homicide, said the document "speaks for itself."
The Makati prosecutor's preliminary investigation, which will determine whether the case will be brought to court, will resume on February 3. —KBK, GMA News