Filtered By: Lifestyle
Lifestyle
Thank you to these TV shows and movies, anime and concerts that helped get us through 2020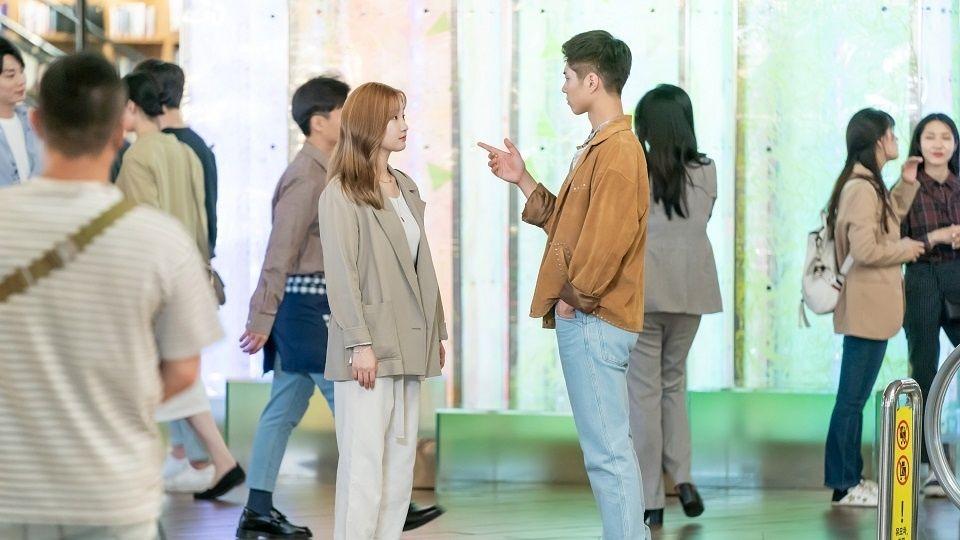 We honestly don't know how we could've gotten through 2020 locked up home, without these TV shows and movies, concerts and shows, and even one-off table reads.
As we say goodbye to such a woeful year, allow us to look back and say our thanks to each and every title that gave some semblance of normalcy in our lives, provided necessary distraction, and for a good amount of time, took us away from the grim realities of 2020.
TV SHOWS:
Crash Landing On You. It may have been released in 2019, but the CLOY fever lasted for the most part of 2020, with people throwing thematic parties based on the K-Drama, and local companies getting Hyun Bin and Son Ye Jin as brand endorsers.
"Crash Landing on You" features Hyun Bin as Captain Ri Jung Hyuk, a North Korean officer who falls in love with South Korean heiress Yoon Se-ri, played by Son Ye-jin.
It aired from December 2019 to February 2020 and is one of the highest-rating Korean dramas in history.
The Queen's Gambit. Many of us would agree that "The Queen's Gambit" is about a whole lot more than chess. The Netflix limited series is about Beth Harmon (Anya Taylor-Joy), a beautiful young chess prodigy who strives to become the best in the world, but is haunted by her personal demons and fueled by a cocktail of narcotics and obsession.
Thrilling, heartwarming and visually enchanting, seven episodes of "The Queen's Gambit" will let you explore life, love, and the true cost of genius on the back of Beth Harmon's struggles in the male-dominated world of competitive chess.
Gameboys. The Boys Love genre has been simmering in our radar for quite sometime already with mostly Thai titles dominating the discussion. It wasn't until Gameboys started streaming on YouTube early in quarantine that we really, truly got into it.
The first Filipino BL series hit the nail right in the head, attracting more than 1.5M viewers after just two episodes. Why shouldn't it? The Filipino flavor and our quarantine situation was skilfully written into the story. The 13-episode series ended in September, with Netflix soon acquiring it and making "Gameboys: Level Up edition" available on the streaming platform six months later.
Money Heist Season 4. The latest season of "Money Heist" was released in early April, and it was exactly the kind of stimulant people needed.
It quickly went viral, with celebrities like Alden Richards talking about it online, Lovi Poe receiving a special message from Arturito, and netizens donating "Money Heist" inspired PPEs!

Itaewon Class. Fans of Park Seo Joon know why "Itaewon Class" is on the list. Released in January and ending in March, "Itaewon Class" follows Park Saeroyi (Seo Joon), a proud young man who values dignity and later gets jailed after attempting to kill the heir of Korea's biggest food company, who accidentally killed his father in a car crash.
Despite being in prison, Saeroyi worked to better himself and to seek revenge and success, and nearly a decade after being released, he opens his own restaurant in Itaewon.
The show is packed with values and lessons on success and grit which definitely gave its viewers hope to dream despite the situation.
Tiger King. Yup, it was only this year that we were gifted with this most bizarre documentary , providing quite the escape from our realities. "Tiger King" tell the story of zookeeper Joe Exotic and his merry band of misfits, with a fellow big cat lover Carole Baskin angled to look like the villain.
It's a most offbeat story that had Exotic running for president of the USA at one point, marrying two dudes at another, releasing singles, and finally getting arrested. We are still dumbstruck to be honest.
Hospital Playlist. This K-drama follows the story of five friends who also happen to be doctors working in the same hospital. Aside from their own individual stories, the show also depicted little stories about the lives of their patients.
"Hospital Playlist" showcased what it's like being a doctor, the realities of their life, going through sickness, loss of a loved one, among others.
It was a relatable show especially amid the COVID-19 situation especially since the focus is on the medical frontliners.
The Witcher. This year, we saw a beloved fantasy action role-playing game come to life in the form of "The Witcher" on Netflix.
The series follows an undamnable monster-slayer Geralt of Rivia, portrayed by none other than "Superman" actor Henry Caville, who embarks on a dangerous journey in a world of kings, elves, humans and demons seeking supremacy.
During this tale of blood, love and destiny, Geralt eventually crosses paths with a witch named Yennefer and a princess named Ciri.

I Can See You. Despite the the pandemic, Kapuso viewers stuck at home were treated to new and original stories every week through "I Can See You."
GMA's new weekly drama anthology kicked things off with "Love on the Balcony," a feel-good and heartwarming love story starring none other than Alden Richards and Jasmine Curtis.
GMA Drama's best also returned to television screens with a different story each week, including Dennis Trillo, Jennylyn Mercado, Tom Rodriguez, Lovi Poe, Paolo Contis, and more.
Umbrella Academy. You think your family is dysfunctional? You should meet the Hargreeves. Based on Gerard Way's comic book series of the same name, "Umbrella Academy" on Netflix follows seven adopted siblings with superpowers who are trained by an eccentric billionaire to save the world.
Things, however, take a catastrophic turn after their time-travelling brother Number Five mysteriously disappears and reappears years later to tell them they only have a few days to stop the end of the world.
Haunting of Bly Manor. The most-awaited horror series this year "The Haunting of Bly Manor" has kept its fans entertained. Although it starred returning actors Victoria Pedretti, Henry Thomas, Oliver Jackson-Cohen, Kate Sigel, and Tahirah Sharif, it was made to be far different from its first season "The Haunting of Hill House."
"The Haunting of Bly Manor" is set in 1980s England. After an au pair's tragic death, Henry Wingrave (Henry Thomas) hires a young American nanny (Victoria Pedretti) to look after his orphaned niece and nephew (Amelie Bea Smith, Benjamin Evan Ainsworth) living at Bly Manor with their home chef Owen (Rahul Kohli), groundskeeper Jamie (Amelia Eve) and housekeeper, Mrs. Grose (T'Nia Miller).
Its creator Mike Flanagan said while "Hill House" revolved on family, "Bly Manor" is about strangers and gothic romance.
Start-Up. Korean drama "Start-Up" has become a big hit after its release towards the end of 2020 starring Bae Suzy (Seo Dal-mi), Nam Joo-hyuk (Nam Do-san), Kim Seon-ho (Han Ji-pyeong), and Kang Han-na (Seo In-jae).
It's a heartwarming story about youth pursuing start-up businesses, reaching dreams, building friendship, and finding love.
It has especially become a big hit after the fans were caught up in the love triangle between Dal-mi, Do-san, and Ji-pyeong, fueling fans to debate on social media on who's the better man with the hashtags #TeamDosan and #TeamGoodBoy.
Record of Youth. Starring Park Bo-Gum as Sa Hye-jun, a handsome, smart, and nice man working as a model who dreams to become an actor, "Record of Youth" follows his journey to becoming a successful actor while keeping a relationship with makeup artist An Jeong-ha (Park So-Dam).
Aside from depicting the perks and struggles of working as a popular superstar, it's also centered in family, love, and friendship.
Emily in Paris. Here is a complete and total godsend for many of us who've been couped up for several months in home quarantine.
This Netflix romantic comedy series follows Emily Cooper, an ambitious twenty-something who unexpectedly lands her dream job in the one and only City of Love.
Ten episodes of Lily Collins going on an exciting French adventure will leave you dreaming about boys, baguettes and tres chic work OOTDs.
Ratched. Ryan Murphy's latest hit series "Ratched" doesn't have any ghosts in it, but it is most certainly a scary watch.
"American Horror Story" star Sarah Paulson plays Mildred Ratched, a clever, skilled (and impeccably stylish) woman who applies for work as a nurse at a psychiatric facility that houses a famously dreaded multi-murderer.
Those who enjoy vintage psychological thrillers will surely be on the edge of their seats when a series of wicked and unexplainable events begin to unfurl shortly after Mildred puts on her nurse's cap.
Lucifer Season 5. Although the new season is yet to be completed, Lucifer Season 5 finally gave viewers the much needed romance (and steamy scenes) between Lucifer Morningstar and Detective Chloe Decker after seasons of dancing around each other.
The devil himself also finds numerous bizarre things happening to him as he further makes himself vulnerable to Chloe, not to mention the difficulty he needs to face when his twin brother comes to town.
It's Okay to Not to be Okay. One of most-watched Korean dramas of 2020, "It's Okay Not to Be Okay" proved to be a romance worth telling and watching.
Starring Kim Soo-hyun and Seo Yea-ji, the series follows the love story between a selfless psychiatric ward caretaker, who doesn't have time for love, and an anti-social children's book author, who doesn't know what love feels like.
The series has also become a hit not only because of the character's chemistry, but also because it has given a spotlight on mental health.
SHOWS, CONCERTS, AND ONLINE GIGS:
Phantom of the Opera. The 25th anniversary production of Andrew Lloyd Webber's "Phantom of the Opera" streamed for free for a weekend in April and got everybody well, missing theater.
While the visuals were well-translated for the screen, it was the actors' voices that not only captivated but enthralled each and every viewer. So successful was the outing that its sequel, "The Love Must Go On" was made available for streaming the following weekend.
Bayanihan Musikahan. In March, plenty musicians launched online gigs to raise funds for COVID-19 response efforts and while all of them were appreciated, it was Maestro's Bayanihan Musikahan that really got everybody singing together for weeks on end.
It didn't matter which network the performers belonged to, what genre they played, or whether they were veterans or rookies, it was a beautiful show of unity and generosity. We mean: During Lea Salonga's night, the concert series raised a whopping P1.8M for COVID-19 frontliners. Incredible!
Hamilton. "The show must go on," they said, even as theaters all over the world were shut down due to the COVID-19. In July, "Hamilton," the Tony Award-winning Broadway phenomenon, was released a special filmed version starring Lin-Manuel Miranda over streaming site Disney+ earlier this year.
Filipinos will surely know "Hamilton" because the West End production's diverse cast of characters in 2019 included our very own Rachel Ann Go.
MOVIES AND ARTIST DOCUMENTARIES:
Through Night and Day. During quarantine, the Paolo Contis-Alessandra de Rossi sleeper hit, released in 2019, finally attracted the audience it deserved. It premiered on the streaming platform in July and consistently topped Netflix's charts, became a trending topic on Twitter, and was even the most-searched movie of 2020, according to Google.
Enola Holmes. Jam-packed with big stars such as Millie Bobby Brown, Henry Cavill, and Sam Claflin, "Enola Holmes" has entertained families stuck at home amid the lockdown.
The film follows Enola (Millie Bobby Brown) who wakes up one morning to find that her mother (Helena Bonham Carter) has disappeared and she is suddenly under the care of her brothers Sherlock and Mycroft (Sam Claflin), who send her to school to become a "proper" young lady.
Refusing her brothers' wishes, she escapes in disguise to search for her mother in London. On her way to the city, she crosses paths with young Lord Tewksbury (Louis Partridge), who has also run away from home.
Henry's portrayal as Sherlock has also been one of the talks after the film was released.
I'm Drunk, I Love You. TBA Studios, bless their hearts, made some of their movies available for streaming on their YouTube channel as early as March, when lockdown was newly imposed. The romantic-comedy "I'm Drunk, I Love You" tugged at everybody's heartstrings when it was released in April, and has now generated nearly 7M views as of writing.
Taylor Swift: Miss Americana. Before surprising everybody her record-breaking albums, "folklore" and "evermore," Taylor Swift released her much awaited documentary "Taylor Swift: Miss Americana" which showcased the singer's journey as a performer and song-writer in a highly competitive industry.
Released last January, the documentary showed Taylor's most vulnerable sides, from battling an eating disorder, fighting through months of media scrutiny and internet bashing, to standing up for herself through her sexual assault trial and staying strong through her mother's cancer diagnosis.
As if those aren't reasons enough to stan Taylor, she also showcased just how talented and brilliant she is as she included in the documentary the creative process behind hit songs in her "Reputation" and "Lover" albums.
BLACKPINK: Light Up the Sky. BLACKPINK really marked their world domination when they released their first documentary on Netflix. "BLACKPINK: Light Up the Sky" is Netflix's first K-pop documentary and it showcases different sides to the four beloved members, Lisa, Rose, Jennie, and Jisoo.
Not only were their talents put under the spotlight, but the documentary narrates just how long the women have been working hard, and the obstacles, sacrifices and miseries they had to endure just to be the K-pop group almost everyone comes to know of now.
Ariana Grande's 'excuse me, i love you.' From Nickelodeon's sweetheart to worldwide talented performer, Ariana Grande proves just how badass she is with her vocals in her documentary "excuse me, i love you."
The singer not only gave the viewers a peak at her powerhouse during the Sweetener World Tour in London but also some of her most vulnerable moments during rehearsals and backstage.
Belting from one song to another and enduring life on the road, Ariana shows how much she doesn't hold back in each performance she gives.
Shawn Mendes: In Wonder. Many have swoon over Shawn Mendes' looks and talents, but many more have had their hearts melt with the artist's intimate moments in his documentary "Shawn Mendes: In Wonder."
The documentary, released back in November, follows Shawn's life as he goes on a high journey towards stardom. He reveals multiple times how he wonders about his worth in the music industry and how he wonders if people would still watch him play if they found out the truth about him: that he was just an ordinary guy.
The film also gives a glimpse of Shawn's intimate romance with superstar Camila Cabello who can also be seen having cameos in the documentary.
ANIME:
Attack on Titan: The Final Season
After seven years, the epic anime "Attack on Titan" is wrapping up Eren Jaeger and the Survey Corps' story with a fourth and final season.
"Attack on Titan" Season 4 came in clutch this year, after barely any news about it. Netflix has started airing the episodes this December, showing what happened beyond the walls after a lengthy timeskip.
The popular anime, based on the manga by Hajime Isayama, follows Eren and his friends as they dig deep to find the truth about the Titans in an effort to retake the world from them.
Japan Sinks 2020
"Japan Sinks 2020" has this year's end-of-the-world vibes written all over it.
The dystopian-themed show, which was based on the best selling novel by Sakyo Komatsu published in 1973, shook viewers to the core, making the show trend on Twitter following its release.
The show follows the Mutoh family as they attempt to escape Tokyo after a major earthquake strikes Japan. As a bonus, the matriarch of the family, Mari Mutoh, hails from Cebu, Philippines!
Baki Season 2. "Baki" was undoubtedly one of the most popular anime shows this year. Last June, Netflix released all 13 episodes of the second season, "The Great Raitai Tournament Saga."
Based on the manga "Grappler Baki" written and illustrated by Keisuke Itagaki, the hit anime show follows Baki Hanma, a martial arts champion who aims to surpass his legendary father. For the second season, Baki must take on dangerous convicts.
Demon Slayer. The hype around this anime has carried over from 2019 all throughout 2020, and with good reason.
Based on the manga by Koyoharu Gotoge, "Kimetsu no Yaiba: Demon Slayer" follows the story of Tanjiro Kamado, a young boy who makes the journey of becoming a demon slayer after his family is slaughtered and his younger sister Nezuko is turned into a demon.
Just recently, the film sequel "Demon Slayer: Mugen Train" has dethroned Studio Ghibli classic "Spirited Away" as Japan's no. 1 film in the box office.
A Whisker Away. This animated film from "Sailor Moon" director Junichi Satoh and "Anohana" writer Mari Okada dropped on Netflix in June.
"A Whisker Away" tells the story of Miyo Sasaki, who is secretly in love with her classmate Kento Hinode. She finds a way to transform into a cat to get close to him, but the boundaries between her human self and her cat self becomes blurred.
It definitely leaves viewers to wonder at the joys — and pains — of life and love.
Makoto Shinkai's films. Anime lovers were thrilled when all of renowned director Makoto Shinkai's films were made available on Netflix.
Phenomenal films "Your Name" and "Weathering With You" once again made viewers cry, while classic films "5 Centimeters per Second" and "Garden of Words" reminded them why they're classics in the first place.
Studio Ghibli films. No movie marathon is complete without the iconic Ghibli films. Netflix had rolled out all but one of the famous animation studio's masterpieces, and fans were sure to binge watch all of them.
Among the favorites were "Spirited Away," "Howl's Moving Castle," and "Princess Mononoke."
ONE-OFFS:
Owe My Love table read. The upcoming Lovi Poe-Benjamin Alves show isn't due until next year but the cast's table read was more than enough to get people super excited. Just under 6 minutes long and uploaded on GMA Public Affairs' Facebook page, the table read of "Owe My Love" introduced the cast, their characters, the basic premise of the story, and with the artistas in their personal spaces, showed a little bit of personalization.
Father of the Bride 3(ish). Thanks to Netflix, the franchise was resurrected in September with a sweet 25-minuter short on YouTube. It featured the Banks family on quarantine, Zooming like the rest of us — with a few twists and turns, introductions and special appearances that, much like the first two movies, made hearts swell. Nancy Meyers is a genius.
Fast Times at Ridgemont High table read. While it was all very entertaining, and the cast was stellar — Julia Roberts, Sean Penn, Morgan Freeman, Henry Golding, just to name a few — Jennifer Aniston and Brad Pitt's steamy scenes eclipsed the whole thing as well as the stellar cast! The fundraiser has generated nearly 4M views as of writing.