Filtered By: Lifestyle
Lifestyle
Farewell to these places that closed down in 2020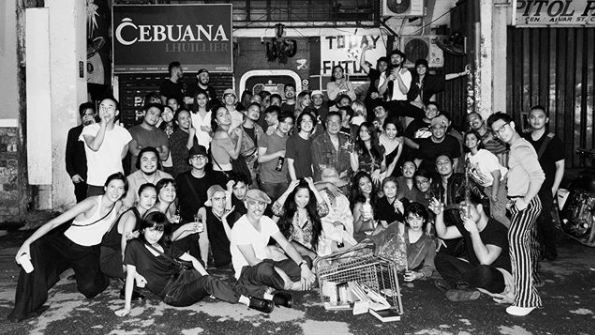 To say that 2020 took a lot from us is an understatement. There are the grave obvious: A lot of people lost their jobs, a lot of people lost their loved ones, and to a certain extent, all of us lost our freedom.
Being placed under lockdown felt like a small sacrifice to pay for our safety and wellbeing. It was just initially for just one month, after all. Our lives, our friends, and our haunts awaited our return.
But the lockdown stretched for another two weeks, and then another and then another, and soon a number of our favorite places could no longer wait for our return. One after another, restaurants, bars, shops and hotels started to close.
Some of them were a huge part of our lives as when we make daily pitstops for a tipple for instance, or for weekly ganaps with our friends. Others meanwhile became part of our family tradition, providing a venue to mark important occasions.
Seeing them say goodbye was all very painful.
As we bid farewell to 2020, we take one final look at these establishments that not only played a big part of our lives, but also helped shape ourselves.
BARS AND RESTAURANTS
Shangri-La Finest Chinese Cuisine. QC institution Shangri-La Finest Chinese Cuisine closed it doors after 37 years in the business, explaining it was "due for the most to the challenges brought about by the on-going pandemic."
It first opened in 1983 with an initial team of 10 servicing a restaurant that had a 400-seating capacity. By the end of it, Shangri-La Finest Chinese Cuisine became a crew of 110 that could seat more than 1,000 diners.
Among its milestones include a visit from Pope John Paul II in 1995.
The Chocolate Kiss Cafe. Oh how social media mourned when UP Diliman's Chocolate Kiss Cafe announced closure.
While it closed its Bahay ng Alumni shop on August 23, Chocolate Kiss decided to continue on with its desserts, making them available for pickup at their Fairview commissary.
The Chocolate Kiss opened in 1997 and quickly became a popular haunt among UP students, alumni, teachers, and VIP guests.
Today x Future. Cubao's popular club Today x Future would've turned 12 years old in June if it weren't for the pandemic and its effects.
Upon announcement of closure, Future was quickly mourned by its patrons. Apart from being among the most fun clubs in Metro Manila, TxF was also among the most welcoming and the kindest as it proved a safe place for the LGBT community.
While every night is a party to behold at Future, its Pride Celebrations and Halloween Parties were truly one for the books.
Route 196. The beloved music venue on Katipunan Avenue in Quezon City announced closure in late August, saying "we're at the end of the road for Route 196."
Apart from merchandise, Route also threw a farewell gig on September 12 that aimed to raise funds for its staff.
For 15 years, Route 196 was the home of live music, welcoming bands and artists of different genres, including Miss Universe 2018 Catriona Gray.
Moksha. San Juan neighborhood bar Moksha reopened in June with new operating hours and promos, after temporarily ceasing operations in March but the new normal proved unsustainable for the bar that's been providing a "home away from home" to tired yuppies for 17 years.
"The effects of the pandemic is really bad. Everything's working against us now. Bars aren't really allowed to operated so everything is stacked against us," Joel Millionado, one of Moksha's owners, told GMA News Online.
The San Juan bar closed in early July.
Klownz and Zirkoh. COVID-19 claimed both of Allan K's comedy bars, as they announced shutting down permanently at the end of June.
The closure took place as the bars neared their two-decade mark.
XX XX. In September, Makati's XX XX bid farewell after 4 years of parties and fun music. While its announcement was sad, it was also full of gratitude. "To all the promoters, DJs, dancers, musicians, performers, artists, photographers, videographers, and pop-ups that took part in our events, it was truly an experience working with you," XX XX said.
Polilya. Poblacion favorite Polilya announced closure in July, thanking its loyal customers and staff for the time and love they put in the bar.
"This was an extremely hard and sad decision for us to make. What we've created over the past three years is a labor of love," it said.
"The near future is uncertain but we hope to see you again somewhere down the road," Polilya added.
NoKal. Another Poblacion haunt closed it doors this year.
In a social media post last July, NoKal explained that with their business as a bar "still not allowed to operate and our landlord still demanding full rent payments, we have no choice but to leave the current premises in which our lease is tied to."
"The current pandemic has taken a toll on our business and employees," it said.
Hole in the Wall. The popular chef-driven food hall in Makati's Century Mall closed in November after a six-year run.
They didn't announce any specific reason, instead expressing gratitude to loyal customers.
"We were lucky to stay open a long as we did, thanks to all of you," read a portion of tis Facebook post.
Ludo Boardgame Bar and Cafe. After six years, QC's Ludo: Boardgame Bar and Cafe closed its doors, saying it was planning to find a new location "when everything i right in the world, when it's safe for friends and family to sit together once again."
Snacks & Ladders. Another board game bistro in QC closed its physical space, saying it will instead offer delivery services until they find "a new home."
"Sadly, the recent pandemic has impacted us a lot and we will no longer be able to maintain the physical restaurant in Maginhawa that we've all grown to love," it said in a Facebook post.
PARKS AND RECREATION
Fun Ranch. In June, the popular kids activity center said it will no longer resume operations after initially closing temporarily in March, due to lockdown.
With branches in Pasig, Muntinlupa, and Pampanga, Fun Ranch promised refund to party deposits made before the lockdown.
Jump Yard. On the same day Fun Ranch announced closure, the Philippines' first indoor trampoline park, Jump Yard, also said it will be closing its doors permanently. "Thanks for the memories, jumpers! we're surely gonna miss the squad," the Pasig City-based park said.
KidZania. After five years of operations, KidZania Manila announced closure. Operated by ABS-CBN Corp. subsidiary Play Innovations Inc., ABS-CBN noted the losses incurred during lockdown. "With the COVID-19 pandemic and ensuring community quarantine, we have complied and suspended operations to prevent the further spread of the virus, which resulted to a massive impact on our revenues," it said.
And even if they were allowed to operate in the future, "the 'new normal' will prohibit mass gatherings and require children to remain at home. These conditions have left us with no choice but to close the play city's doors permanently."
TRAVEL AND TOURISM
Marco Polo Davao. As early as May, Davao's iconic hotel Marco Polo Davao announced the indefinite cessation of its hotel operations effective June 15.
"Our priority is to take care of our associates while the company can," it said. "We will forever be grateful fo your unconditional contribution."
Marco Polo Davao began operations in 1998.
Sun Cruises. In early June, Sun Cruises said it was going to close for good. The provider of ferry services to Corregidor Island, as well as the official provider for Corregidor island's toor and hotel services admitted to GMA News Online that the pandemic and the subsequent lockdown were among the reasons for the decision.
The Oasis Pack Park Hotel. In July, the hotel in Paco Manila, as well as its famous restaurant My Kitchen at the Oasis, said they will no longer resume operations after temporarily closing its doors in March, citing COVID-19 as among it reasons for closure.
The establishments have been serving guests for 10 years.
SPECIALITY SHOPS
Regina's Gift Shop. Without clarifying its reasons, the popular Greenhills institution announced closure in June after 43 years in operations. Regina Gift Shop thanked its customers for "growing old with us."
Comic Quest. After 35 fruitful years in the industry, Comic Quest said it was permanently closing in September. In a Facebook post, Comic Quest said "because of the combined pressure of the pandemic, the disruption of the global distribution fo comic books, we've had to make the difficult decision to begin the process of closing down."
— LA, GMA News